SOURCE : SPUTNIK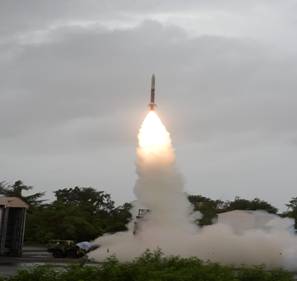 India's state-owned defense lab has successfully test-fired surface-to-surface tactical ballistic missile Prahaar on Thursday paving the way for its induction. The test was conducted at a defense test facility located in the eastern part of the country at about 1.35 p.m. (Indian Standard Time). The first test of the missile was conducted on July 21, 2011.
"All systems functioned normally and hit the target in copybook style. It will be inducted into the Indian Army after a few more tests," said a defense official. Continue reading →
SOURCE : PTI
SOURCE : IANS
Government sources on Thursday dismissed as "factually incorrect" media reports of former Hindustan Aeronautics Limited (HAL) chief T.S. Raju claiming that the defence undertaking had signed a work-share contract with French company Dassault Aviation — the manufacturer of Rafale fighter jets.
"In the news item published (Thursday) ex-Chairman and Managing Director, (CMD) HAL has been quoted as stating that an agreed work-share with Dassault Aviation (DA) was submitted to the government. The same news item also referred to the cost of the aircraft, life cycle cost issues, etc. The statement attributed to ex CMD, HAL is factually incorrect," said the sources. Continue reading →
SOURCE : PTI
The country's first indigenously developed 500-megawatt (mw) prototype fast breeder reactor at Kalpakkam in Tamil Nadu is expected to achieve criticality next year, a senior official said.
The project, which was earlier expected to be commissioned in 2012, has missed several deadlines. "Our indigenously developed prototype fast breeder reactor of 500 mw is now under going sodium commissioning. We expect criticality next year," Department of Atomic Energy (DAE) secretary Sekhar Basu said at the 62th General Conference of International Atomic Energy Agency (IAEA) held in Vienna. Continue reading →
SOURCE : INDIA TODAY
Central intelligence agencies have revealed a worrying trend of indoctrinated youth from West Bengal and other parts of eastern India who are heading to Kashmir to swell the rank of home-grown militants.The Intelligence Bureau (IB) have already given a warning to states like Bihar, Assam and Jharkhand in this regard. Central intelligence agencies see an Islamic State (IS) hand behind this trend. Since losing foothold in Syria, IS has targeted youths via their publications 'Dabiq' and 'Amaq'.
Reportedly they have asked recruits to desist from travelling to Syria and try and link up with Jihadi elements that are operating closer to home. Sleuths believe this to be one of the reason for new recruits heading to Kashmir. Continue reading →
SOURCE : HT
The writ petition filed by more than 350 serving army personnel in the Supreme Court is certainly in the best interests of our national security. Perhaps this was the only option left after the curative petition, moved by the Union of India seeking recall of the July 2016 verdict, was rejected by the apex court in April 2017. The Attorney General in the curative plea had highlighted the negative impact of the verdict on the ongoing counter proxy war and counter-insurgency campaigns in Jammu and Kashmir (J&K) and the north-eastern states along with its long term ramifications on national security.
It is apparent that the verdict was given without a clear understanding of the contours of an asymmetric war-fighting arena, which was also highlighted in the curative petition. The term 'asymmetric warfare' encompasses proxy war, insurgency, guerrilla warfare, terrorism and all kinds of irregular warfare. The instant petition provides one more opportunity for the army and the nation to apprise the court of the challenges faced by the soldiers in safeguarding national interests in disturbed areas. Hopefully, this time around, a favourable verdict will restore status quo ante. Continue reading →
SOURCE: PTI
Saudi Arabia will be the third "strategic partner" of the $50 billion China-Pakistan Economic Corridor (CPEC), a senior Pakistani Minister announced on Thursday, soon after Prime Minister Imran Khan returned from his first foreign trip to the cash-rich kingdom. The CPEC is the flagship project of the multi-billion dollar Belt and Road Initiative (BRI), a pet project of Chinese President Xi Jinping, aimed at enhancing Beijing's influence around the world through China-funded infrastructure projects.
Addressing a press conference here on Mr. Khan's two-day visit to Saudi Arabia and UAE, Minister of Information Fawad Chaudhry said Pakistan's main interest lies in cooperation with Saudi Arabia on matters of trade and security. Continue reading →
SOURCE: ZEE NEWS
In a new development, a Pakistan helicopter was spotted hovering a day before Border Security Force (BSF) head constable Narinder Singh was brutally killed by Pakistani troopers, according to BSF forces on Thursday. The helicopter spotted close to the border of both the countries, stayed in the air for sometime before heading back. On Thursday, the BSF accused the Pakistan Rangers of killing an Indian soldier and warned that only Pakistan will be responsible for any consequence that follows.
During a call when the BSF raised the topic of Singh's death, Pakistan outrightly refused that they fired any shot and on the contrary blamed the BSF of killing its own soldier. Continue reading →
SOURCE: PTI
India is likely to resist the American pressure on complying with the reimposed Iranian sanctions as it has been a traditional policy of New Delhi to enforce only UNSC-authorised sanctions, a Congressional report has told lawmakers.The Trump administration has threatened entities and countries with consequences if they do not bring down their import of Iranian oil to zero by November 4.India, one of the biggest importers of Iranian oil, is unlikely to do so given its huge energy needs. The Trump administration is currently in talks with India on issues related to Iranian sanctions.
"India's position has generally been that it will only enforce sanctions authorised by UN Security Council resolutions, rendering it likely that India will resist US efforts to compel it to comply with reimposed US sanctions such as those that mandate cuts in oil purchases from Iran," the independent Congressional Research Service (CRS) said in its latest report on Iran. Continue reading →
SOURCE: Hindustan Times
An advanced remote-sensing technology developed by US space agency NASA to map minerals on the moon and Mars is being used in India for the first time to prospect for gold, diamonds, platinum and rare earth elements. Rare earth metals are a group of 17 elements with many similar properties and are often found together in geologic deposits. They're in high demand across the world because of their use in high technology devices such as smart phones, digital cameras, computer hard disks, fluorescent and light-emitting-diode (LED) lights and computer monitors, among others.
"In its pursuit for minerals, the GSI is going to use ultra-modern remote sensing technology to find lead, zinc, copper, gold, diamond and platinum, among others. This will be used for the first time in India," Dinesh Gupta, director general, Geological Survey of India (GSI). Continue reading →
SOURCE: PTI
The United States Friday hailed India's acceptance of Pakistani proposal for talks between the foreign ministers on the sidelines of the ongoing annual UN General Assembly session in New York and termed it as a "terrific news"."We saw that (reports of meetings between Indian and Pak leaders). I think that's a terrific news for the Indians and Pakistanis to be able to sit down and have a conversation together," State Department Spokesperson Heather Nauert told reporters at her daily news conference.
On Thursday, spokesperson, Ministry of External Affairs, Raveesh Kumar announced that India has agreed to a meeting between Foreign Minister Sushma Swaraj and her Pakistani counterpart Shah Mahmood Qureshi on Pakistan's request. He, however, made it clear that it was not the resumption of the Indo-Pak dialogue. Continue reading →
SOURCE:  IANS
Two militants were killed on Thursday in a gunfight between the security forces and the militants in north Kashmir Bandipora district."Two militants have been killed in the encounter. One militant's body has been recovered while the other is still at the encounter site", police said.
Troops of counter insurgency Rashtriya Rifles, Special Operations Group (SOG) of state police and the Central Reserve Police Force (CRPF) had started a cordon and search operation in Sumlar village of Bandipora after specific information about the presence of militants. Continue reading →
SOURCE: TNN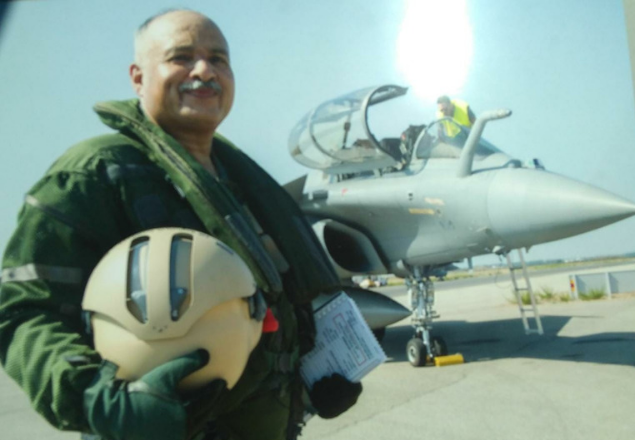 The IAF is going full steam ahead with preparations to eventually induct the 36 Rafale fighters, with a top officer himself "testing" the jet with "India-specific enhancements" in France on Thursday, amidst the escalating political battle between the BJP and the Congress over the Rs 59,000-crore-contract inked by the NDA government in September 2016.
IAF deputy chief Air Marshal Raghunath Nambiar flew the Rafale, a 17-year-old aircraft that is being used as a "testbed" for the 14 India-specific upgrades the IAF has asked for, in an 80-minute sortie at the Istres air base in France on Thursday. A veteran fighter pilot, who also served as one of the first "test pilots" in the indigenous Tejas light combat aircraft programme, Air Marshal Nambiar recently said the Rafales would give India "unprecedented" combat capabilities and "revolutionize" airpower in the Indian subcontinent. Continue reading →
SOURCE: IANS
Amid the raging controversy over the Defence Ministry's procurement of the Rafale fighter aircraft from French firm Dassault Aviation, a senior Swedish official has said that his country's firm Saab, in its Gripen aircraft, has the requisite experience to contest for the upcoming Indian deal for manufacturing 110 new fighter jets under the Make in India programme.
"I know that Saab is interested, they want to be a part of this procurement," Teppo Tauriainen, Director General for Trade in the Swedish Foreign Ministry, told IANS in an interview here. Continue reading →
SOURCE: ENS
India has agreed to Pakistan's proposal for a meeting between the two external affairs ministers on the sidelines of the United Nations General Assembly.
Talking to reporters, MEA spokesperson Raveesh Kumar confirmed the request of the Pakistani side and said that a meeting between Foreign minister Sushma Swaraj and her Pakistani counterpart Shah Mehmood Qureshi will take place on the sidelines of the UNGA at a mutually convenient date and time.  Continue reading →