Asia
SOURCE: XX / FOR MY TAKE / IDRW.ORG
Islamabad's otherwise dull and tranquil nights are now a days abuzz with a certain discomforting and disquieting vibe and many of the inhabitants of this beautiful capital are feeling the heat of it. If one looks up towards the city's hills-clad horizon, he would find visible signs of wide spread mistrust that exists between and in-between the country's premium institution.
It seems as if through the swipe of a mystical wand someone or somebody has managed to vanish every single shred of mutual good-will that ever existed in the corridors of power-politics and momentarily everyone who walks through these ghostly cloisters is wary of his own shadow. This situation which speaks volumes about the state of affairs prevalent in the heart of the Islamic world's sole "Nuclear Power", is however well concealed beneath a dark veil of secrecy and from the outside it seems all is healthy hearty in this lush-green valley. Continue reading →
SOURCE: Bilal Khan / FOR MY TAKE / IDRW.ORG
Bangladesh Air Force has issued a tender to procure 08 x Multi-Role Combat Aircraft(MRCA) in the financial year 2017-18 with an option for additional 04 aircraft in future.BAF plans to employ these
Fighter aircraft for Air Defence role, Offensive Counter Air Operations role, Anti-Surface Force role and Maritime Air Operations role to assist Bangladesh Army and Bangladesh Navy.
A quick look at the tender documents suggests Technical requirements attached with the tender is tailored made for Russia to respond with the recently introduced Mig-35. Continue reading →
SOURCE: PRAVIN DHAUSKAR / FOR MY TAKE / IDRW.ORG
Reports of Myanmar having advanced negotiations with Pakistan to licence-build JF-17 fighter has not gone down well with Pakistani Netizen who have criticised its government decision, even when Pakistan government has repeatedly raised Rohingya issue at UN, OIC.
Pakistan is seen has a leading Muslim voice in the humanitarian crisis in Myanmar and seeking the intensification of diplomatic and moral pressure on the government of Myanmar to grant adequate citizenship rights to the Rohingya community, in accordance with international humanitarian laws. Continue reading →
SOURCE: AEROTIME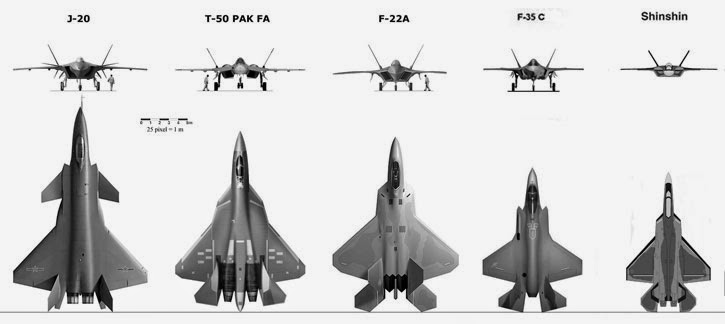 There's a well-developed discussion going on about the definition of 5th generation fighters – or even if the term itself is at all valid. Sensor fusion, thrust vectoring, supercruise capability, AESA radars and similar terms are being thrown around quite liberally, but the biggest sticking issue is stealth. Low observability is what makes the category exclusive to clean sheet designs, as there's a limit to how much stealth can be baked into an existing design. Just like F-35 and F-22, a truly low-observable plane has to be designed, from ground up, for stealth. This influences both shape and material composition of the hull, down to specialized coatings.
National projects: in it for the long run
SOURCE: PRASAD CHAWAN / FOR MY TAKE / IDRW.ORG
In India, if 10 Civilians are asked who is Army Chief of India 9 might fail to answer but in Pakistan out of 10 asked 9 might be able to tell that General Raheel Sharif is current Pakistan Army Chief . General Raheel Sharif at present enjoys more public popularity and respect then Prime Minister Nawaz Sharif .
Posters urging General Raheel Sharif to take over Pakistan have been cropping up on and off near Islamabad for last few months and Panama leaks which named Nawaz Sharif family of corruption and offshore accounts already has dented his image in the public. Western and European countries are increasingly worried that powerful and influential forces in Pakistan are working in the background in creating a situation in Pakistan which will allow General Raheel Sharif to take over Pakistan before his retirement later this year . Continue reading →
SOURCE: PRAVIN DHAUSKAR / FOR MY TAKE / IDRW.ORG
Chinese designed , Pakistan assembled JF-17 fighter jet was declared has a rightful successor to the legendary Soviet-era Mig-21 and was quoted as the best and most affordable 4th Generation light-class fighter jet which will eventually replace much older Chinese copy of Mig-21 (F-7) and Soviet-supplied Mig-21s in air force around the world .
But reported Second crash of JF-17 into the Arabian sea killing the pilot and total silence by both Chinese and Pakistani military over the crash has dented huge claims made by both Pakistan and China on offering a modern fighter at an affordable price tag which eventually might hurt its export potential further . Continue reading →
SOURCE: Samarpeet chandan/ FOR MY TAKE / IDRW.ORG
With statistics , lets evaluate how much the Islamic Republic of Pakistan is scrutinized for using terror as state policy:
Pakistan received:
33-billion $

in 10 years

as aid from US
Of which foreign military finance(FMF) is 3.8 billion $ , counter-insurgency fund 2.3 billion $ and non-proliferation fund of .17 billion $
Other Western nations and China gave 4.15 billion $ as aid
The Asian Development Bank (ADB) gave 4.4 billion $ between 2009 -2012
The world Bank bailed out Pakistan with 5 billion $ in recent years
IMF has assisted Pakistan with 11.2 billion $

in 6 years

Saudi-Arabia, Pakistan's patron and brother in arms has many times deferred oil payments, provided for oil at crucial times and funded 1.5 billion $ as bailout in 2014
SOURCE: IDRW NEWS NETWORK (INN)
Israeli Defence Analyst Caroline B. Glick who served has Captain in Israel Defense Forces in her latest report has urged Benjamin Netanyahu's government in effort to maintain Israel's qualitative edge against Iran should not depend on American solely on supply fighter jet after US administration rejected Israel's requests for additional F-15 systems which it could have used to defend against Iran attacks.
US administration also has rejected Israel's request to outfit its own electronics systems and bunker buster bombs in its current fleet of F-15 and instead wants Israel to buy F-35 which has been facing technical issues and will take next few years to fully become operationalised. Continue reading →
SOURCE:  IDRW NEWS NETWORK (INN)
According to the Chinese Ministry of National Defence (MND) website Twin seater J-10SH belonging to PLAN's East Sea Fleet crashed during a night training flight on 17 December with both Pilots carrying out successful ejection from the ill-fated aircraft.
Crash occurred in Zeguo town, Taizhou city, near Zhejiang Province and it is a third confirmed crash of the Chinese J-10 fighter jet this year while unconfirmed reports put a figure of 4 crashes in 2015 alone. Continue reading →