SOURCE: TNN
The upgraded version of the series of Arjun Mark-II tanks are undergoing trial at the Indian Army core level excercise at Pokhran field firing range. The tank, Arjun Mark-II, is being tested for different parameters here.
The first test will examine its missile firing ability, while the second one will look into tank's automotive aspects, that is, its running, especially with added load. A defence source said successful testing will pave way for the production of upgraded Arjun. In all, 124 tanks of the first series have been produced so far. Indian Army has two armoured regiments, both deployed in western desert sector, which comprise of Arjun-I tanks. Continue reading →
SOURCE: RIA Novosti.
The Russian government has proposed that funds allocated in the 2016 federal budget to the authorized capital of the United Aircraft Corporation (UAC), be directed to the development of Indian-Russian multirole transport aircraft (MTA) – the MS-21 aircraft family. Alexey Lavrov, Deputy Finance Minister, stated this while introducing an amendment at a meeting of the State Duma Budget and Taxes Committee.
The corresponding amendment to the draft federal budget for 2016 has been proposed by the government. Lavrov said the development of the MTA aircraft project is being delayed. "In this connection, we are proposing to authorize the capital contributions, being made from the state budget, be directed towards the building of the MS-21 aircraft," he said. Continue reading →
SOURCE: THE HINDU
Having tasted success with the indigenous development of a cryogenic engine for launch vehicles, the Indian Space Research Organisation (ISRO) is now turning its attention to another key technology for space travel.
Engineers at ISRO are gearing up to test the scramjet engine developed in-house to power the Reusable Launch Vehicle (RLV) due to undergo the first experimental flight shortly. Continue reading →
SOURCE: The Telegraph
Israel has tested a ship missile defence system designed to protect India's navy and offshore platforms in the presence of Indian military scientists, marking the final stage of a nearly decade-long joint development programme.
The Long Range Surface to Air Missile (LR-SAM) that will arm two carrier battlegroups of India's navy is now scheduled for a test-firing and interception from the INS Kolkata, one of the latest destroyers, in about a month, a navy source told The Telegraph. Continue reading →
SOURCE:  EXPRESS NEWS SERVICE
Amid heightened tensions along the border, India successfully conducted the much awaited ejection test of an underwater missile for the first time from its home-grown nuclear powered submarine INS Arihant at an undisclosed location in the Bay of Bengal.
Defence sources claimed the test carried out on Wednesday was successful and the parameters set for the mission were met. The missile used for the test was a dummy of 750-km range undersea missile, code-named B-05. The weapon with a dummy payload was reportedly launched from the submarine in full operational configuration. Continue reading →
SOURCE:  PTI
More women will be recruited for various roles in the Border Security Force (BSF) which guards the country's frontiers with Pakistan and Bangladesh, its chief D K Pathak said here today.
"There has been an increase in number of women in BSF. Our endeavour is to increase the number of women in the forces," Pathak told reporters. The women sub-inspectors in a junior leadership role were first inducted in 2010 with the recruitment of 15 such personnel. As on date, there are 42 sub-inspectors and 3,280 constables, the BSF said in a release. Continue reading →
SOURCE:  PTI
There have been "desperate" and "daring" bids from Pakistan side byterrorists to infiltrate and such attempts have seen a considerable jump this year,BSF chief D K Pathak said today.
Talking to reporters ahead of BSF's 50th raising day, he also said there has been a "substantial increase" in cross border firing along the Western frontier which was largely aimed at pushing the terrorists inside the country.
The BSF chief put the number of infiltration attempts at 62 so far this year along the international border which stretches from Akhnoor in Jammu region to Rann of Kutch in Gujarat. The figures for last year stood at 48.
Continue reading →
SOURCE:  DHNS
Even as Pakistan and China stepped up efforts to block India's entry into the Nuclear Suppliers Group (NSG), New Delhi is confident that the 48-nation cartel controlling global business of atomic fuel, equipment and technology will admit it as a member soon, taking into account its "impeccable non-proliferation track record".

A day after Pakistan warned the NSG against creating exception to grant membership to India, senior officials here said that New Delhi would continue its efforts to enter the bloc and a breakthrough could be expected soon. Continue reading →
SOURCE:  PTI
China has assured its closest ally Pakistan of support in the country's bid to become a member of the Nuclear Suppliers Group (NSG) if India is allowed to join the exclusive body, a media report said here today.
The assurance was given during the visit of a high-level delegation led by President Mamnoon Hussain to Beijing recently, the Express Tribune."The issue was discussed at length and Pakistan highlighted its point of view saying that it has equal right to join the group for fulfilling its requirement for peaceful use of nuclear technology," the report quoted diplomatic sources as saying. Continue reading →
SOURCE: HINDUSTAN TIMES
Army chief General Dalbir Singh kicks off on Sunday a five-day visit to Colombo where he could discuss upgrading the island nation's ageing warplanes, tanks and air defence guns as part of New Delhi's efforts to curb China's growing influence over Sri Lanka.
If Colombo's request to upgrade and overhaul its defence equipment goes through, it would mark a sharp turnaround in India's policy to not supply lethal military hardware to its southern neighbour because of domestic political compulsions. "Broadening military cooperation is under active consideration," a defence ministry source said. Continue reading →
SOURCE: TNN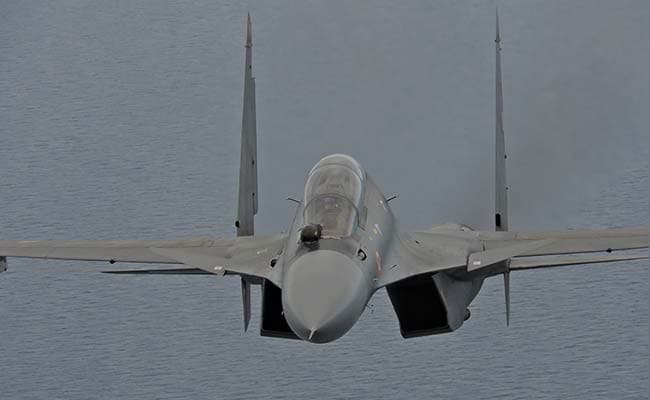 The Russian-made Sukhoi 30MKI (Su-30MKI) aircraft still being Indian Air Force's backbone, a huge opportunity is thrown open to the Indian industry to embrace projects under the 'Make-In-India' campaign, with nearly 322 components that it can manufacture.
With around 300 Su-30MKI aircraft operational in India, Defence PSU Hindustan Aeronautics Limited (HAL), which through a transfer of technology (ToT) is already manufacturing the aircraft at its Aircraft Manufacturing Division at Nasik, is responsible for repair, maintenance and overhauling. Continue reading →
SOURCE:  PTI
China has for the first time integrated PLA area commands overseeing India and Pakistan as part of sweeping reforms under which the world's largest Army is to junk its Soviet-era model for a US-style joint command system to fortify the ruling Communist Party's control.
Under the new reforms announced by President Xi Jinping, who has shaken up the 1.2 million strong People's Liberation Army (PLA) with a massive anti-corruption drive, it redrew the military command system by forming a joint operational command, jun-king the area military commands. Continue reading →
SOURCE: INDIA INFOLINE
Bharat Forge will invest about INR 500 crore on a defence systems facility in Telangana with a joint venture partner, the state's Industry Secretary Arvind Kumar said on Friday.Kumar was speaking at a press conference to announce the details the second defence and aero supply India conference to be held in Hyderabad between November 30 and December 2.
"The company is likely to announce the project early next year. We are able to tell because of the land allotment of about 40 acres. Further details cannot be shared at the moment," Kumar said.
SOURCE: IANS
Pakistan is fully capable of defending itself from any Indian aggression, Defence Minister Khawaja Asif asserted on Thursday.
SOURCE: PTI
Pakistan today said that creating exception to grant India membership of Nuclear Suppliers Group (NSG) would adversely impact the non-proliferation regime and regional peace and stability, as it demanded an equitable, non-discriminatory approach for admitting new members.
Addressing the weekly press briefing here, Foreign Office (FO) spokesman Qazi Khalilullah said that grant of exclusive NSG membership to India as an exception, on account of political and commercial considerations, would adversely affect the credibility of non-proliferation regime. Continue reading →