SOURCE: ANI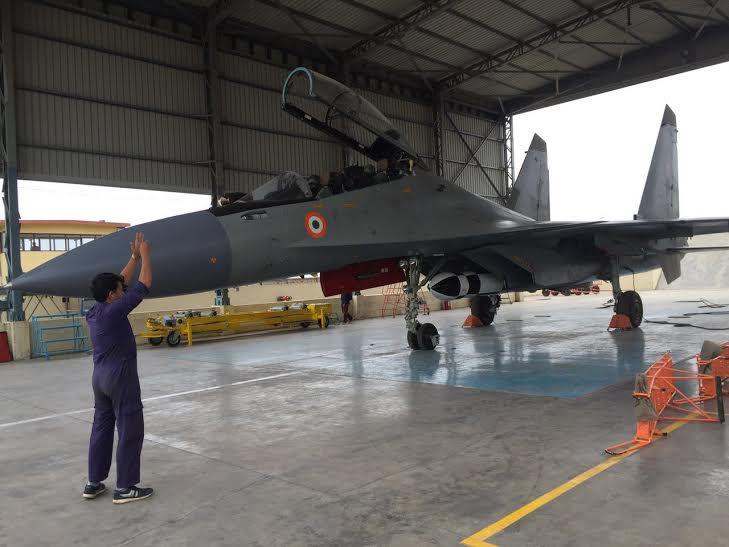 BrahMos Aerospace on Saturday successfully demonstrated the integration of supersonic cruise missile system BrahMos on Su-30MKI frontline strike fighter of the Indian Air Force.
The demonstration flight, carried out at Hindustan Aeronautics Limited, Nasik, involved carriage of BrahMos weapon on the long-range Sukhoi-30 fighter, giving a major fillip to the BRAHMOS air-launched flight test programme, said Praveen Pathak, General Manager, Marketing Promotion & Export, BrahMos Aerospace, in a statement issued here. Continue reading →
SOURCE: THE HINDU
NASA and ISRO are working together to develop a synthetic aperture radar satellite to observe and measure ecosystem disturbances, ice-sheet collapses and natural hazards.
The data gathered from this mission will help build climate resilience and potentially save lives, said U.S. Ambassador to India Richard Rahul Verma. Continue reading →
SOURCE: Newsweek Pakistan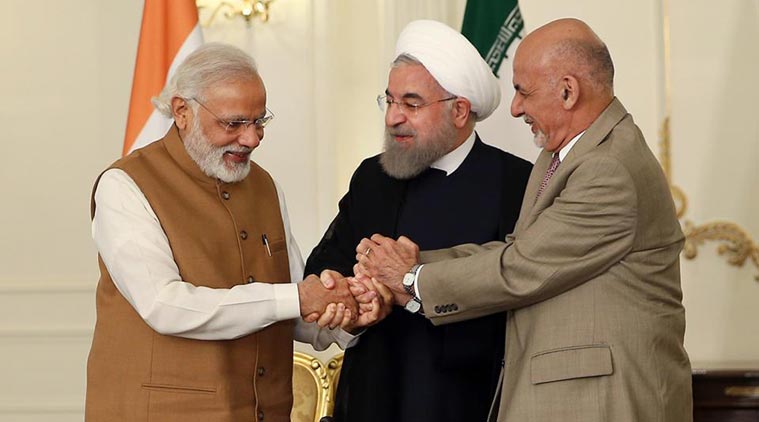 Recent developments signal the need for change in Pakistan's strategic outlook. There is alarm over India's recent moves in Afghanistan and Iran, two of its neighbours that feel threatened by Pakistan. The Indian PM has gone to the US after the two issued warnings to Pakistan over safe havens in Pakistan still available to terrorists who strike across borders. Ignored in this chessboard are two developments that will benefit the entire region: Trade corridors linking South Asia westwards and northwards.
Pakistan variously sees the new scenario as the Great Game by America and Encirclement by India. Pakistanis repeat their India-never-accepted-Pakistan platitudes but they also ask some searching questions outside of the textbooks: If there is a drone-tipped Great Game unfolding against us, then why are we keeping on our territory elements that the world fears? Continue reading →
SOURCE: PTI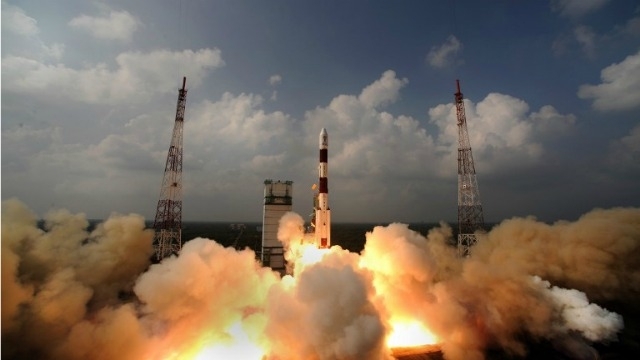 As part of the 'Make in India' initiative, ISRO today sought the support of private sector in spacecraft systems realisation to meet the rapidly increasing national demand for space based services.
Inaugurating the conference on Enabling Spacecraft Systems Realisation through Industries (ESSRI-2016) here, ISRO chairman A S Kiran Kumar said it was imperative that the space research organisation joined hands with industry in its effort towards enhancing its capacity in order to meet the increased demand for space based services. Continue reading →
SOURCE: FIRSTPOST
The Chinese veto on India's determined bid to enter the Nuclear Suppliers Group (NSG) is Narendra Modi's first major foreign policy reverse, even though this may not be permanent. But it shows the kind of misplaced assumptions driving his policy in regard to India's two main adversaries – China and Pakistan. At NSG, the two adversaries combined with some neutrals to block India.
This reverse could have been anticipated by anyone who has an elementary understanding of power play and geopolitics when combined with national interest. Simply put, it is not in China's national interest to allow India a greater role in international politics. It is not in its interest to ease India's path to growth where its economic or military clout will challenge China. So why do we expect China to play a positive role when it comes to our interests? Continue reading →
SOURCE: ENS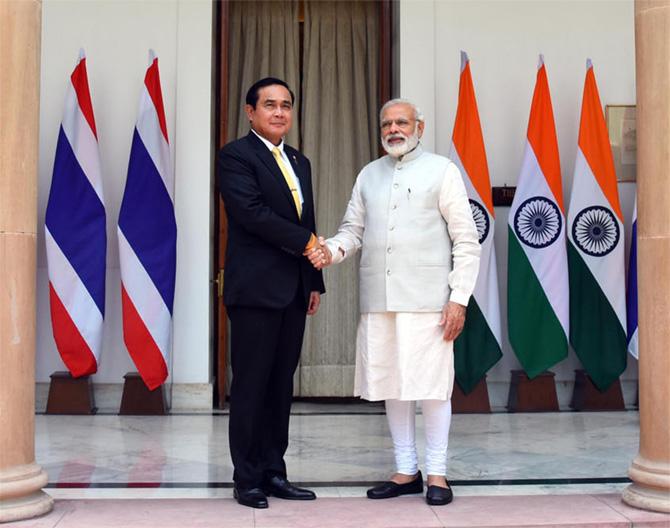 Thailand's Prime Minister General Prayut Chan-o-cha paid a State visit to India from June 16 to 18. The general was accompanied by a large delegation including his deputy prime minister, five cabinet ministers, 42 business leaders and senior officials.
General Chan-o-cha's visit is the first by a Thai leader during the Modi administration, the last Thai prime minister to visit India was then prime minister Yingluck Shinawatra in 2012, when she was the chief guest for Republic Day.The general's visit assumes importance because of the changes in the strategic environment and the prime ministerial dialogue is seen as a medium of sharing interests on common challenges and addressing them appropriately. Continue reading →
SOURCE: ENS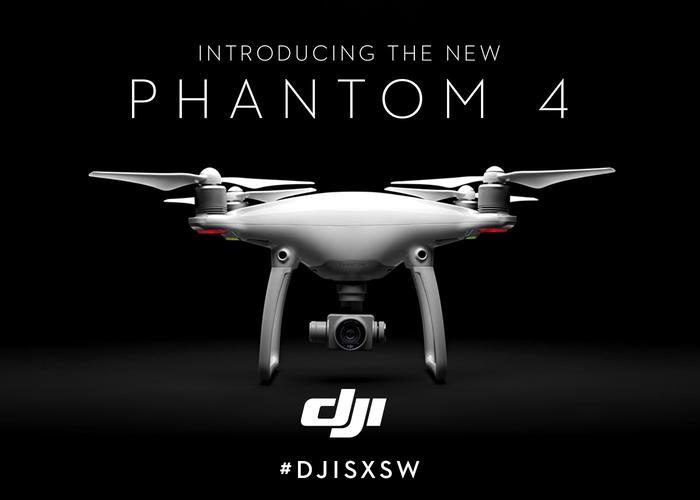 DJI, the global leader in unmanned aerial vehicles, has officially marked its entry into India with the launch of Phantom 4 drone. Phantom 4 is the latest drone in the Phantom series and will be available at a price Rs 1,21,000.DJI Phantom 4 is a significant upgrade over previous offering Phantom 3 drone. The Phantom 4's highlight is the new self-aware feature which makes it the first intelligent drone in the market.
DJI Phantom 4's on-board intelligence system makes piloting the drone easier and offers greater control of camera to videographers. It also comes with advanced features like obstacle sensing system, active tracking and tapfly function Continue reading →
SOURCE: WSJ
Since the end of the Cold War, historians have finally been coming to grips with the scale of World War II. We no longer see it as a European war and a Pacific one but as a single Eurasian conflict. The savage fighting on the Eastern Front that claimed over 30 million lives is at the center of the narrative. The "rape of Nanking" now stands alongside the attack on Pearl Harbor in the narrative of the Asian war. More than ever, we are aware of the connections between theaters and fronts.
As Jawaharlal Nehru, the Indian nationalist leader, put it in October 1940, "the coils of war increasingly strangle the world. . . . What happens in Europe is of great consequence to America, to India, to China. What happens in India and China is of equal importance to America and Europe. War is indivisible now." Continue reading →
SOURCE: PTI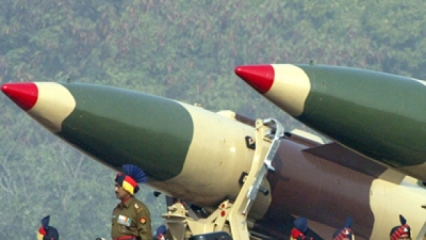 A US Senator has praised the NSG for deciding against granting India membership of the grouping immediately, hours after the elite group's plenary meeting ended in Seoul with no decision on India's membership in face of strong China-led opposition. "Today, the Nuclear Suppliers Group (NSG) reaffirmed its strong support for the Nuclear Non-Proliferation Treaty (NPT) by refraining from admitting India," Junior Democratic Senator from Massachusetts Edward Markey said in a statement.
The NSG was founded in response to India's 1974 nuclear test and it has worked for decades to prevent the sharing of technology that could contribute to the further spread of nuclear weapons, he said yesterday. "If India joined the Nuclear Supplier Group, it would be the only participating government in the organisation that was not a party to the NPT, weakening the NSG's commitment to the treaty. By refraining from admitting India, the NSG strengthened both the treaty and the broader global nonproliferation regime," Markey, a known India-basher, said. Continue reading →
SOURCE: ANI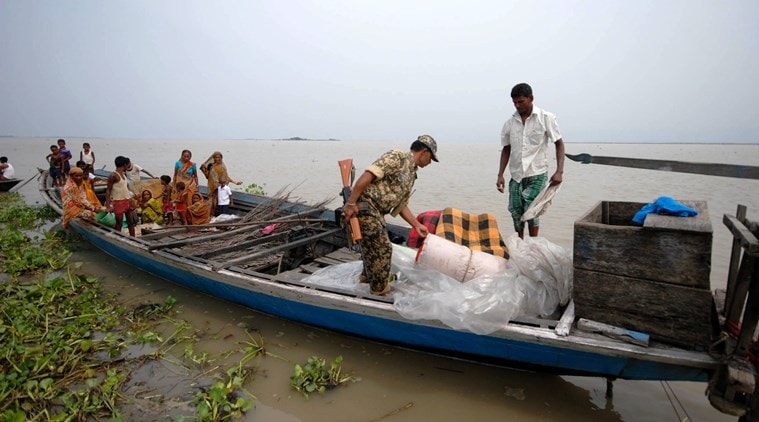 India is working towards completion of the entire border with Bangladesh by next two years time, said a top official engaged with the fencing work.
"We have agreed on an action plan in which and we are hoping that by December 2017 all the places where physical barriers are possible those barriers will be erected, if there are some riverine stretches where physical barriers are not possible we will have no physical barriers so that sealing of border can actually be done," said Susheel Kumar, Secretary Border Management under the Union Ministry of Home Affairs. Continue reading →
SOURCE: ASSAM TRIBUNE
The Madras high court has declined to interfere with the India-Sri Lanka agreement, and subsequent executive orders, on the Kachatheevu issue saying the issue could be best resolved through diplomatic channels and not through court directives.
"This court has no jurisdiction to enforce a writ on the Sri Lankan government…These are matters which have to be left to diplomatic channels of the two countries. The problem exists is not in doubt, but the solution cannot be by issuing a writ of mandamus, that too indirectly affecting what the Sri Lankan government does. We thus leave this issue to the wisdom of the government authorities," said the first bench of Chief Justice Sanjay Kishan Kaul and Justice R Mahadevan, on Thursday. Continue reading →
SOURCE: TNN
The AP government may have to scout for a suitable place to anchor the Indian naval warship, INS Viraat, as the Visakhapatnam Port Trust (VPT) has made it clear that it has no space to accommodate the giant vessel after its decommissioning later this year.
The AP government has pinned hopes on the INS Viraat after chief minister N Chandrababu Naidu received oral assurance earlier this year that the warship will be handed over to Andhra Pradesh for location at Visakhapatnam. The warship is due for decommissioning soon, but the Central government is yet to make up its mind as to which state it should hand over the ship. In fact, the AP government recently wrote a letter to the Central government urging it not to decommission the ship until it makes a formal announcement on its location at Visakhapatnam. Apart from AP, Goa has shown keen interest in INS Viraat. Continue reading →
SOURCE: DAILY MAIL
Documents which were top secret for years have revealed how Britain and America were prepared to use nuclear weapons to keep the Russians from getting their hands on the Middle East's oil.The files, discovered by Politico magazine at the National Archives in London, give an insight into the steps Britain and the United States were prepared to go to stop the vital oil getting into the hands of the communist Soviet Union.
In the summer of 1951 a CIA officer, George Prussing, told three British oil executives about a secret US government plan to decimate the Middle East if it was ever invaded by the Red Army. The plan – known as the 'denial policy' – called for oil wells to be plugged, fuel stockpiles destroyed and refineries and pipelines disabled.  Continue reading →
SOURCE: ET
The centre is exploring reviving the shelved Myanmar-Bangladesh-India gas pipeline to transport gas from Russia as a part of its ambitious Rs 1,30,000 crore plan to make the northeastern part of the country a 'hydrocarbon hub' in next 15 years with an eye on capturing the energy market in Bhutan, Myanmar and other South East Asian countries.
Union minister of petroleum and natural gas, Dharmendra Pradhan said here on Friday that the roadmap for pumping in the first instalment of Rs 6000 crore of the total investment in the current financial year has already been prepared. Continue reading →
SOURCE: ENS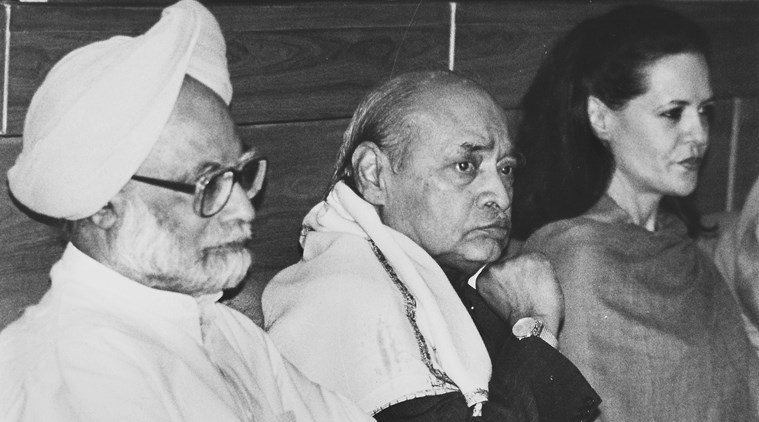 ALMOST 25 years ago, in late 1991, Narasimha Rao asked for a telling report from the Intelligence Bureau (IB). He wanted to know which of his Congress MPs were against which specific economic reform.
The IB replied with a detailed note listing the four major kinds of economic reforms that the Rao government had unveiled: "i. Liberalization of trade and commerce, decontrol of industry.; ii. liberal entry of multinationals, foreign investment. iii. privatisation/dilution of public sector; iv. reduction of fertilizer subsidy and agricultural policy."
It then lists the names of all Congress MPs — in the Rajya Sabha and Lok Sabha — who were against each of these measures: Continue reading →