SOURCE: THE HINDU
In a tragic incident, a major fire broke out at the Army's Central Ammunition Depot (CAD) at Pulgaon in Maharashtra and 16 people were killed in efforts to bring the fire under control.
As per initial reports, the fire started in one of the sheds around 1am on Tuesday morning."Immediate action was taken by the fire fighting parties and Quick Reaction Teams located in the depot by putting the fire fughting mechanism into place as per laid down procedures. This restricted the fire to one shed only which contained sensitive ammunition," Lt Gen Ranbir Singh, Director General of Military Operations (DGMO) said in a statement to the media. Continue reading →
SOURCE : ONE INDIA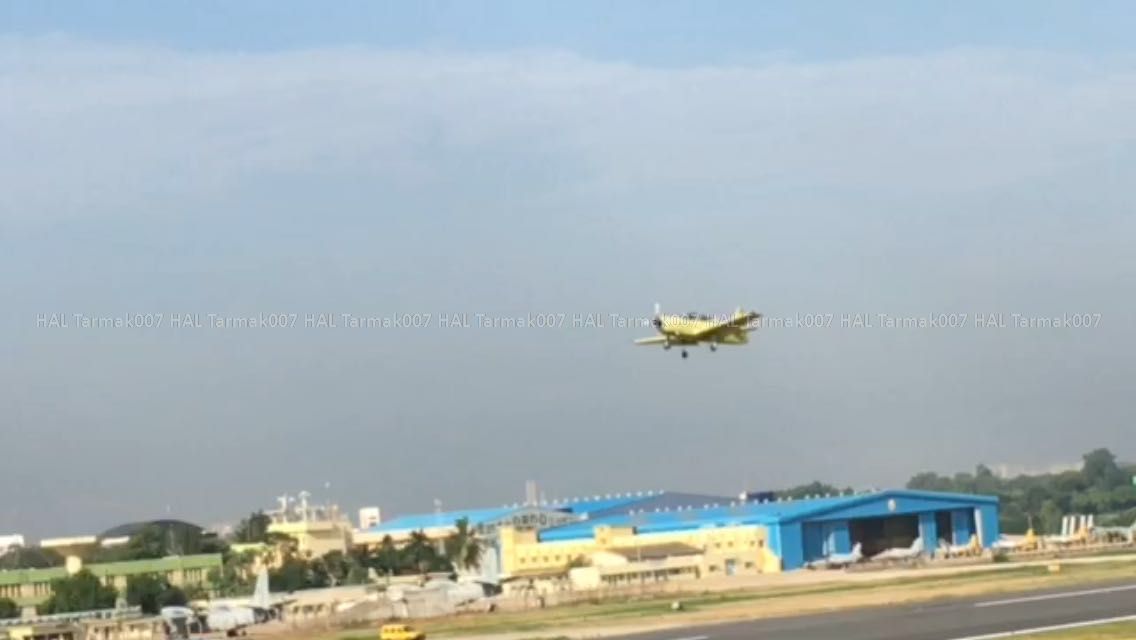 The home-grown Basic Trainer Aircraft (BTA) from the hangars of Hindustan Aeronautics Ltd (HAL) had its first flight in Bengaluru today. The Hindustan Turbo Trainer (HTT-40) was piloted by Group Capt Subramaniam (Retd), Chief Test Pilot, HAL. According to sources, the flight lasted for about 30 minutes.
"Everything went as per the script. The aircraft was cleared for its maiden sortie in the morning by the certifying agencies. Eventually it took off around 8.20 am and landed back after a 30-minute sortie," says an official. Continue reading →
SOURCE: IDRW NEWS NETWORK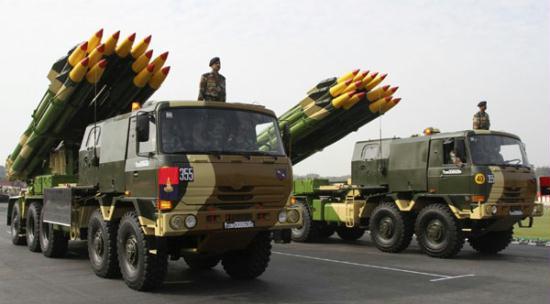 Two years back Russia backed out from an agreement with India to provide the technology transfer for rockets used in the Smerch multiple-launch rocket systems (MLRS) which later lead to Finance Ministry turning down request placed by Indian Army to place further import orders for the same rockets.
Development of MK-II variant of Pinaka multi-barrel rocket launcher (MBRL) system which can hit targets up to 60 km will provide Indian Army Strike Corps much needed firepower when it enters production but for now, it is yet to begin user trials with Indian Army but DRDO already has plans to fill the void left by Smerch MLRS which has the capability to hit targets up to 90kms . Continue reading →
SOURCE: PTI
As India and France look at closing the multi-billion Euro deal for 36 Rafale fighter jets soon, Defence Minister Manohar Parrikar will meet his French counterpart Jean Yves Le Drian in Singapore this week.Parrikar will be travelling to Singapore on June 2 to attend the Shangri-La Dialogue from June 3u20135.
"Both Indian and French Defence Ministers will meet on June 3. Rafale among others will be discussed," a defence source said.The issues like consensus on actions to be taken in case of a material breach, stringent liability clause and guarantee by French side are likely to be discussed. Continue reading →
SOURCE: DHNS
As President Pranab Mukherjee visited China last week, India's entry into the 48-member Nuclear Suppliers Group (NSG), whose members can trade in and export nuclear technology, emerged as the latest battleground in the growing Sino-Indian contestation. With India's push for admission into the NSG gaining momentum ahead of the annual plenary session of the Group next month, Beijing is making it clear that it intends to make life difficult for India.
China has relied on an obstructionist argument and has called for further discussion on whether "India and other countries" who have not signed the Nuclear Non-Proliferation Treaty can join the NSG. Where the US and other supporting members have called for India's inclusion based on New Delhi's non-proliferation track record and the US-India civil nuclear accord, China has made the NPT signature as its central argument to scuttle India's' entry. Continue reading →
SOURCE: NEWDELHI TIMES
For the first time, a Chinese nuclear submarine arrived in Karachi port in May 2016 coinciding with a Chinese military delegation's visit to Islamabad. An article was published on May 13 in Chinese State-run Global Times that provided an insight into the extensive military reforms underway in China as well as the operational orientation of the People's Liberation Army's recently constituted West Zone.
It appeared in the Communist Youth League's Chinese-language China Youth Daily first, a day later in the English-language State-run Global Times and further publicised via Twitter to reach a wider audience. Jayadeva Ranade, former R&AW officer and additional secretary, Cabinet secretariat, Government of India, who is President of the Centre for China Analysis and Strategy, in a rediff article, provides the broad outlines of Chinese plans and activities. Continue reading →
SOURCE: ECONOMIC TIMES
Prime Minister Narendra Modiwill begin his five-nation tour later this week, which will include Switzerland , where he will push for effective bilateral mechanism to share tax-related information in keeping with the BJP government's mission to bring back suspected black money of Indians stashed away in Swiss banks.
Switzerland has hardly been chosen by Indian PMs as a destination en route to theUSA in the past, or during visits to Europe, but Modi's trip has a clear domestic and strategic agenda. His trip to Switzerland will have another element: Swiss support is being viewed important for India's much desired membership to the Nuclear Suppliers Group (NSG). Continue reading →
SOURCE: ECONOMIC TIMES
Outlawed Jamaat-ud-Dawa chief Hafiz Saeed has rejected Beijing's call to prevent the practice of Islam in China . At a recently held 'Second National Conference on Religion' in the Chinese capital, President Xi Jinping cautioned citizens to be vigilant against Islamic tendencies, such as Halal products. Addressing a congregation in Lahore, Saeed announced his plans to meet the Chinese ambassador in Islamabad to lodge his protest.
His past congregations have targeted mainly India, USA, Israel and other Western countries. Saeed's tirade, his first against China, is unusual given Sino-Pakistan all-weather friendship. "By uttering such statements, China is hurting its time-tested relations with the people of Pakistan," said Saeed.
Continue reading →
SOURCE: IANS
Avasarala Technologies Ltd, the city-based tier-1 supplier of critical components to strategic sectors, has secured more orders to supply heat pipes for Indian satellites, a top official said on Thursday."We have got additional orders from ISRO (Indian Space Research Organisation) to supply heat pipes for satellites it launches for various applications," Avasarala chief executive T.T. Mani told reporters here at an event.
As an import-substitute component, the pipes are used in satellites to collect heat generated by electronic devices and release it in space to keep them cool. Continue reading →
SOURCE: SPUTNIK
Chiefs of Indian Border Security Force and Pakistani Rangers likely to meet in July to discuss various issues of concern.
At a time when the Indian authorities are expecting conflict along the international border — besides, of course, across the Line of Control dividing Kashmir, mostly manned by the armies of the two contending countries — the Border Security Force (BSF) and Pakistan Rangers will be undertaking a major confidence building measure (CBM).
In the process, the commanders of the two forces, the director generals of the BSF and Rangers, will be meeting at Lahore in July to discuss issues of mutual interest, sources in New Delhi's security forces said.
SOURCE: TNN BLOG
Viewed from Beijing, the recent past of Sino-Indian relations has been somewhat disconcerting. In January 2015 in New Delhi, President Barack Obama and Prime Minister Narendra Modi signed on a "Joint Strategic Vision for Asia Pacific and the Indian Ocean" that now has the two sides discussing basing protocols and joint naval patrols.
Later, the Indian PM visited China and publicly called out Beijing "to reconsider its approach on some of the issues that hold us back from realising the full potential of our partnership", bluntly pinning the blame for the state of Sino-Indian relations on China. In recent months, New Delhi demanded that Beijing end its hold on declaring Masood Azhar a global terrorist. Then, it insistently urged China to support its application for full membership to the Nuclear Suppliers Group (NSG). Continue reading →
SOURCE: ENS
China on Monday launched a new civilian high-resolution mapping satellite from the Taiyuan Satellite Launch Centre in Shanxi province. The 2.7-tonne Ziyuan III 02 satellite soared on the back of a Long March 4B rocket at 11.17 a.m. (Beijing time), Xinhua cited the centre as saying. It was the 228th flight mission by a Long March carrier rocket. Also on board the rocket were two NewSat satellites from Uruguay. All three satellites have successfully entered preset orbits, the Taiyuan centre said in a statement.
Ziyuan III 02 will be used in land resource surveys, natural disaster prevention, agricultural development, water resources management and urban planning, among other tasks. It is the second satellite in a remote-sensing mapping system China plans to build by 2030. Continue reading →
SOURCE: UNI
Asserting that doors are open for everyone, who is physically fit to join the Indian Army, Defence Minister Manohar Parrikar has said Muslims are also welcome to join the country's armed forces. In an interview to Urdu service of UNI, Mr Parrikar said like any other community Muslims, too, are joining the Army in significant numbers. To a question whether the Ministry was planning to attract the Muslim youths to join the Army, in which the Muslims were under represented, Mr Parrikar said, one should be physically fit to join the Army.
"Ours is totally a voluntary army, its not a draft army. After passing medical fitness tests, recruits undergo written exam. I would welcome Muslims also, but they have to follow the procedure. And I can say they are coming in large number, its not so (they) they are not coming," said Mr Parrikar, dismissing notions that the community is not coming forward to join the armed forces. Continue reading →
SOURCE: BBC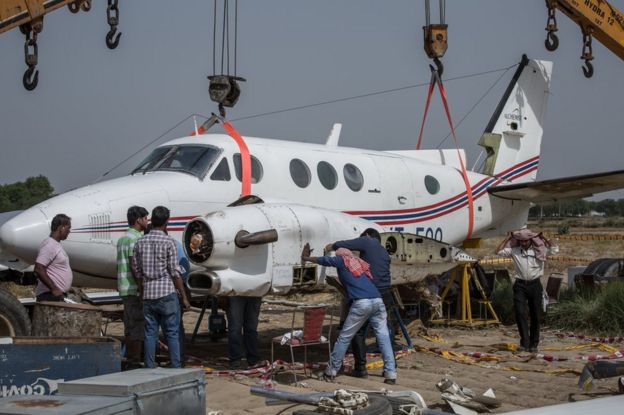 A patch of parched farmland on the outskirts of the Indian capital has witnessed a steady trickle of sightseers in recent days.The reason: it is where a light aircraft suffering from engine problems dramatically crash-landed almost a week ago.
With its wreckage yet to be cleared, the plane, which was carrying seven, all of whom escaped death, remains ringed off by police with a "do not cross" tape.Police said hundreds have visited daily since last Tuesday when the aircraft hit the ground, sprang back up in the air and then fell again, skidding for about 200 metres before coming to a halt on the field in Kair village in southwest Delhi. Continue reading →
SOURCE: HINDUSTAN TIMES
On the heels of its provocative step to prevent the United Nations Security Council sanctions committee from designating Jaish-e-Mohammed (JeM) chief Masood Azhar as a terrorist, China has publicly opposed India's membership of the Nuclear Suppliers Group (NSG). In both cases China's "all weather friendship" with Pakistan and disdain for India's reaction have influenced the decision-making. China's policy of trying to box India in the subcontinent is being stretched to the point of treating both the terrorism and NSG membership issues as ones of managing India-Pakistan rivalries.
China would want to deprive India of diplomatic advantage over its "iron" ally in forums where it can hold up consensus. It has chafed at the India-US nuclear deal, openly questioning US "favouritism" towards India and advocated a similar deal for Pakistan. Its decision to build two additional nuclear power plants beyond the two it "grandfathered" while joining the NSG is a violation of its NSG commitments. It was intended as a signal to the US that it cannot have a monopoly on decisions on non-proliferation matters and that China can balance the US nuclear gesture towards India with one of its own towards Pakistan. Continue reading →