SOURCE: IDRW.ORG TEAM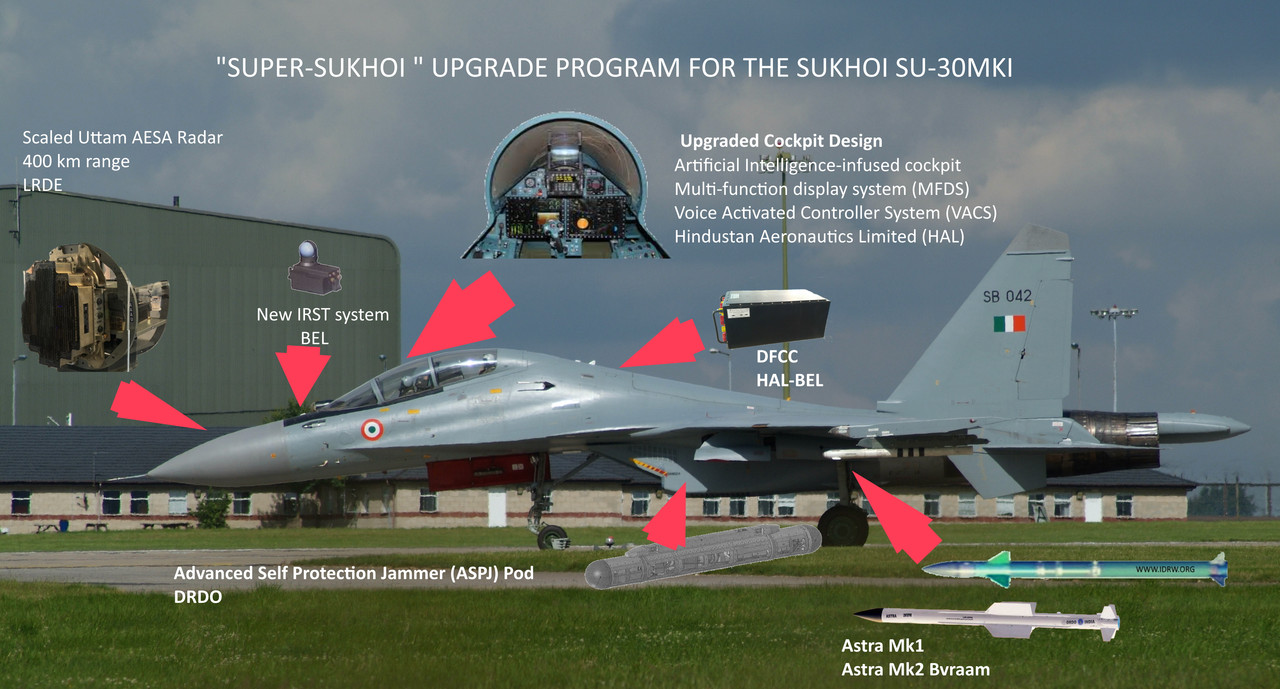 Hindustan Aeronautics Limited (HAL) is at the forefront of upgrading India's Su-30MKI fleet with the "Super-30" upgrade configuration. In a recent development, HAL's Chairman and Managing Director, CB Ananthakrishnan, has confirmed that discussions with the Indian Air Force (IAF) regarding the upgrade are nearing finalization. The "Super-30" upgrade holds the promise of transforming the Su-30MKI aircraft with an array of advanced systems and equipment, many of which will be sourced locally. HAL's self-reliant approach and confidence in executing this program without Russian Original Equipment Manufacturers (OEMs) are paving the way for a significant advancement in India's defense capabilities.
Key Elements of the "Super-30" Upgrade: The "Super-30" upgrade program for India's Su-30MKI fleet entails a comprehensive overhaul that encompasses various vital systems and equipment. Key highlights of the upgrade include:
Indigenous Technology: HAL is determined to execute the "Super-30" program without relying on Russian OEMs. Instead, the company is placing its faith in Indian Public-Private Defense sector companies. This commitment reflects India's aspiration for self-reliance and a boost to its domestic defense industry.
Equipment Replacement: A critical aspect of the program is the replacement of approximately 51 Israeli-Russian equipment onboard the Su-30MKI aircraft. These components will be substituted with locally manufactured equipment and systems.
Advanced AESA Radar: The "Super-30" upgrade aims to equip the Su-30s with the indigenous Uttam active electronically scanned array (AESA) radar. The AESA radar provides superior target detection and tracking capabilities, enhancing the aircraft's situational awareness and combat effectiveness.
Electronic Warfare Suites: Upgrading the electronic warfare suites is an integral part of the program, enabling the Su-30MKI to counter and neutralize electronic threats effectively.
Weapon Control Systems: The new weapon control systems will ensure that the aircraft can integrate and deploy a wider range of advanced weaponry, enhancing its operational versatility.
Avionics Advancements: The upgrade will introduce cutting-edge avionics that enhance communication, navigation, and mission capabilities, aligning the Su-30MKI with modern combat requirements.
New Weapons: The "Super-30" program will enable the Su-30MKI to employ new and advanced weapons systems, providing the IAF with enhanced offensive and defensive capabilities.
The "Super-30" upgrade for India's Su-30MKI fleet represents a significant leap forward in enhancing the combat capabilities of these aircraft.
NOTE : Article cannot be reproduced without written permission of idrw.org in any form even for YouTube Videos to avoid Copy right strikes. Websites doing illegal reproductions will get DCMA and Legal Notices.