SOURCE: IDRW.ORG TEAM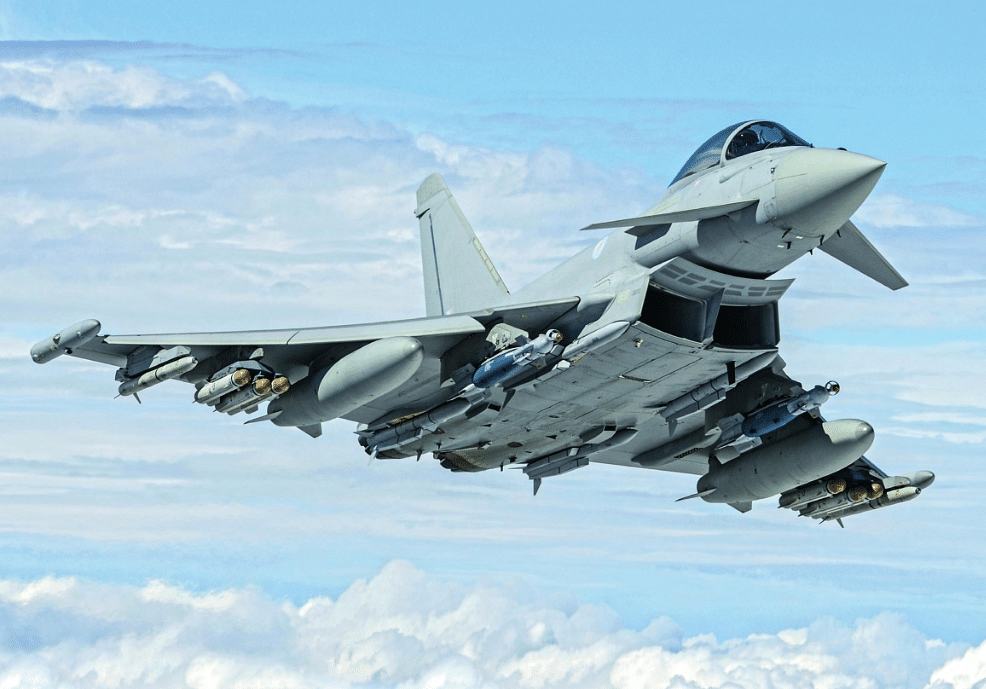 India's quest for a formidable fleet of 114 fighter jets under the Medium Multi-Role Fighter Aircraft (MRFA) tender has taken an intriguing twist, with the United Kingdom emerging as a potential frontrunner to lead the Eurofighter Typhoon campaign in the country.
This comes on the heels of a recent fiasco involving Saudi Arabia, where Germany, one of the partner countries in the Eurofighter Typhoon program, suspended arms sales to the nation. The decision was prompted by the murder of Saudi journalist Jamal Khashoggi within the Saudi consulate in Istanbul in 2018. Germany's firm stance in halting arms sales and subsequently canceling Saudi Arabia's plans to procure additional Eurofighter Typhoon jets has reshaped the dynamics of the consortium.
The Eurofighter Typhoon program has traditionally been a collaborative effort among partner countries, with Germany playing a significant role. However, the recent events have led to a shift in strategy, with the United Kingdom emerging as a potential leader to spearhead the campaign in India. The UK's proactive approach aims to capitalize on the opportunity presented by India's MRFA tender, and the potential to secure a substantial contract for the Eurofighter Typhoon.
The Eurofighter Typhoon, a cutting-edge multi-role fighter jet, has long been on India's radar. It was shortlisted alongside the Dassault Rafale in the now-canceled Medium Multi-Role Combat Aircraft (MRCA) tender for 126 fighter jets back in 2012. While the Rafale secured its place in the Indian Air Force with a previous order of 36 jets, the Eurofighter Typhoon has maintained a low-profile campaign in India, primarily under the leadership of Germany.
Despite the odds, the Eurofighter Typhoon has remained a formidable contender. A third of the jet's components are sourced from Germany, highlighting the nation's crucial role in the program. The current geopolitical scenario has compelled the consortium to navigate uncharted waters, with the United Kingdom poised to play a more dominant role.
The Indian Air Force (IAF), while recognizing the frontrunner status of Dassault due to its previous successful engagement, remains open to exploring other options that meet stringent technical requirements. The MRFA tender represents a significant opportunity for global aviation giants to showcase their prowess and secure a substantial contract, fostering stronger diplomatic and trade ties between India and the chosen partner.
NOTE : Article cannot be reproduced without written permission of idrw.org in any form even for YouTube Videos to avoid Copy right strikes