SOURCE: IDRW.ORG TEAM
Pune-based Sagar Defence Engineering has made significant strides in the field of drone technology by developing the Spotter drone, which recently played a pivotal role in tracking the descent of an Indian Navy crew module. The successful deployment of the Spotter drone marked a remarkable achievement in enhancing real-time situational awareness and live tracking capabilities for critical missions.
Sagar Defence Engineering's Spotter drone is a cutting-edge unmanned aerial vehicle (UAV) designed to offer advanced surveillance and tracking capabilities. This innovative drone was recently employed by the Indian Navy in a mission that involved tracking the descent of a crew module, eventually splashing down in the Bay of Bengal.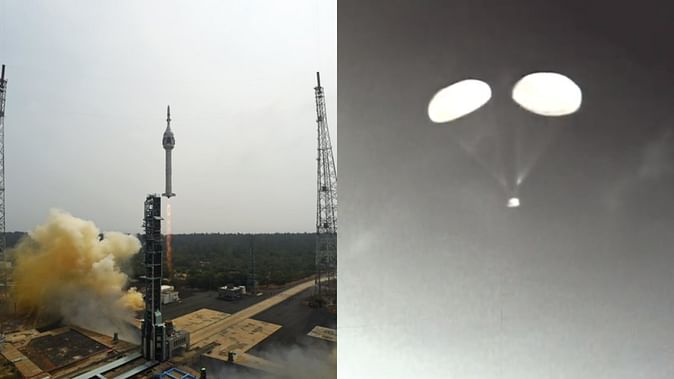 Live Feed and IR Camera Technology:
The Spotter drone is equipped with state-of-the-art technology, including an infrared (IR) camera. During the mission, it provided a live feed of the crew module's descent. The IR camera played a crucial role in capturing real-time video footage and situational awareness. The transmitted data was relayed via satellite from the Indian Navy's recovery area at sea to ISRO's mission control center in Sriharikota.
A Landmark Moment for Space Enthusiasts:
The successful mission marked a significant moment for space enthusiasts as they were treated to live transmissions from the Spotter drone's IR camera. It provided a unique opportunity to witness the crew module's descent as never seen before.
Spotter Drone's Capabilities:
The Spotter drone boasts impressive specifications, making it a valuable asset for a range of missions. It can cover distances of up to 20 kilometers, providing extensive coverage for tracking purposes. What's more, this versatile drone can take off and land from moving ships, even in challenging conditions, with speeds of up to 30 kilometers per hour. It's built to withstand winds of up to 45 kilometers per hour, making it a reliable choice for maritime and aerial tracking.
NOTE : Article cannot be reproduced without written permission of idrw.org in any form even for YouTube Videos to avoid Copy right strikes. Websites doing illegal reproductions will get DCMA and Legal Notices.