SOURCE: IDRW.ORG TEAM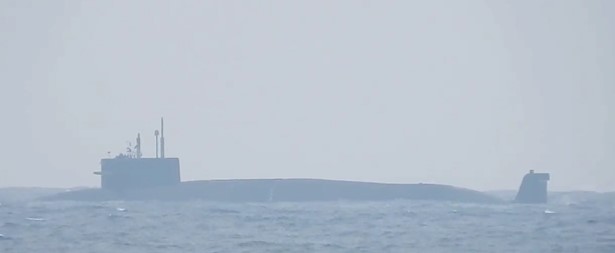 A recent video clip, seemingly depicting India's first nuclear-powered ballistic missile submarine (SSBN) INS Arihant, has set social media abuzz with discussions and speculations. The undated footage, reportedly recorded off the coast of Vishakhapatnam, has triggered conversations about India's maritime defense capabilities and its nuclear deterrence strategy. As the video circulates, observers are left wondering about the significance of this unexpected glimpse into one of India's most secretive naval assets.
The INS Arihant holds a pivotal place in India's naval arsenal. Its induction into the Indian Navy in 2016 marked a significant leap in the nation's maritime capabilities. Notably, in November 2019, India announced the operationalization of its nuclear triad, a momentous achievement that further solidified the country's position on the global stage. The triad, as outlined in India's nuclear doctrine, involves the deployment of nuclear weapons on land, in the air, and at sea, ensuring a diversified and credible deterrence capability.
The video of the submarine, believed to be INS Arihant, cruising near Vishakhapatnam, has ignited a debate among experts and enthusiasts alike. While the authenticity of the video is yet to be confirmed, its implications are profound. If indeed it is INS Arihant, it signifies that the submarine is actively engaged in its primary mission—carrying ballistic missiles armed with nuclear warheads on deterrence patrols in the deep seas.
However, an intriguing twist to the narrative emerges with speculation that the submarine in question might actually be the second indigenous SSBN, Arighat. This vessel is reportedly in advanced stages of sea trials and is anticipated to be commissioned into the Indian Navy soon. Despite no official announcement, the speculation has raised questions about the video's authenticity and the extent of information being divulged about India's nuclear submarine program.
It is worth noting that the concept of nuclear submarines embodies an aura of secrecy and strategic ambiguity across the globe. The nature of their operations necessitates confidentiality to ensure operational effectiveness and security. Any glimpse into their activities, intentional or otherwise, sparks discussions and debate.
NOTE : Article cannot be reproduced without written permission of idrw.org in any form even for YouTube Videos to avoid Copy right strikes