SOURCE: RAUNAK KUNDE / NEWS BEAT / IDRW.ORG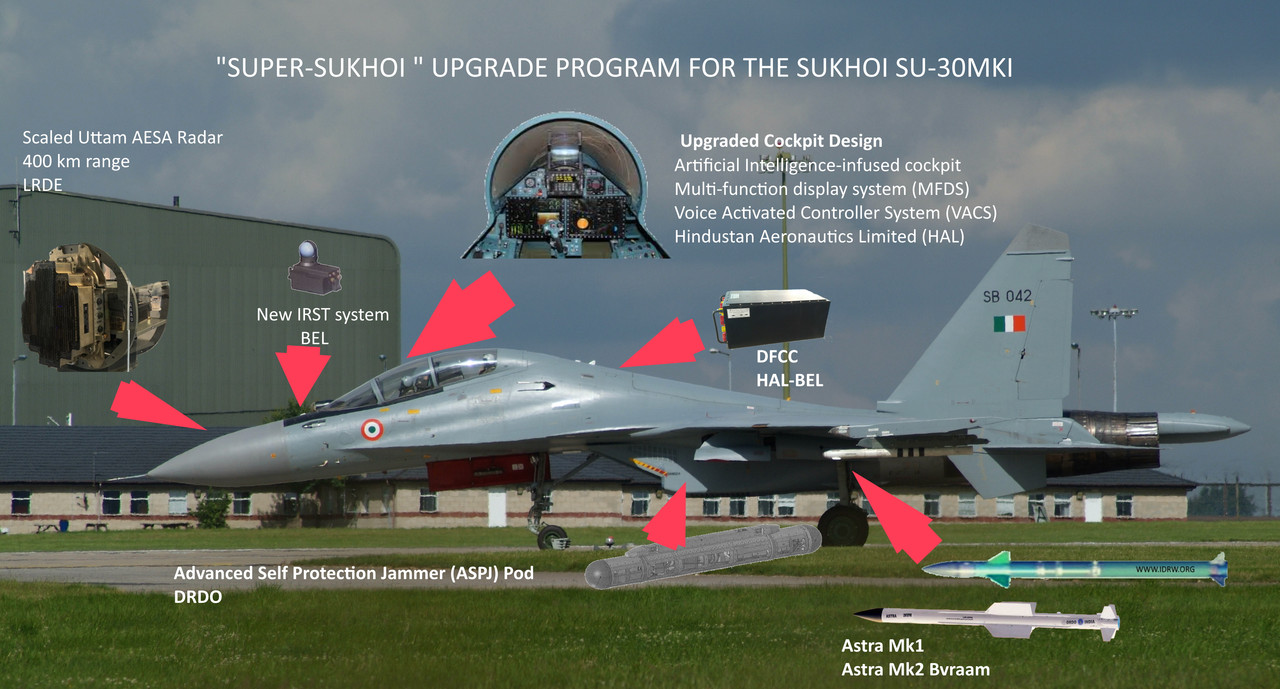 India's state-owned aerospace and defence company, Hindustan Aeronautics Limited (HAL), is gearing up for a substantial modernization project aimed at upgrading the Indian Air Force's (IAF) fleet of Sukhoi-30MKI aircraft. This initiative, set to commence from the fiscal year 2026-27, represents a significant leap in India's efforts to enhance its air combat capabilities and keep pace with the evolving landscape of aerial warfare.
The proposed upgrades to the Sukhoi-30MKI fleet are both comprehensive and ambitious. HAL envisions a radical transformation of these formidable fighter aircraft, encompassing various key aspects:
1. Revamped Cockpit with New-Generation Touch Widescreen Displays: The centrepiece of this modernization effort is the complete overhaul of the cockpit. The existing displays will be replaced with state-of-the-art, next-generation touch widescreen displays. This upgrade promises to provide pilots with improved situational awareness, enhanced data visualization, and greater control over the aircraft's systems.
2. Indigenous AESA Radar: A critical component of the upgrade is the integration of a new Active Electronically Scanned Array (AESA) radar system, developed locally for the program. AESA radar technology offers superior detection and tracking capabilities, allowing for enhanced targeting accuracy and improved performance in electronic warfare scenarios.
3. Upgraded Mission Control Computer: The mission control computer, a vital component of the aircraft's avionics suite, will undergo enhancements to support the new radar, display systems, and other modernization features. This will ensure seamless integration and optimal performance of the upgraded Sukhoi-30MKI.
4. Enhanced Weapons Package: The modernization program may also include an upgraded weapons package, potentially incorporating more advanced munitions and electronic countermeasures. This aspect aims to augment the combat effectiveness of the aircraft, making it even more formidable in air-to-air and air-to-ground engagements.
If this ambitious upgrade plan receives the necessary clearance and budgetary sanctions from the Ministry of Defence (MoD) and the Indian Air Force (IAF), HAL intends to embark on a multi-year effort. The project envisions upgrading approximately 20-25 aircraft per year, with the entire Sukhoi-30MKI fleet transitioning to the new Super-30 configuration by 2034.
To validate the final configuration of these upgrades and conduct essential testing, HAL plans to deploy two flying testbeds in Bangalore. These aircraft will play a crucial role in evaluating the performance of major upgrades, including the Uttam AESA fire control radar that is under development for the program.
NOTE : Article cannot be reproduced without written permission of idrw.org in any form even for YouTube Videos to avoid Copy right strikes