SOURCE: IDRW.ORG TEAM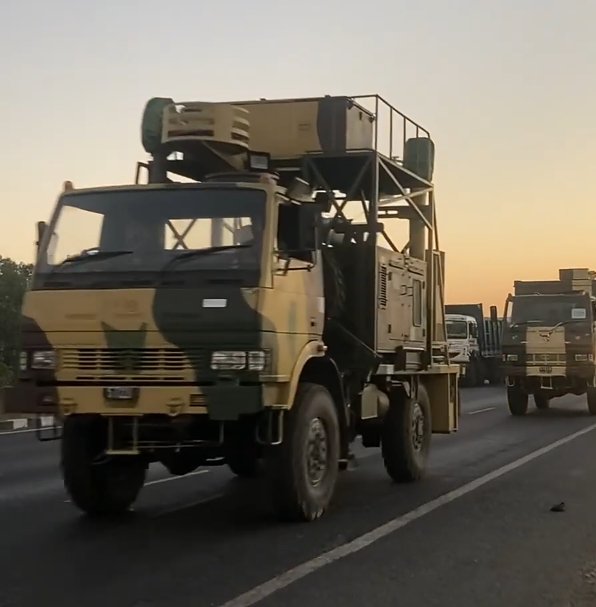 In a significant development that underscores the Indian Army's commitment to modernizing its defense capabilities, a recent video circulating on various platforms showcases what appears to be the induction of a truck-mounted Counter-Unmanned Aircraft System (C-UAS). This new addition is poised to enhance India's defense against unmanned aerial threats and signals a step forward in its efforts to ensure national security.
The configuration of the C-UAS system consists of several specialized vehicles, each with distinct functionalities that collectively form a robust defense mechanism against unmanned aerial vehicles (UAVs) and drones:
Detection Vehicle: This component plays a crucial role in identifying UAVs and drones operating within the designated area. Equipped with advanced technology, it can detect and track these airborne threats using Radio Frequency (RF) detection capabilities with a range of 10 kilometers.
Jamming Vehicle: The jamming vehicle is designed to disrupt the communication and control signals of unauthorized UAVs. With a matching RF jamming range of 10 kilometers, this component ensures that hostile drones are rendered inoperative within its vicinity.
Battery Command Post Vehicle: The battery command post vehicle acts as the central command hub for the C-UAS system. It coordinates the activities of the detection and jamming components, providing real-time data to ensure effective response and countermeasures.
Power Generator Vehicle: Reliable power supply is critical for sustaining the C-UAS system's operations. The power generator vehicle ensures that all components have the necessary energy to function optimally.
This truck-mounted C-UAS system is reported to have been manufactured by Defsys, a prominent name in defense technology. The system's multifaceted approach, comprising detection, tracking, and jamming, makes it an effective tool to neutralize the threat posed by UAVs and drones in sensitive areas.
The Indian Army earlier this year had issued a tender on January 2023 for the acquisition of 20 such C-UAS truck-mounted systems. The system's capabilities are impressive, encompassing both RF detection and jamming with a range of 10 kilometers, as well as Electro-Optical/Infrared (EO/OR) sensor detection with a range of 2 kilometers.
As defense technologies continue to evolve, nations like India recognize the importance of investing in advanced systems to safeguard their territories and interests. The truck-mounted C-UAS system is just one example of how innovation is playing a pivotal role in shaping the future of defense strategies across the globe.
NOTE : Article cannot be reproduced without written permission of idrw.org in any form even for YouTube Videos to avoid Copy right strikes