SOURCE: RAUNAK KUNDE / NEWS BEAT / IDRW.ORG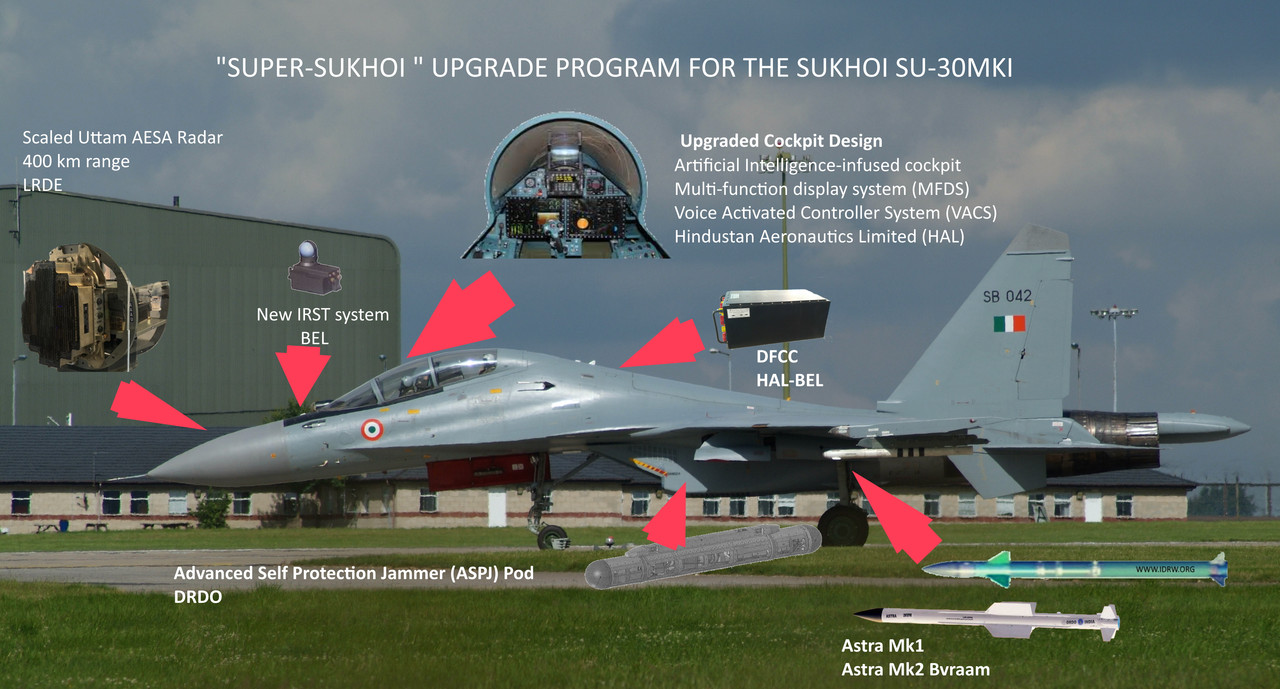 The Hindustan Aeronautics Limited (HAL) has unveiled its ambitious upgrade plan for 84 units of the Sukhoi-30MKI, transforming them into the formidable "Super Sukhoi" configuration. This comprehensive upgrade encompasses a range of cutting-edge components and systems that will significantly enhance the aircraft's operational capabilities.
Here's a closer look at the key components that will be integrated into the Super Sukhoi:
Upgraded VORILS: The VHF Omni-directional Radio Range and Instrument Landing System receive enhancements to bolster navigation and landing precision, particularly in adverse conditions.
Aviation Clock: Precision timekeeping is ensured through specialized aviation clocks, critical for mission coordination.
GPS Splitter: The GPS splitter distributes accurate GPS signals to various systems, supporting precise positioning and navigation.
Integrated Stand-by Instrument System: This system provides redundancy in the event of primary instrument failure, enhancing safety.
Mission Computers: Advanced mission computers process and manage critical mission data, improving efficiency.
Digital HUD: A Digital Heads-Up Display enhances data presentation and visual display.
Modified ENGPS: Modifications to the Enhanced Navigation and Geospatial Information System aim to enhance navigation and target identification.
Indigenous SSDVRS: An Indigenous Solid-State Digital Video Recording System records crucial flight data.
Indigenous DMG: The Digital Moving Map Generator aids in improved situational awareness.
Indigenous Weapon Systems: The integration of indigenous weapon systems enhances the aircraft's combat capabilities.
Indigenous IFF System: The Identification Friend or Foe (IFF) system is upgraded with indigenous technology for improved identification and communication.
VACS: The Voice Activated Cockpit System streamlines communication within the cockpit.
Uttam Aesa Radar: This advanced radar system enhances detection and targeting capabilities.
Helmet Mounted Display System (HMDS): The HMDS enhances pilot situational awareness by projecting critical data onto the helmet visor.
Upgraded Radio Altimeter: Improved radar altimeters enhance safety during low-altitude flight.
Bigger Size MFDs (Touch-Based): Larger Multi-Function Displays with touch-based interfaces improve data access and control.
Voice-Activated Inputs: Voice-activated controls streamline cockpit operations.
Advanced Weapon Central Systems: This system manages various weaponry and targeting systems, boosting the aircraft's combat capabilities.
Enhanced EW Suite: The Electronic Warfare Suite is upgraded to detect, counter, and respond to electronic threats.
Indigenous BHC: The Built-in Health Check system monitors system health and aids in maintenance.
Software Defined Radio: Defined radio technology enables secure communication with ground control and other aircraft.
Enhanced FOR: Improvements to the Forward Observer Radar enhance target acquisition and tracking capabilities.
Blanking Unit: Enhances data transfer during banking manoeuvres.
New Laser Designator Pod (LDP): The Laser Designator Pod is a critical component for laser-guided munitions.
Flight Data Transfer Unit: Facilitates secure and efficient flight data transfer and management.
IRST (Infrared Search and Track): IRST enhances target detection through infrared technology.
Advanced Tacan: The Tactical Air Navigation System is upgraded for precise navigation.
This extensive upgrade not only reinforces the Sukhoi-30MKI's status as a formidable combat aircraft but also equips it for the evolving challenges and mission requirements. The "Super Sukhoi" promises to be a valuable asset for the Indian Air Force, with improved navigation, communication, and combat capabilities.
NOTE : Article cannot be reproduced without written permission of idrw.org in any form even for YouTube Videos to avoid Copy right strikes. Websites doing illegal reproductions will get DCMA and Legal Notices.