SOURCE: RAUNAK KUNDE / NEWS BEAT / IDRW.ORG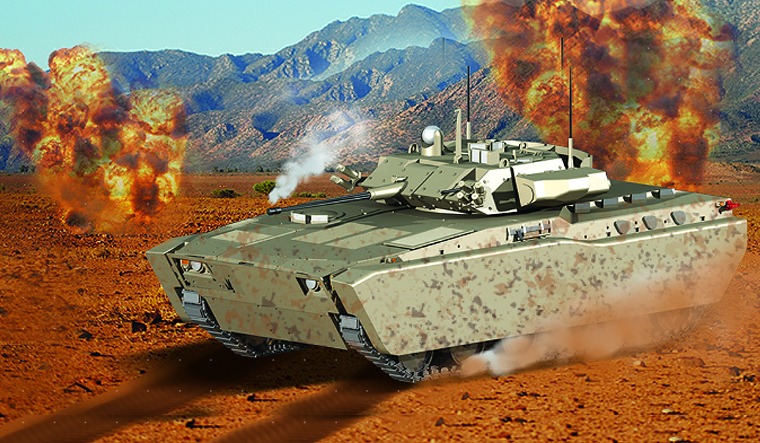 In a significant development aimed at advancing India's defence capabilities and promoting the "Make-In-India" model, Armoured Vehicles Nigam Limited (AVANI) has issued a Request for Proposal (RFP).
This initiative seeks to tap into the technological expertise within the Indian industry, surmount the challenges of achieving an indigenous solution, and foster collaboration with experienced industry partners in the field of military vehicle design, manufacturing, and integration of Heating, Ventilation, and Air Conditioning (HVAC) systems.
Futuristic Infantry Combat Vehicle (FICV): A Vision for Tomorrow's Battlefield
The RFP revolves around the creation of a Futuristic Infantry Combat Vehicle (FICV), a critical component of India's military arsenal. The FICV represents a cutting-edge platform designed to meet the demands of modern warfare and ensure the safety and efficiency of India's armed forces.
Key Technical Parameters of the FICV:
Gross Vehicle Weight: The FICV is expected to have a gross vehicle weight of approximately 23 tons, including combat weight with an Integrated Power Pack (IPP).
Overall Vehicle Dimensions: The approximate dimensions of the FICV are expected to be 7.5 meters in length, 3.6 meters in width, and 2.9 meters in height.
Integrated Power Pack (IPP): The FICV will be equipped with an IPP with a power output of 25 kW, which can be provided either from the engine or transmission.
Carrying Capability: The FICV is designed to accommodate a crew of three and a squad of eight personnel, highlighting its versatility in various operational scenarios.
Volume of Conditioned Space: The vehicle is expected to offer approximately 30 cubic meters of conditioned space, ensuring the comfort and safety of its occupants.
Infiltration Air: The industry partner will determine the specific operating conditions of the vehicle, including temperature and altitude ranges, to ensure optimal performance in a variety of environments.
Geographical Deployment: The FICV is designed to excel in diverse terrains, including plains, deserts, and mountains, offering the flexibility needed to meet the challenges of modern warfare.
Operating Conditions: The FICV must be capable of operating in a wide range of temperature and altitude conditions, from cold mountainous environments to hot desert plains. It should be adaptable to various humidity levels and maintain performance in clean and dusty environments.
NOTE : Article cannot be reproduced without written permission of idrw.org in any form even for YouTube Videos to avoid Copy right strikes