SOURCE: IDRW.ORG TEAM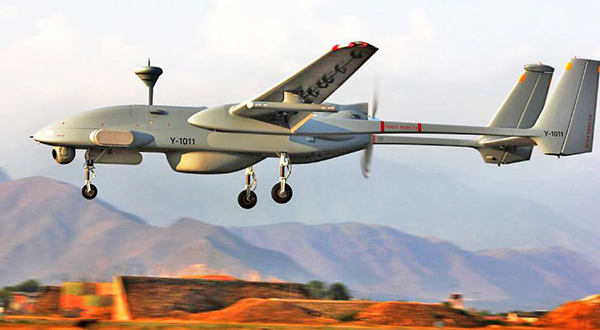 India's commitment to bolster its defense capabilities continues with Project Cheetah, an ambitious initiative that aims to equip its fleet of Israel Aerospace Industries (IAI) Heron medium-altitude long-endurance unmanned aerial vehicles (UAVs) with precision weaponry developed in India. Under this project, India seeks to enhance the operational capabilities of the Heron UAVs by integrating indigenous weapons systems, fostering self-reliance in defense technology.
As part of Project Cheetah, India plans to develop and integrate an array of indigenous precision weaponry to be carried out in-house after thorough technical studies. These advanced weapons systems are designed to provide the Heron UAVs with enhanced operational versatility and effectiveness.
Three Made in India are to be equipped on Armed Heron UAVs

Uav-launched Precision Guided Munition (ULPGM):
Weight: 8.5kg
Warhead: 2kg
Range: 4km
Payload: Heron UAVs will have the capacity to carry four ULPGMs in dual racks, providing both precision and flexibility.
Extended Range UPLGM (Under Development):
Extended Range UPLGMs are currently under development, aiming to further extend the UAVs' strike capabilities.
HELINA and Dhruvastra Anti-Tank Guided Missiles (ATGMs):
Weight: Approximately 44kg
Range: 8 to 15km
Precision: These ATGMs have successfully completed developmental trials and are poised for production.
In addition to the mentioned weaponry, feasibility studies are underway to explore the integration of other weapons systems, including the potential deployment of drop bombs ranging from 5kg to 50kg. These studies aim to ensure that the weapons chosen align with the operational requirements of the Heron UAVs and enhance their mission capabilities.
Project Cheetah signifies India's commitment to self-reliance in defense technology and its intent to equip its armed forces with cutting-edge, made-in-India weaponry. The integration of these precision weapons will empower the Heron UAVs with the ability to conduct accurate and efficient strikes, making them even more valuable assets for India's defense operations.
NOTE : Article cannot be reproduced without written permission of idrw.org in any form even for YouTube Videos to avoid Copy right strikes. Websites doing illegal reproductions will get DCMA and Legal Notices.