SOURCE: IDRW.ORG TEAM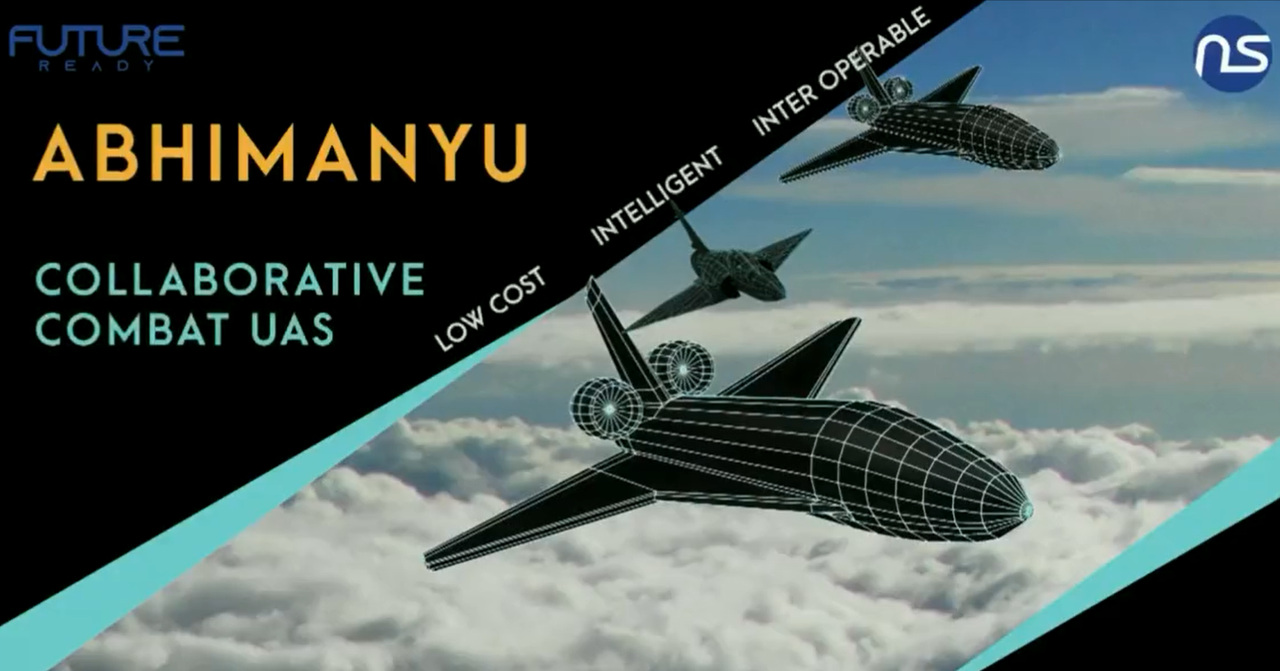 NewSpace Research and Technologies (NRT) is set to embark on an exciting journey, as it initiates discussions with Indian Ministry of Defence (MOD) stakeholders to develop the revolutionary Abhimanyu Collaborative Combat Unmanned Aircraft System (UAS). This cutting-edge concept represents a significant leap forward in the realm of unmanned military technology, with the potential to reshape the landscape of defense operations.
Building upon NRT's successful TIA-AV UAS design philosophy, the Abhimanyu UAS is poised to be a game-changer. It is designed to be low-cost, intelligent, and expendable, making it a versatile and cost-effective platform. The modular approach of Abhimanyu allows it to excel in various missions, including Intelligence, Surveillance, Reconnaissance (ISR), Kinetic Attack, Decoy, and Electronic Warfare (EW).
One of the most innovative aspects of the Abhimanyu UAS is its integration into a Manned-Unmanned Teaming (MUMT) framework. In this approach, the UAS collaboratively and autonomously operates alongside crewed aircraft, enhancing the capabilities of both. This collaboration enables swarming-capable operations even in Contested Airspace, providing a strategic advantage.
The design philosophy of the Abhimanyu UAS bears similarities to the concept of "loyal wingmen" drones. These drones, similar to the Abhimanyu, have been developed by companies like Kratos and Qinetic. Notable examples include the UTAP-22, Air Wolf, and the Jackdaw. These drones are characterized by their attritable nature and simplicity, making them cost-effective and highly adaptable for various missions. They complement the more advanced autonomous collaborative combat aircraft (CCA) counterparts emerging in today's defense landscape.
The Abhimanyu UAS aims to fill a vital role just below the advanced designs of the Defence Research and Development Organization (DRDO) and Hindustan Aeronautics Limited (HAL). While the DRDO's Ghatak and HAL's Warrior represent cutting-edge autonomous collaborative combat aircraft, the Abhimanyu offers a more cost-effective and flexible solution, catering to scenarios that demand the rapid deployment of a large number of UAS.
The introduction of the Abhimanyu UAS holds the promise of reducing operational risk and increasing combat mass for India's armed forces. By deploying large numbers of these UAS, particularly in scenarios that currently rely on a limited number of expensive manned aerial platforms, the armed forces can achieve greater flexibility and effectiveness in their missions.
NOTE : Article cannot be reproduced without written permission of idrw.org in any form even for YouTube Videos to avoid Copy right strikes