SOURCE: RAUNAK KUNDE / NEWS BEAT / IDRW.ORG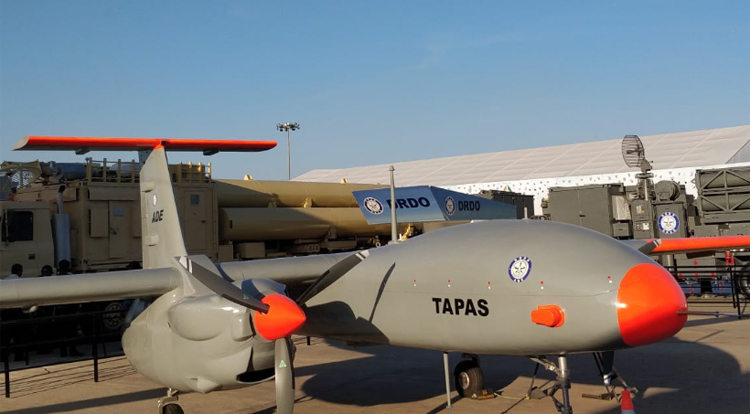 India's ambitious foray into the development of its first Medium Altitude Long Endurance (MALE) class drone, the TAPAS BH-201, might see a significant reduction in orders from both the Indian Air Force (IAF) and the Indian Army.
Technical challenges related to the drone's weight, design limitations, and performance parameters have raised concerns, prompting a reevaluation of procurement plans as confirmed to idrw.org by people familiar with the matter.
Challenges Affecting TAPAS BH-201:
The TAPAS BH-201 drone has completed its developmental trials and is currently undergoing Joint user trials. However, insiders have revealed that the program faces several hurdles that threaten its viability as a frontline military asset.
Overweight Concerns: One of the primary technical challenges is the drone's weight. It has been reported that the TAPAS BH-201 is overweight, which can have implications for its operational efficiency and endurance.
Design Limitations: The drone's design limitations are another issue that hampers its utility. These limitations reportedly prevent it from being used as an armed drone, restricting its combat capabilities.
Performance Parameters: The drone also falls slightly short of the desired parameters set by the user, particularly in terms of endurance and service ceiling. These parameters are critical for a MALE drone's effectiveness in reconnaissance and surveillance missions.
The Emergence of Archer-NG:
In response to the challenges faced by the TAPAS BH-201 program, DRDO's Aeronautical Development Agency (ADA) has initiated work on the Archer-NG, another MALE class Unmanned Aerial Vehicle (UAV). The Archer-NG features a Single Engine Twin Boom (SETB) design, which is expected to be more optimized for operations involving a 300kg weapons payload.
Potential Shift in Procurement Plans:
Initially, the IAF, Indian Army, and Indian Navy had jointly expressed interest in procuring a total of 76 TAPAS BH-201 UAVs. However, with the emergence of the Archer-NG and the technical challenges faced by the TAPAS BH-201 program, there is a possibility that Archer-NG might become the preferred choice if it completes its developmental trials in the next 2-3 years.
The Archer-NG's potential to address the shortcomings of the TAPAS BH-201, including weight, design, and performance parameters, makes it a strong contender for future UAV procurement by the Indian armed forces.
While the TAPAS BH-201 represented a significant milestone in India's efforts to develop indigenous MALE drones, technical challenges have prompted a reconsideration of procurement plans. The emergence of the Archer-NG offers a promising alternative, and its success in addressing the limitations of the TAPAS BH-201 could pave the way for a new era in Indian military UAV capabilities. As development and trials continue, the Indian armed forces will carefully evaluate their options to ensure they have the best-suited drones to meet their operational needs.
NOTE : Article cannot be reproduced without written permission of idrw.org in any form even for YouTube Videos to avoid Copy right strikes