SOURCE: IDRW.ORG TEAM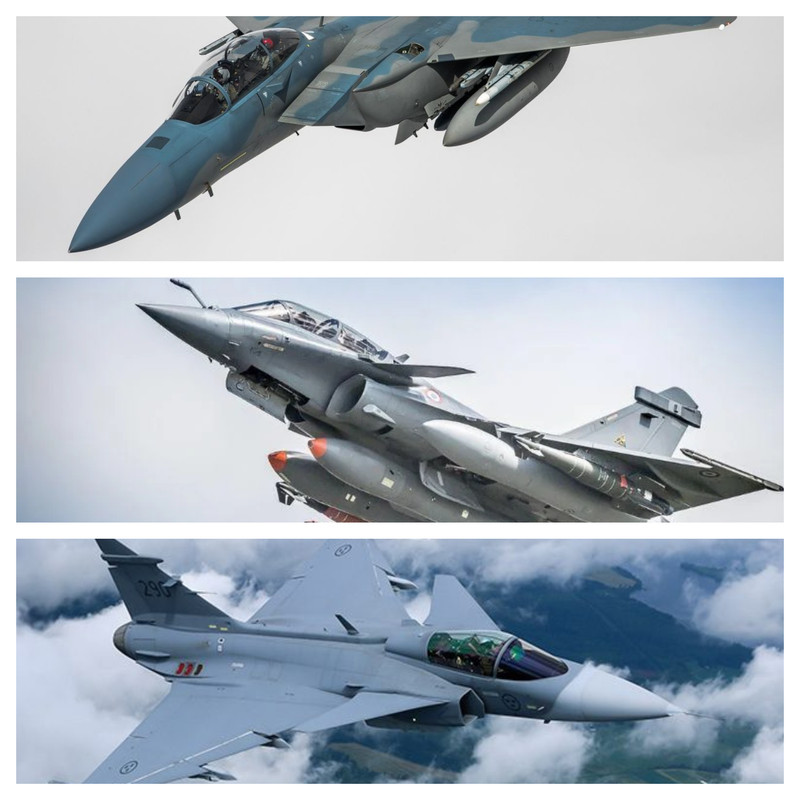 In a highly anticipated move, the Indian Air Force (IAF) is advancing in its quest for 114 Medium Multi-Role Fighter Aircraft (MRFA) to bolster its aerial capabilities. The top contenders in this substantial tender, as reported by sources within the IAF to " The Print" are the Boeing F-15EX, Saab's Gripen-E, and the Dassault Rafale fighter jets.
The IAF initiated this procurement endeavor by releasing a Request for Information (RFI), which garnered responses from eight Original Equipment Manufacturers (OEMs). Following these responses, the IAF conducted preliminary discussions with all eight OEMs, setting the stage for the next crucial step in the acquisition process.
The IAF is now preparing to issue a formal Request for Proposal (RFP), with plans to do so later this year or early in the coming year. This step hinges on obtaining the Acceptance of Necessity (AoN) from the Ministry of Defence (MoD), indicating the official approval to proceed with the acquisition.
Among the contenders, the Boeing F-15EX has garnered substantial attention, primarily because it closely aligns with India's Sukhoi-30MKI class of aircraft. Despite being based on an airframe design that dates back nearly half a century, the F-15EX, also known as the Eagle II, represents a next-generation fighter. Boeing has equipped it with features such as affordability, speed, extensive operational range, high weapon payload capacity, a digital backbone, and an open architecture.
Of particular interest is its capability to carry a substantial number of missiles to support F-35 aircraft and provide critical firepower during combat operations, complementing the F-35's threat detection capabilities.
Saab's offering, the 16.5-ton Gripen-E, is comparable to India's Light Combat Aircraft-Air Force MkII (LCA-AF MkII), currently under development. Both the Gripen-E and LCA-AF MkII are powered by the same F-414 engines, potentially allowing for fleet commonality. However, it's worth noting that the Gripen-E comes with a higher price tag, exceeding $80 million per unit, compared to the expected cost of around $60 million per unit for the LCA-AF MkII.
The Dassault Rafale, with its existing presence in the IAF fleet, holds a strong position in the competition. Dassault has already established a significant manufacturing presence in India as part of its global supply chain. The company is gearing up to increase local component sourcing for its extensive backlog orders, which include 200 Rafale fighter jets for various countries.
The race for the IAF's MRFA contract promises to be an exciting and transformative development in India's aviation landscape, with these advanced aircraft vying for the opportunity to strengthen the nation's air defense capabilities. The IAF's choice will likely be influenced by factors such as performance, cost-effectiveness, and strategic alignment with India's defense objectives.
NOTE : Article cannot be reproduced without written permission of idrw.org in any form even for YouTube Videos to avoid Copy right strikes. Websites doing illegal reproductions will get DCMA and Legal Notices.