SOURCE: IDRW.ORG TEAM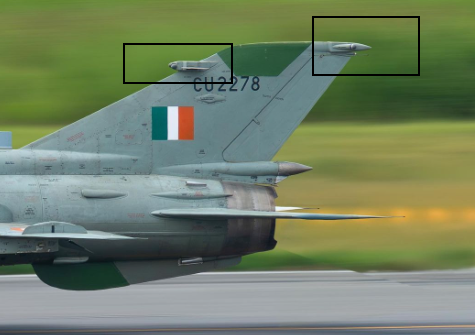 The Indian Air Force (IAF) seems to have integrated Rafael Advanced Defense Systems' BNET-AR communication antennae onto its Mig-21 aircraft. These advanced antennae, located on the dorsal hump of the aircraft, provide a robust voice and data-link solution that supports seamless transmission of data, voice, and video services, all while facilitating multiple auto relays.
The variant chosen for this integration is the BNET-AR, an innovative modular multiband Software Defined Radio (SDR) system developed by Rafael. This system is designed to be integrated into a variety of airborne platforms, including fighters, helicopters, and Ground Control Stations. With this technology on board, aircraft become part of a net-centric ecosystem that enables real-time situation awareness and coordinated operations.
The BNET-AR system empowers aircraft with the ability to transmit data, voice, and video services simultaneously, while also facilitating auto relays for uninterrupted communication. This technology is especially crucial in modern warfare scenarios, where real-time information exchange is vital for strategic decision-making.
The integration of BNET-AR communication antennae was expedited by the IAF following the Balakot incident. The swift decision to acquire 400 Software Defined Radios (SDRs) from Israel.These SDRs are set to be integrated into the IAF's Mirage-2000, MiG-29, and Sukhoi-30 fighter aircraft. This procurement ensures that the aircraft will have the capacity for secure communication not only among themselves but also with ground installations and vital components like the Airborne Warning and Control System (AWACS).
One of the notable features of the BNET-AR system is its adaptive nature. In case of jamming attempts, the system can seamlessly shift communication to alternative frequencies, guaranteeing that connectivity remains uninterrupted. This resilience is a crucial asset in an age where cyber threats and electronic warfare tactics are becoming increasingly sophisticated.