SOURCE: RAUNAK KUNDE / NEWS BEAT / IDRW.ORG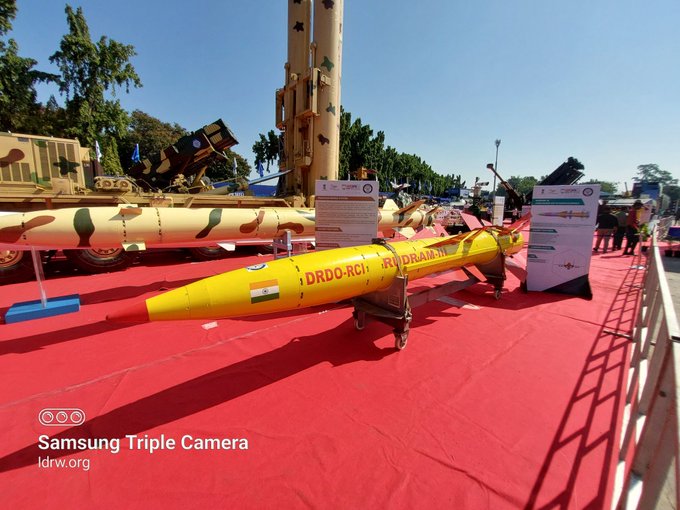 Hindustan Aeronautics Limited, Nashik Division, is gearing up for a series of critical activities to carry out Captive Trials of RudraM-III Air to Surface Missile aimed at enhancing the capabilities of the Su-30 MKI aircraft. These trials will involve various modifications and installations on the aircraft to enable the integration of advanced technologies and munitions.
Su-30 MKI aircraft, designated as SB-214, will undergo activation of trial modifications at stations No. 5 and 6. SB-214 was also used to test Astra BVRAAM and NGARM advanced missile systems in past.
Nashik Division will carry out the installation of the KAM 500, a critical component of the aircraft's capabilities. This installation involves mounting the KAM 500 with a specialized plate and ensuring proper connections to the Avionics Bus, Display Bus, and DAU (Data Acquisition Unit).
HAL Nasik will install a CCDU (Captive Carry Display Unit) in the rear cockpit of the Su-30 MKI. This unit is essential for monitoring and controlling various systems during flight trials. Additionally, modifications will be made to the power supplies in the logic unit located in the RE (Rear Equipment) bay.
HAL Nasik will provide design support for trial modification circuits and offer maintenance support for FTI (Flight Trials Instrumentation) modifications, including the necessary installations on the aircraft. These services are crucial to ensure the successful execution of the trials.
RudraM-III is a 1.6-ton air-to-surface missile that has a range of 600km when launched from 11km altitude at Mach 0.9. RudraM-II has a peak speed of 5.5 Mach and a Terminal stage speed of 1.5 Mach. RudraM-III has a stage solid rocket motor for its propulsion with a 300-400kg warhead.
RudraM-III can be used to take out radar installations, bunkers, airstrips, and air hangers. According to officials, only Su-30MKI will be cleared to carry this weapon system for the time being, and later will see both RudraM-II and RudraM-III in Tejas Mk2 but not on Tejas Mk1A.
NOTE : Article cannot be reproduced without written permission of idrw.org in any form even for YouTube Videos to avoid Copy right strikes