SOURCE: IDRW.ORG TEAM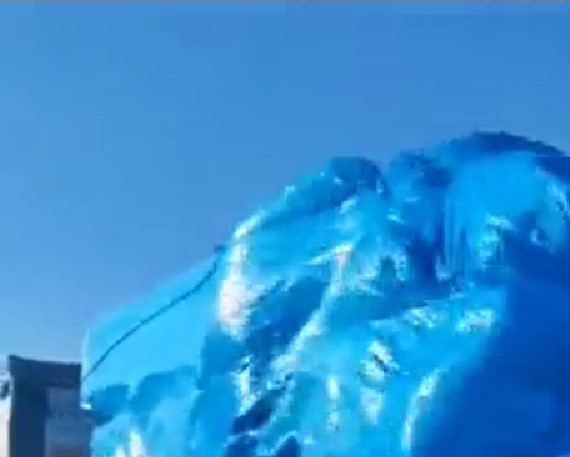 A recent video circulating on social media platform X (formerly known as Twitter) has ignited a heated debate surrounding the alleged supply of Indian-made weapons systems to Armenia. The video purportedly shows several trucks transporting what appears to be Indian-manufactured Pinaka Rocket systems, claimed to be en route to Armenia. This development comes in the wake of Armenia's procurement of these systems through a landmark weapons deal between the two nations last year.
The authenticity of the video, however, remains in question, as its origins and context have not been independently verified. The video showcases a convoy of trucks carrying the Pinaka Rocket systems, which were reportedly ordered by Armenia from India. The Pinaka system is known for its advanced artillery capabilities and has been a point of interest for various armed forces globally.
The controversy deepens given that earlier this month, media reports from Azerbaijan alleged that India had supplied artillery systems to Armenia, resulting in an official protest lodged by the Azerbaijan government with the Indian ambassador to the country. Azerbaijan, which is locked in a long-standing conflict with Armenia over the Nagorno-Karabakh region, is known for its alignment with Pakistan, particularly concerning matters related to Kashmir. This alignment has prompted India to seek closer ties with Armenia and Iran as part of its regional strategic approach.
Azerbaijan's military actions have been supported by Turkey, a country with a history of close ties with Pakistan. Additionally, Pakistan's strategic backing has added a complex layer to the regional dynamics, leading India to explore partnerships with Armenia and Iran as a countermeasure. These partnerships are seen as a means to balance the equation and protect India's interests in the region.
However, it's important to note that videos and reports on social media should be approached with caution, especially when it comes to sensitive geopolitical matters. The veracity of the claims made in the viral video should be thoroughly investigated and verified by relevant authorities and experts before conclusions are drawn.
NOTE : Article cannot be reproduced without written permission of idrw.org in any form even for YouTube Videos to avoid Copy right strikes