SOURCE: IDRW.ORG TEAM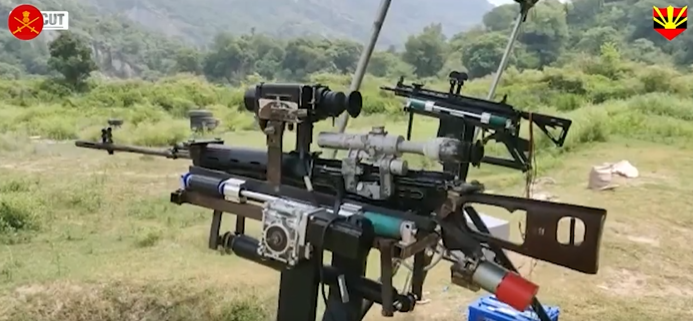 Get ready to witness groundbreaking technology in action at EASTTECH23, a remarkable event to be held at Manira Dewan Trade Center, Guwahati, from October 10th to 11th, 2023. Among the many cutting-edge innovations on display, the Gajraj Corps of the Indian Army will showcase an AI Remotely controlled 7.62 mm Dragunov sniper rifle in a stunning demonstration.
The Dragunov sniper rifle, known as the DSR, is a legendary weapon with a rich history. It was designed by the renowned Soviet weapon designer, Yevgeny Dragunov, in the late 1950s. The DSR is a gas-operated short-stroke piston rifle that has withstood the test of time.
Before being inducted into the former Soviet armed forces, the DSR underwent exhaustive testing in various environments. By the late 1970s, this formidable rifle was already in use in combat scenarios in several countries across different continents.
The Indian Army has been one of the largest users of the DSR, and various versions of this rifle have been supplied by Kalashnikov, a name synonymous with firearms excellence. The DSR has always been highly regarded by Army officers for its exceptional performance, boasting an effective range of approximately 800 meters.
However, as the mission criteria and the nature of operations have evolved over time, the DSR has faced new challenges. While the rifle has undergone limited modifications, it has primarily seen what is referred to as 'Special Operations Modifications' to adapt to modern warfare requirements.
At EASTTECH23, you will have the opportunity to witness the evolution of this iconic rifle and explore the innovative technology that enables AI remote control, taking its capabilities to new heights. Don't miss the chance to be part of this extraordinary showcase of technology and innovation at EASTTECH23 in Guwahati.
NOTE : Article cannot be reproduced without written permission of idrw.org in any form even for YouTube Videos to avoid Copy right strikes