SOURCE: IDRW.ORG TEAM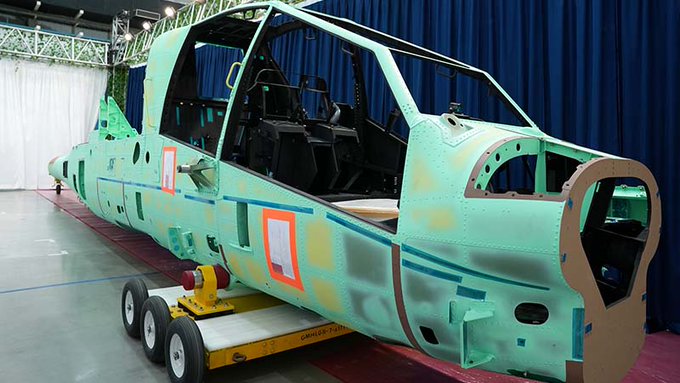 Boeing, a global aerospace leader, has marked a significant milestone in India's military aviation by commencing production of the AH64 Apache attack helicopter at its Mesa, Arizona site. This momentous step follows the successful manufacturing of the Apache fuselage at the Tata Boeing Aerospace Limited facility in Hyderabad, highlighting the collaborative efforts between Boeing and India's aerospace industry.
The AH64 Apache, known for its exceptional combat capabilities and versatility, has become a symbol of cutting-edge technology in modern warfare. With its robust design and advanced weaponry, the Apache is a force to be reckoned with on the battlefield. Its inclusion in the Indian Army's fleet is a testament to the country's commitment to enhancing its defense capabilities.
The first AH64 Apache helicopter is set to be delivered to the Indian Army in February 2024. To ensure seamless integration and operation, the training of Army Aviation pilots and technicians has already commenced in the United States, with the training program starting in December.
The Indian Army's decision to induct the AH64 Apache showcases its strategic vision for a modern and agile defense force. As the first dedicated attack helicopter in the Army's aviation arsenal, the AH64 Apache brings a new dimension to its operational capabilities. This induction follows the entry of the indigenous Light Combat Helicopter (LCH), marking a significant step in the evolution of India's military aviation.
The AH64 Apache's arrival is set to transform the Indian Army's combat readiness and effectiveness. Its advanced features, including state-of-the-art sensors, targeting systems, and precision weaponry, will empower the Army to execute complex missions with enhanced accuracy and firepower.
Looking ahead, the Indian Army has ambitious plans to further bolster its helicopter fleet. With the procurement of six additional AH64 Apache helicopters on the horizon, the force is demonstrating its commitment to maintaining a modern and technologically advanced fleet that can effectively counter evolving security challenges.
NOTE : Article cannot be reproduced without written permission of idrw.org in any form even for YouTube Videos to avoid Copy right strikes