SOURCE: IDRW.ORG TEAM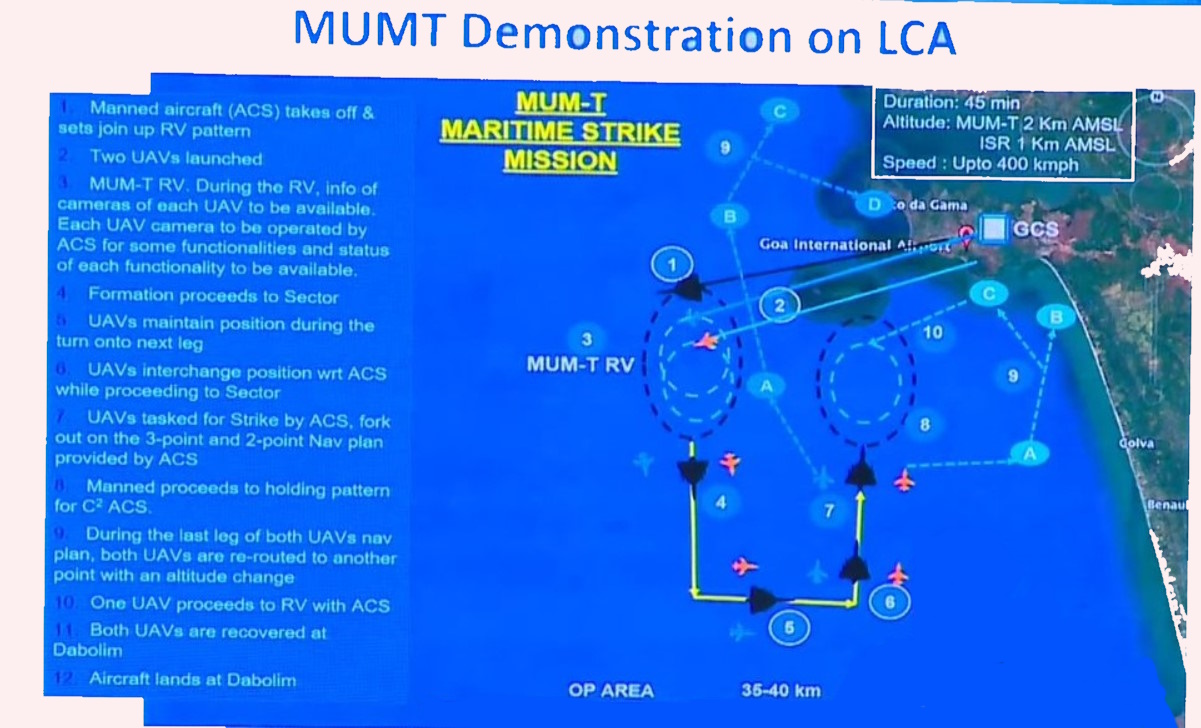 The Aeronautical Development Agency (ADA), a premier organization under the Ministry of Defence, has taken a significant leap forward in its pursuit of cutting-edge technologies for the Indian Air Force (IAF) and Indian Navy. Recently, ADA issued a tender for the Simulation Phase of the Concept Demonstration of Manned Un-Manned Teaming (MUMT) on the Light Combat Aircraft (LCA) Navy sensor payload.
MUMT is a revolutionary concept that aims to integrate the capabilities of both manned and unmanned aerial platforms to enhance the overall combat effectiveness and operational flexibility of the Indian armed forces. In this paradigm, the unmanned platforms are equipped with advanced capabilities, enabling them to autonomously execute assigned missions and effectively communicate with the manned platforms.
The Concept Demonstration encompasses two primary types of missions:
1. Maritime Strike Mission (Air-to-Sea Role): In this scenario, the MUMT concept envisions the collaboration between the LCA Navy, a manned fighter aircraft, and unmanned aerial platforms. These unmanned platforms will be equipped with cutting-edge capabilities that enable them to execute maritime strike missions autonomously. They will conduct precision strikes on sea-based targets, supporting the LCA Navy in its air-to-sea combat role.
2. Beyond Visual Range (BVR) Aerial Combat (Air-to-Air Role): The second mission type focuses on aerial combat scenarios, wherein MUMT will be deployed for air-to-air engagements. The unmanned platforms will be designed to operate independently in aerial combat situations, engaging enemy aircraft beyond visual range. By integrating their capabilities with the manned LCA Navy, the concept aims to enhance the IAF's combat prowess in the skies.
The MUMT concept holds great promise in revolutionizing the way modern air forces conduct their operations. By leveraging the strengths of both manned and unmanned platforms, MUMT maximizes the efficiency, agility, and versatility of the aerial combat forces. This concept is particularly vital in today's dynamic and challenging security landscape, where rapid decision-making and seamless coordination are paramount.
NOTE : Article cannot be reproduced without written permission of idrw.org in any form even for YouTube Videos to avoid Copy right strikes