Europe
SOURCE: Inquisitr.com
Last week, on July 13, France and Germany caused some ruckus in the media with the announcement that both countries would start working on the project for a new fighter jet, as well as other military vehicles. According to Flight Global, the French President Emmanuel Macron described the venture as part of a broader concept for the integration of several European partners in the development, deployment and export of combat equipment.
The aircraft manufacturer Airbus Defense & Space reacted positively to this "deep revolution," and Fernando Alonso, the lead of the company's military division, even suggested that the UK could be invited to the project. Chris Boardman, from the British BAE Systems, said he wasn't opposed to the idea, and that he envisioned his company getting involved in the new fighter project at some point. Continue reading →
SOURCE: UPI
The first live-fire test of a MBDA Brimstone air-to-surface missile from a British Eurofighter Typhoon has been conducted as part of Phase 3 Enhancements to the Typhoon fighter jet.
The modifications to the Typhoon are part of Project Centurion, a series of upgrades that will provide the strike abilities of the Tornado GR4 to the Typhoon. The test-fire of the Brimstone involved the British Ministry of Defense, MDBA and other companies involved in the Eurofighter consortium, BAE Systems said in a news release Friday. Continue reading →
SOURCE: Defensenews.com
BAE Systems wants a stake in any new European fighter program, says the executive running the British company's combat air activities. "I can't say what it will be, and I can't say when. … One way or another, the U.K. and BAE will have an involvement," said Chris Boardman, managing director of BAE's military air and information activities, told reporters at a briefing at the Royal International Air Tattoo, known as RIAT, being held here.
Industry executives at the show said it wasn't just the British who are watching possible developments of the program. Sweden has shown an interest, as well, said one executive.  Continue reading →
SOURCE: UPI
France and Germnay announced they are planning to develop a new joint fighter plane following a French-German cabinet meeting Thrusday.
French president Emmanuel Macron and German Chancellor Angela Merkelannounced the plan at a news conference following the meeting. The two leaders also confirmed their countries committment to the "Euro-drone" program and other defense and economic programs. Continue reading →
SOURCE:IDRW NEWS NETWORK
India has rejected Russian offer of installing Arena active protection system (APS) developed at Russia's Kolomna-based Engineering Design Bureau for the purpose of protecting its newly ordered Russian T-90MS tanks for the Indian Army.
idrw.org has learned that APS offered by Russians failed in technical parameters and was earlier tested onboard existing fleet of T-90S MBT of Indian Army. Continue reading →
SOURCE: AEROTIME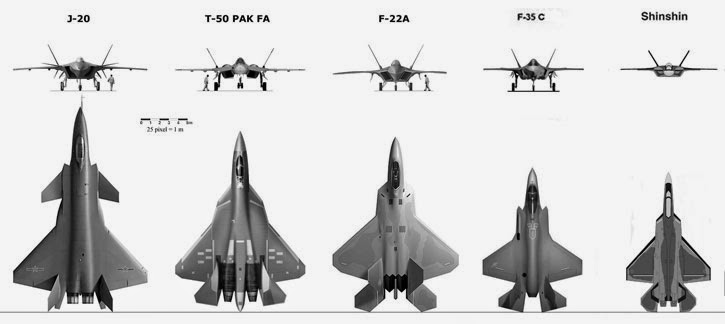 There's a well-developed discussion going on about the definition of 5th generation fighters – or even if the term itself is at all valid. Sensor fusion, thrust vectoring, supercruise capability, AESA radars and similar terms are being thrown around quite liberally, but the biggest sticking issue is stealth. Low observability is what makes the category exclusive to clean sheet designs, as there's a limit to how much stealth can be baked into an existing design. Just like F-35 and F-22, a truly low-observable plane has to be designed, from ground up, for stealth. This influences both shape and material composition of the hull, down to specialized coatings.
National projects: in it for the long run