Europe
SOURCE: REUTERS
The United States said on Wednesday that it was removing Turkey from the F-35 fighter jet programme, a move that had been long threatened and expected after Ankara began accepting delivery of an advanced Russian missile defence system last week.
The first parts of the S-400 air defence system were flown to the Murted military airbase northwest of Ankara on Friday, sealing Turkey's deal with Russia, which Washington had struggled for months to prevent. "The US and other F-35 partners are aligned in this decision to suspend Turkey from the programme and initiate the process to formally remove Turkey from the programme," said Ellen Lord, the undersecretary of defence for acquisition and sustainment at the Pentagon. Continue reading →
SOURCE: YAHOO
Italian police say they knew they were onto something big when they caught two Neo-Nazi sympathizers discussing the latest weapon in their arsenal on a tapped WhatsApp thread. And when the cops started seeing chatter the group was moving the weapon close to an airport near the northern city of Turin, they pounced.
They found a massive French-made Matra Super 530 F air-to-air missile originally purchased by the military of Qatar, a rich little emirate on the Arabian Peninsula. "During the operation, an air-to-air missile in perfect working order and used by the Qatari army was seized," Italian police said in a statement. They also confirmed that they stumbled upon the find when they were investigating far-right Italians "who have fought in Ukraine's Donbass region against the [pro-Russian] separatists." Continue reading →
SOURCE: TASS
The Russian Navy will have a nuclear-powered aircraft carrier in its structure, although this will not happen in the immediate future, Navy Commander-in-Chief Nikolai Yevmenov told reporters at the St. Petersburg international maritime defense show on Wednesday.
"There will be, of course, a nuclear-powered aircraft carrier but not in the short-term perspective," the Navy chief said.Russia will be developing the construction of aircraft carriers proceeding from available possibilities, he said. A source in the domestic defense industry earlier told TASS that the Defense Ministry had started work to formulate a technical assignment for a future nuclear-powered aircraft carrier. Continue reading →
SOURCE: DEFENSE-BLOG
The Telegraph on Friday has reported that Sweden will be first partner nation in the British Tempest programme to build a next-generation fighter jet. "Britain's Team Tempest programme to build a new fighter jet has moved a step closer to getting into the air with Sweden poised to announce it has signed up as the project's first international partner," according to The Telegraph.
A future combat air system, called the Tempest, is a joint project with British aerospace companies BAE Systems Plc, Rolls Royce Holdings Plc, MBDA UK Ltd and Anglo-Italian firm Leonardo SpA. The Tempest programme aims to harness and develop UK capabilities that are critical for Next Generation (NextGen) Combat Air capability and to retain the UK's position as a globally competitive leader through understanding of future concepts, technologies and capabilities. Continue reading →
SOURCE: ZEE MEDIA
Two Eurofighter Typhoon fighters of the German Air Force (Luftwaffe) on Monday crashed into each other during a combat training mission killing one of the pilots. The unarmed Typhoons crashed over a lake in Nossentiner Hutte in the Mecklenburgische Seenplatte district of Mecklenburg-Vorpommern, Germany.
According to the BBC, one Typhoon jet crashed into a forest near the village of Jabel after the mid-air collision and the other crashed near a village about 10 km (6 miles) away, the interior ministry in the German state of Mecklenburg-Western Pomerania said. A third pilot in another Typhoon fighter witnessed the two jets collide and also reported seeing two parachutes. Continue reading →
SOURCE: REUTERS
Spain on Monday joined a Franco-German project to build a next-generation fighter jet, an initiative touted as key to ensuring Europe can defend itself without depending on allies in an increasingly uncertain world.
Dassault Aviation and Airbus will build the warplane which is expected to be operational from 2040, with a view to replacing Dassault's Rafale and Germany's Eurofighter over time. The European project faces competition from Britain, which last year launched its own plans for a new combat jet dubbed "Tempest". Industry executives have urged European capitals to move swiftly or risk losing out in a global market to bigger players led by the United States, or even China in the future. Continue reading →
SOURCE: ENS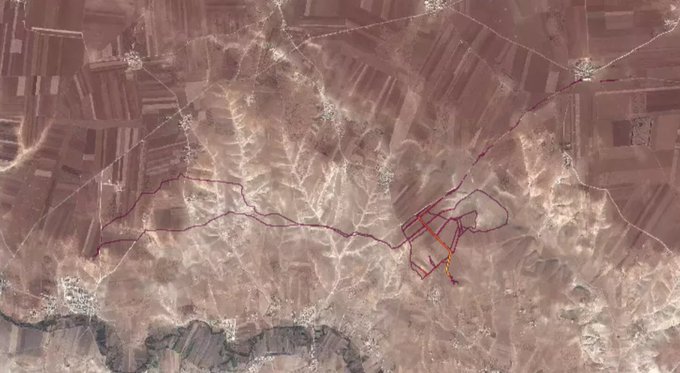 Strava, the fitness-tracking app which relies on the smartphone GPS to track a user's exercise sessions, which includes cycling, running finds itself the subject of a controversy. According to reports, a heat map shared by Strava, which shows the exercise activity of its users across the world, has ended up revealing secret military bases for the US and other countries as well. The app lets users post their activities on the social network and also follow others, who are into the same fitness activities on the app.
The map, which was first shared by the company in November 2017, includes? a total of one billion activities from all Strava data through September 2017. The heat map also shows 3 trillion latitude and longitude points and includes around 10TB of raw input data, according to the company's original post. Continue reading →