Europe
SOURCE: AviationWeek.com
Even as Saab celebrates the first flight of its JAS 39 Gripen E-series aircraft, the bulk of its near-term international sales opportunities center around the in-production C/D model.The aircraft manufacturer says that three sales opportunities are on the near horizon: new C-models for Botswana in Africa and for NATO members Slovakia and Bulgaria in Eastern Europe.
Elsewhere, Saab is offering either the Gripen C/D or E/F, depending on budget and capability, to Belgium, Canada, Croatia, Columbia, Finland, India, Indonesia, Malaysia, the Philippines and Switzerland. Continue reading →
SOURCE: Sandiegouniontribune
Le Bourget Airport will become the aviation industry's catwalk beginning Monday, with more than 150 jets, choppers and drones expected to zoom over hundreds of thousands of fans and trade representatives at a week-long celebration — the International Paris Air Show.
Launched in 1909 and held every two years, the 52nd Salon International de l'Aéronautique et de l'Espace is expected to shatter its record 2015 draw — 2,303 exhibitor companies from 48 countries.And if the team from San Diego-based Kratos Defense & Security Solutions in Booth 3-A118 has its way, the world will get a hint of what promises to become the most lethal unmanned aerial vehicles ever designed — the XQ-222 Valkyrie and UTAP-22 Mako, relatively cheap drones that could double as a fighter pilot's expendable wingmen in future wars. Continue reading →
SOURCE: AIN ONLINE
Originally scheduled to have flown for the first time by the end of 2016, at the time of writing Saab's new-generation Gripen E prototype was due to fly before the end of the second quarter this year. Briefing reporters in mid-May, the company said that ground vibration tests had been completed and that the initial flight test software was being loaded. Chief test pilot Hans Einerth reported that the aircraft had conducted high-speed taxi tests at over 100 knots, and had proved to be very reliable, with only one BIT (built-in test) alert being recorded.
Saab (Chalet 379) has stressed that the six-month delay in flying the prototype was not due to any technical difficulties. Instead, the company decided to revise its test plan and delay the beginning of flight trials until the aircraft's innovative avionics architecture had been fully qualified. Employing a concept known as DIMA(distributed integrated modular avionics), the Gripen E's avionics segregate flight-critical functions from non-critical applications. Continue reading →
SOURCE: PTI
The president of the UN conference drafting what could be the first-ever treaty to ban nuclear weapons has expressed confidence that with "the necessary political will" more than 130 countries supporting the initiative can reach agreement by the July 7 target.
Elayne Whyte Gomez, Costa Rica's ambassador to the UN in Geneva, told the opening of negotiations on a draft treaty circulated on May 22 that delegates were representing their countries but they were also "united together in historic commitment" to finalising a treaty. Continue reading →
SOURCE: IHS Jane's Defence Weekly
The Saab Gripen E combat aircraft made its maiden flight from the company's Linköping production facility on 15 June.
No further details on the first flight of prototype aircraft 39-8 had been disclosed at the time of writing. This milestone was slightly delayed from the original date of late 2016, as the companydecided to finalise all of the software development ahead of commencing the flight trials process to reduce risk to the programme. Continue reading →
SOURCE:IDRW NEWS NETWORK
India has rejected Russian offer of installing Arena active protection system (APS) developed at Russia's Kolomna-based Engineering Design Bureau for the purpose of protecting its newly ordered Russian T-90MS tanks for the Indian Army.
idrw.org has learned that APS offered by Russians failed in technical parameters and was earlier tested onboard existing fleet of T-90S MBT of Indian Army. Continue reading →
SOURCE: AEROTIME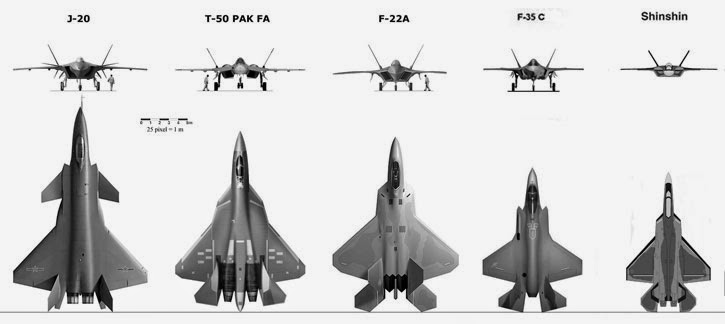 There's a well-developed discussion going on about the definition of 5th generation fighters – or even if the term itself is at all valid. Sensor fusion, thrust vectoring, supercruise capability, AESA radars and similar terms are being thrown around quite liberally, but the biggest sticking issue is stealth. Low observability is what makes the category exclusive to clean sheet designs, as there's a limit to how much stealth can be baked into an existing design. Just like F-35 and F-22, a truly low-observable plane has to be designed, from ground up, for stealth. This influences both shape and material composition of the hull, down to specialized coatings.
National projects: in it for the long run