SOURCE: RAUNAK KUNDE / NEWS BEAT / IDRW.ORG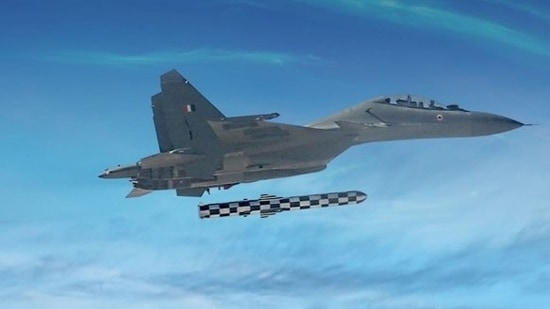 In a significant development for India's military aviation capabilities, the country is set to test a Common Launcher designed for its Su-30MKI fleet in the coming year. This launcher, which has been in development for some time, aims to revolutionize the flexibility and efficiency of weapon integration into the Su-30 aircraft.
The concept for the Common Launcher was conceived last year when the Indian Air Force identified the need for a versatile launcher that could accommodate various weapons and pods for different mission requirements under the Make-II (Industry Funded) initiative.
The primary goal of the Common Launcher is to streamline the integration process, allowing the Su-30MKI to carry out a wide range of missions with ease.
Initially, the Common Launcher will be subjected to carriage trials using Dummy Air-to-Air missiles. The data collected during these trials will be invaluable in refining the launcher's design and functionality before it undergoes live firing trials. Presently, Su-30 aircraft rely on Original Equipment Manufacturer (OEM)-supplied launchers and adaptors, each tailored to specific weapon types. This often necessitates the frequent swapping of launchers based on mission requirements, leading to operational delays.
The Common Launcher project aims to develop two versions, one optimized for carrying air-to-ground (A-G) stores and the other for air-to-air (A-A) missiles. These launchers are expected to significantly enhance the Su-30MKI's operational flexibility and efficiency.
Key parameters of the Universal Launcher include:
(a) Air-to-Air Universal Launcher: Designed to be compatible with rail-guided and catapult-launched weapons, featuring an ejector mechanism using gas generators or pyro cartridges.
(b) Air-to-Ground Universal Launcher: Designed to accommodate air-to-ground missiles and guided/unguided bombs within a weight range of 50 kgs to 1500 kgs.
(c) Weight: Not exceeding 180 kgs.
(d) Compatibility: Fit on Station No 1 to 10 of Su-30MKI aircraft.
(e) Reliability: Ensuring consistent operation under all flying conditions at temperatures ranging from -60°C to +60°C.
(f) Voltage: Compliant with supply voltages for combat launch of missiles/bombs (27 V+2.4 -3.0 DC) and minimum supply voltage for emergency launch of missiles (18 + 0.6 V DC).
(g) Cooling: Meeting the cooling requirements of the missile for at least 10 hours of flight operation.
(h) Compatibility: With MIL-STD 1553 and MIL-STD 1760 standards, as well as electrical connectors of the aircraft and weapons.
(i) Safety: Equipped with both electrical and mechanical safety mechanisms.
(j) Accessibility: Providing sufficient access panels for maintenance and allowing for the modular replacement of Line Replaceable Units (LRUs).
The introduction of the Common Launcher promises to be a game-changer for the Su-30MKI fleet, enhancing its adaptability and mission capabilities, and ultimately strengthening India's air force and defence capabilities on a broader scale.
NOTE : Article cannot be reproduced without written permission of idrw.org in any form even for YouTube Videos to avoid Copy right strikes