India
SOURCE: SAURAV JHA FOR IBN LIVE BLOG
The Indian Navy's (IN) role in relief and rescue operations during the 2004 Indian Ocean Tsunami won it plaudits from the international community while underlining its strategic potency to Indian policy planners. For the IN however, that event brought to the fore the crucial need to augment amphibious capabilities above and beyond what is provided by its existing fleet of medium sized landing ship tanks (LSTs). The first step was of course to induct the former USS Trenton, an Austin-Class Landing Platform Dock (LPD) as the INS Jalashwa. This ship has not only given the IN exposure to operating a vessel of this size and capability but has also helped it get a fair idea of what it wants for the future. And now the IN has begun the procedure for bringing in four new large amphibious warfare ships which will be built in India under international collaboration. Continue reading →
SOURCE : PTI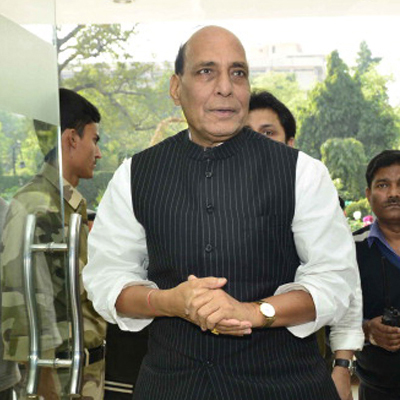 Home Minister Rajnath Singh on Friday said that India wants peace with China but that cannot come at the cost of honour. "Humlog shanti chahte hai samman ki saath. Asamman ke saath shanti nahi ho sakti (We want peace with honour. Peace cannot come at the cost of honour," he said, referring to the recent border row with China.
"Pride is the ultimate accomplishment of a human being, of mine and yours," he said, addressing the 53rd raising day function of the Indo-Tibetan Border Police (ITBP) here, which guards the Sino-Indian border. Continue reading →
SOURCE: IDRW NEWS NETWORK (INN)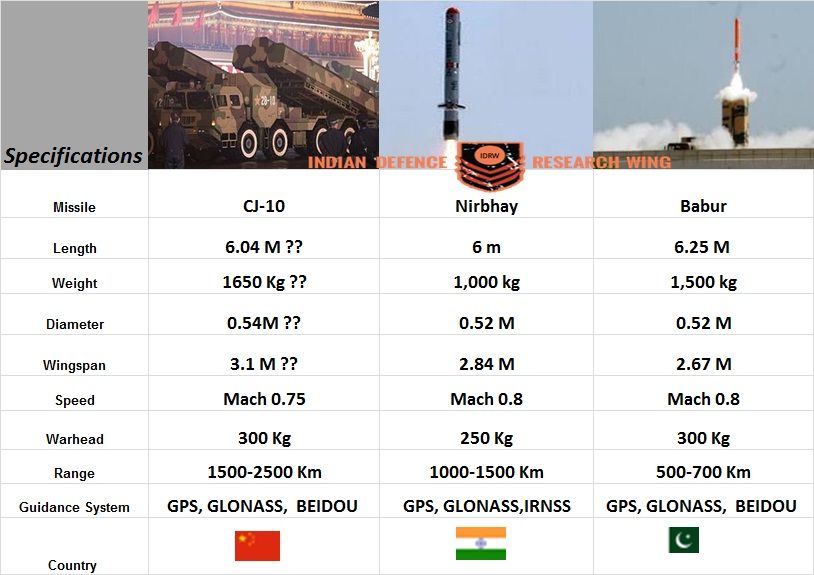 Data for above chart have been prepared from Internet Data , idrw.org cannot Guarantee Accuracy   
CJ-10: China first showcased CJ-10 in Military Parade in 2009; CJ-10 is rumored to be based on Reverse Engineered copy of Soviet Era Kh-55 Air launched Cruise missiles, not much information of its specification is available, but missile is capable of hitting target up to 2500 km, while some Chinese Military analytic claim it is a Supersonic missile, but Grainy images captured on board H-6K Chinese bomber doesn't support that argument, Missile doesn't have a Supersonic Aerodynamic to sustain Supersonic flight from launch to targets , which supports Western Military analytic who claim it can only go supersonic in its final phase . China claims to have developed Naval and Air Launched variant of the missiles and also entered Production. But neither Chinese Military analytic nor china has claimed any of the Newer Features found in Cruise missiles like Loitering capability or selecting best Attack position of Target. Continue reading →
SOURCE: EURASIA REVIEW
India's test of the nuclear capable cruise missile Nirbhay last week was immensely significant in two ways. First, it marked the culmination of DRDO's efforts of not only the past decade but also the ambitions of its heads. It was in 1987 that the then DRDO Chief Arunachalam was reported to have said that he was launching a study towards making a cruise missile like the then famous Tomahawk. It was in 1987 that the then Soviet Union had agreed with the US on the historic INF Treaty; eliminating, inter alia, the whole class of medium range missiles including the nuclear capable ground launched cruise missiles of range 500-5000 km. Continue reading →
SOURCE : THE HINDU
Nirbhay, India's first long-range subsonic cruise missile, which was test-fired on October 17, can be a game-changer in India's strategic calculus, defence analysts and strategic experts feel.
Capable of flying at a tree-top altitude for over 1,000 km, Nirbhay can carry out surgical strikes and thus back up India's "cold start" doctrine that envisages limited, precise strikes across the border. The introduction of nuclear weapons in the subcontinent has virtually stalled a conventional Indian response to Pakistan's cross-border terrorism. Continue reading →
SOURCE: AJAY SHUKLA
Next week, Hindustan Aeronautics Ltd (HAL), Nashik will complete the first ever overhaul of a Sukhoi-30MKI fighter. HAL's test pilots will now test-fly the aircraft to ensure it has emerged from the overhaul as good as new. Indian Air Force (IAF) chief, Air Chief Marshal Subir Raha, has been invited to Nashik next month to accept the overhauled fighter back into his combat fleet.
HAL's new overhauling facility will save the IAF hundreds of crores of rupees, while giving leases of life to its Su-30MKIs. Not even Russia overhauls this fighter, a process that involves stripping it to its bare bones, checking every system and sub-system, replacing numerous components, and then reassembling the fighter anew. Continue reading →
SOURCE: WANT CHINA TIMES
After India tested its subsonic Nirbhay cruise missile–which is capable of carrying nuclear warheads–on Oct. 17, the Sina Military Network based in Beijing said that China's CJ-10 cruise missile is much more powerful than its Indian counterpart.
The Kanwa Defense Review operated by Andrei Chang, a military analyst in Canada who is also known as Pinkov, reported that the range of the Nirbhay is between 700 and 1,000 kilometers. Continue reading →
SOURCE: THE DAWN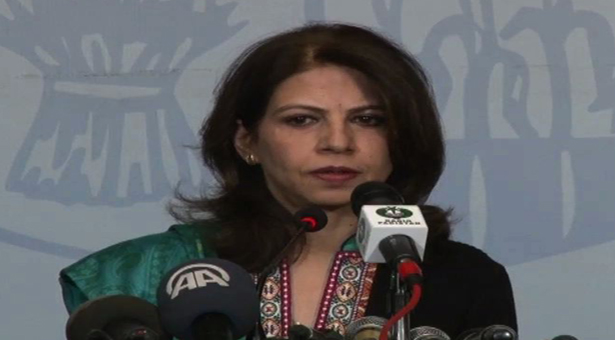 The Foreign Office on Thursday said that Indian forces under the cover of unprovoked firing were engaged in constructing bunkers in locations within five hundred metres of the working boundary. Speaking to media representatives at the weekly briefing in Islamabad, FO spokeswoman Tasneem Aslam said the construction of these bunkers is in violation of the 2010 agreement between New Delhi and Islamabad.
"Pakistan would never permit this construction which is in violation of a bilateral agreement," Aslam said at the briefing for journalists. Continue reading →
SOURCE : RIA NOVOSTI
Grounding the Indian Air Force's fleet of Sukhoi-30 aircraft for technical checks will not affect further contracts for the deliveries of these Russia-developed planes to India, former Indian Air Chief Marshal Shashindra Pal Tyagi said in an interview with RIA Novosti Wednesday.
"There is no reason of concern. There is no doubt about its safety and reliability. Su-30 MKI fighter aircraft are the pride of the Indian Air Force," Tyagi said, adding that the technical checks will not have any impact on further Su-30 aircraft deals. Continue reading →
SOURCE: DC
Taking a first flight-related step in its Human Space Flight (HSF) endeavour, Indian Space Research Organisation (Isro) will, in nearly 45 days' time, launch an unmanned crew module on the experimental GSLV MK III flight.
"The date of the launch will be finalised at a review meeting immediately after Deepavali celebrations. We will examine all aspects of the crew module and the MK-III flight after which comes the launch window and date," Isro chairman K Radhakrishnan told Deccan Herald. Continue reading →
SOURCE: DHNS
The Indian Air Force and Hindustan Aeronautics Limited, Bangalore have begun looking closely at the reason for the Su-30 MKI fighter aircraft crash near Pune about a fortnight ago.
The trigger point appears to be premature ejection of the fighter's seats. "One Su-30 fighter of the IAF was involved in an accident on October 14, 2014 in which both ejection seats had fired whilst the aircraft was coming in to land. The pilots were safe but the aircraft crashed about 20 km short of the runway," IAF said in a statement on Wednesday. Continue reading →
SOURCE: HAARTEZ
India will take possession of hundreds of Israeli-made Barak missiles for its battleships late next year, following approval of a weapons deal between the two countries that had been delayed for years. The purchase deal was approved by India's cabinet committee on security matters, headed by Prime Minister Narendra Modi, according to the Times of India.
Under the plan, India will take delivery of 262 Barak 1 missiles over the course of about five years, starting in December of 2015. These will be deployed on the country's 14 battleships, which have suffered from dwindling missile supplies in recent years, according to the Indian navy. Continue reading →
SOURCE: PTI
Pakistan's parliament on Thursday unanimously passed a resolution against the alleged "unprovoked and indiscriminate" ceasefire violations by India and asked the government to seek UN intervention to resolve the Kashmir issue. The resolution, moved by Prime Minister Nawaz Sharif's Adviser on Foreign Affairs Sartaj Aziz, stated that the National Assembly condemned Indian ceasefire violations at the Line of Control (LoC) and the International Border (IB). Continue reading →
SOURCE: EXPRESS NEWS SERVICE
After the wreckage of Sukhoi-30 MKI fighter aircraft was moved on Wednesday night from the farm near Theur, where it crashed, Air Force officers said they had started to zero in on the possible causes and would soon come to a conclusion in the court of inquiry (CoI).
The Sukhoi, which was a regular training sortie, crashed on a farm about 200m from a human settlement in Kolawadi village near Theur around 5.30 pm on October 14. The two IAF pilots – Wing Commander Siddharth Munje and Flying Officer Anup Kumar – ejected to safety in Ashtapur village, 2 km from the site. No one was injured on ground. Continue reading →