SOURCE:  JATIN RAM / FOR MY TAKE / IDRW.ORG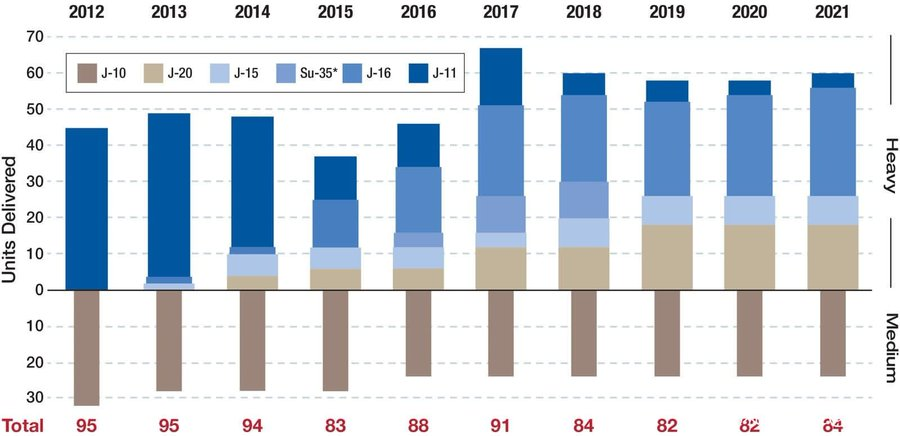 People's Liberation Army Air Force (PLAAF ) chart for fighter jets induction that happened between 2021-2012 saw procurement of 878 4.5++ Generation fighter that's more than 42 Squadron strength of Indian Air Force worth of jets that Chinese procured in last one decade alone.
PLAAF which was often called Vintage air force in early 2000, started working on a comprehensive modernization plan first by importing Su-27s from the Russian kit that started replacing older 3rd gen fighter jets but also showed slow transition towards 5th gen fighter jets at later part of years.
For the initial four years, J-11 which is a copy of Su-27SK that was later replaced with J-16 which is a further improved Chinese variant of the original Su-27SK were manufactured locally while it also continued to import Su-30MKK and Su-35 from Russia in this period so that it could continue to improve J-16.
Domestically designed and manufactured J-10 production rate has remained steady at over 28-32 units per year for the last decade which is impressive since it was the first Chinese jet that was not a direct copy of the Russian jet but had quite a bit of Israeli design and technological influence over the project.
Chart also confirms that from 2016 onwards induction of J-20 which China calls a 5th gen fighter has crossed the initial 10 units per year mark and now is close to 20 units per year mark that likely will continue for another decade or so with possible induction of one or two more 5th gen type entering service. Since this chart only shows induction by PLAAF it doesn't cover the manufacturing of J-15 which is a copy of the now-retired Russian carrier-based Su-33 fighter jet.
PLAAF still retains a sizeable number of old aircraft like JH-7, JH-8, and F-7 variants, but they have been kept as a reserve or used as the second line of defense with the majority of them either being used for training pilots or getting turned into unmanned fighter jets. But there are also confirmed reports that aircraft like JH-7AII which is an improved variant of Xian JH-7 fighter-bomber are still manufactured at low rates as attrition replacements to keep the existing squadrons levels up.
Indian Air Force (IAF) which is struggling to procure enough jets that are being retired at an alarming pace should take a leaf out of the PLAAF Modernization plans that they implemented successfully. Even if IAF can procure half the rate of PLAAF induction per year it will be in a position to retire Mig-29, Jaguar, and Mirage-2000 fleet from 2035 onwards for which it will require to place orders for 200 Tejas MKII and also procure AMCA and Tejas Mk1B in large numbers.
The current pace of induction will not be able to match with the rate of retirement, which will only force IAF to either carry on flying jets that are way past their retirement age or risk becoming a smaller player in the region since it won't enough have numbers to take on PAF and PLAAF in case of two-front war nor it can risk carry on the slow pace of modernization and induction of newer jets even till 2030.
Disclaimer : Articles published under " MY TAKE " are articles written by Guest Writers and Opinions expressed within this article are the personal opinions of the author. IDRW.ORG is not responsible for the accuracy, completeness, suitability, or validity of any information on this article. All information is provided on an as-is basis. The information, facts or opinions appearing in the article do not reflect the views of IDRW.ORG and IDRW.ORG does not assume any responsibility or liability for the same. article is for information purposes only and not intended to constitute professional advice .
Article by JATIN RAM , cannot be republished Partially or Full without consent from Writer or idrw.org