SOURCE: RAJIV BHATIA / FOR MY TAKE / IDRW.ORG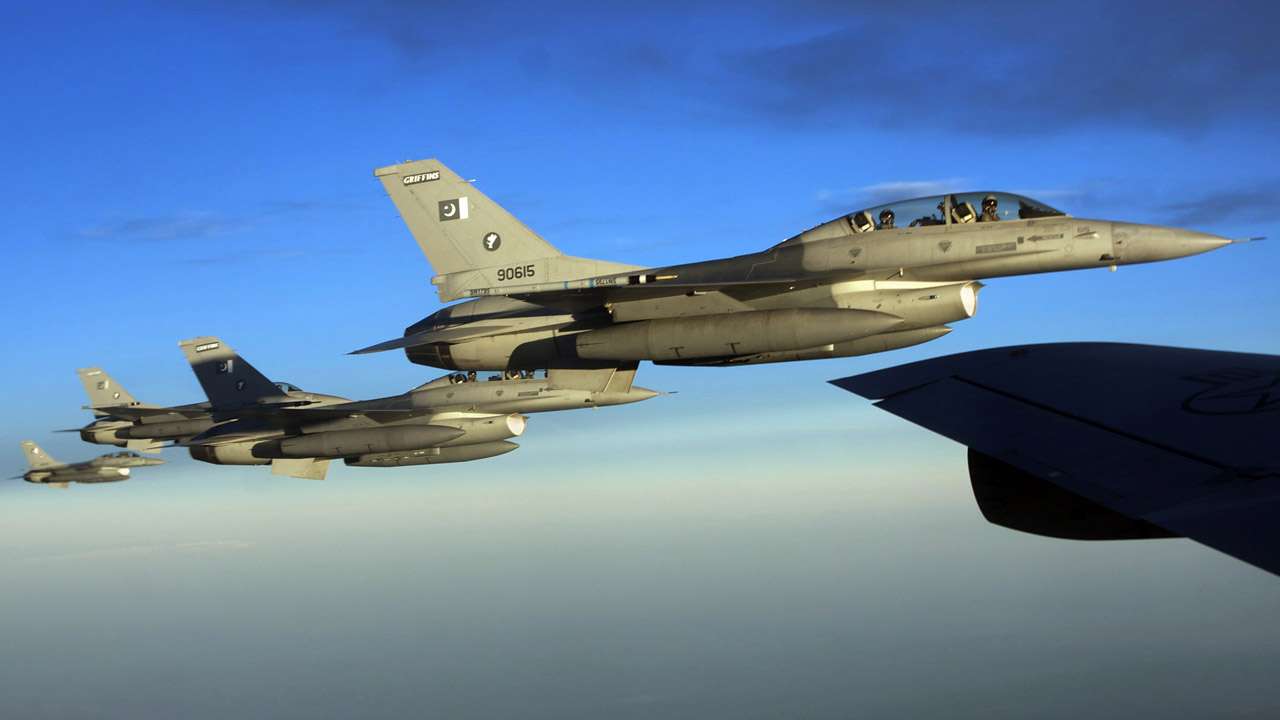 Post-Soviet-Afghan war, American-built F-16 fighter regarded by many Pakistani's as an invincible aircraft a symbol of prestige to many Pakistani's have been lost in combat and in non-combat operations in many dubious ways that many in Pakistani military circle rather avoid talking about it so that the myth of the Invisible F-16 always forever remain engraved in minds of its people.
There have been at least three instances where this mighty F-16 were forced to bite the dust in the most unusual way ever.
Getting shot down by own wing-man: During the Soviet-Afghan War, PAF deployed F-16s in the border area to target vulnerable Soviet-Afgan fighter jets which were credited for bringing down at least 10 aircraft mostly four Su-22s bombers and 3 Transport aircraft in a classic ambush aerial tactics using AIM-9 missile. but on April 29th, 1987 a pair of two F-16s again in the hunt for easy pray across the border entered Afghan airspace to bring down two pair of Su-22 fighter bomber on a bombing mission closer to Pakistani border , what was supposed to be easy prey instead was piloted by a senior Soviet pilot who had some tricks up his sleeve to keep both aircrafts at bay for a considerable time due to which a panicky F-16 pilot fired a Sidewinder which hit his own wing man thus marked first loss for PAF in their adventurism near Afghan border.
Wild Boar kills F-16: On December 17th, 1987, F-16 after night sortie while coming for a landing at Sargodha Air Base, about 125 miles south of the capital hit a Wild Boar on the runway which broke the nose gear and the aircraft caught fire and was destroyed immediately. PAF in anger and in embarrassment deployed a helicopter with a machine gun that night and killed wild boars in the area like a maniac, within few weeks a 6 feet high wall was constructed around the air base to isolate it from wild boars and prevent accidents in the future.
Mig-21 kill: Pakistan won't admit it but strange silence from US administration and India's claims that they have Radar Electronic data of the kill with them of a Mig-21 bringing down an F-16 could have not come at the worst time for the Pakistani air force which is struggling to procure credible fighter jets in its arsenal, yet it is forced to largely depend on Chinese fighter jet like JF-17s which by the way has been credited for Mig-21 kill while trying to deny usage of F-16's against India.
According to F-16.net database, Pakistan Air force till date since it's induction as lost 9 F-16s in crashes and accidents plus one if you add  loss of one F-16 to Indian Mig-21bis. you never hear or even find mentions about those crashes in local newspapers nor even when a pilot has been killed. Pictures of crashed PAF F-16 is near impossible to find even after several attempts of google search and finding crash data from Pakistani defense websites is even more difficult. such is the sensitivity of F-16 with Pakistani air force and their people that they continue to believe that their invincible fighter can't go wrong and it will be years or decades from now, that some retired pilot from PAF will confess that they had lost one F-16 to India in his book which will never be acknowledged officially ever.
Disclaimer : Articles published under " MY TAKE " are articles written by Guest Writers and Opinions expressed within this article are the personal opinions of the author. IDRW.ORG is not responsible for the accuracy, completeness, suitability, or validity of any information on this article. All information is provided on an as-is basis. The information, facts or opinions appearing in the article do not reflect the views of IDRW.ORG and IDRW.ORG does not assume any responsibility or liability for the same. article is for information purposes only and not intended to constitute professional advice .
Article by RAJIV BHATIA ,  cannot be republished Partially or Full without consent from Writer or idrw.org
Note: If you have personal opinion and want to contribute for" MY TAKE "on Defence matters kindly email us at idrw.org@gmail.com