SOURCE: Rajesh Kumar/ FOR MY TAKE / IDRW.ORG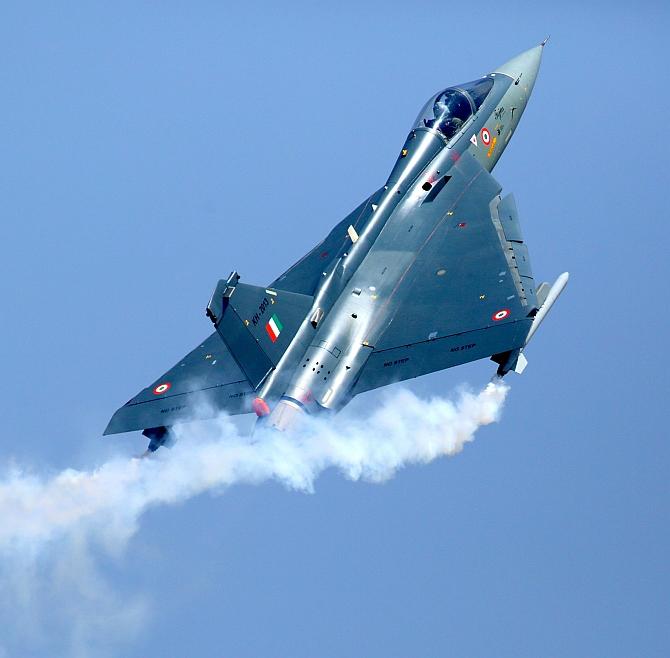 The United Arab Emirates has joined a long list of countries which has expressed interest in the Indian developed LCA-Tejas fighter aircraft but India is nowhere close to a deal with any country even when Defence Ministry already has cleared the aircraft for export.
Previous order for just 40 aircraft meant that production facilities were not augmented keeping in mind export orders nor were LCA-Tejas promoted to prospective customers aggressively in the past. Negative local media campaign also meant that the aircraft had poor perception abroad even though aircraft never suffered from any crashes in its entire developmental flight regime which span for over a decade.
Some of the Key Export blockers which I have identified are discussed below
Constrained Production Woes
HAL as per delivery schedule has promised to deliver 12 LCA-Tejas Mark 1 by end of this fiscal, yet only two have been delivered and it is unlikely 10 more will be delivered as per schedule. HAL has plans to sub-contract more of the LCA-Tejas to fast-track the production circle of each aircraft but according to experts that will only happen when HAL starts manufacturing upgraded Mark 1A which will take over the current production line from 2022 on wards.
HAL is trying to augment the production line from 16 per year to 24 which if achieved will allow the company to explore the export potential of the aircraft but many are also worried that HAL will not be able to execute bigger orders due to production woes unless it can fix this in the first place.
Higher interest for LCA-Tejas Trainer
Singapore and an unnamed customer are actually interested in the trainer variant of the LCA-Tejas which is yet to finalize final production specification due to which nearly 8 Trainers ordered by IAF in the first lot of 40 Mark 1 aircraft will be delivered last.
FOC certification of the LCA-Tejas Trainer too will be achieved on later dates and other key trials of the aircraft capability like in-flight refueling and weapons trials will be a time-consuming process which will take its own pace to achieve.
Costs
Upgraded Tejas Mark 1A has been quoted at over $61 Million per unit by HAL to IAF recently, which makes it comparable to many modern jets in the same category which means cash-rich customers will look for better options and price-sensitive customers will look for cheaper options which makes cheaper Tejas Mark 1 a viable option for export but with no further orders coming for this previous configuration aircraft, it will be an uphill task for HAL to maintain previous supplier chain since Mark 1A will have incremental upgrades Internally which will make it vastly superior and different than Mark 1 variant.
Development of LCA-Tejas LIFT Variant
HAL after receiving considerable interest in the Trainer Variant by many countries is contemplating the development of 'Lead-in Fighter Trainer' (LIFT) platform based on Trainer Variant. LIFT Platforms are usually used to revamp Air Force training program which helps trainees transition from the subsonic intermediate jet to the supersonic jets.
While Trainer variant of any jet like LCA-Tejas is only used by air force as a fighter conversion platform to bring in experienced pilots from other fighter Squadron to LCA-Tejas Squadrons.
In short LIFT variant will basically deal with newbies which means platform will have to undergo radical changes and installation of many key safety measures to ensure that trainees can fly and learn from the aircraft to fly higher capacity jets in near future.
Development of LIFT Variant of Export will be a lengthy process and should be executed only if there are sizable orders for the jet from International customers and if there is a further export potential market for such type of jets.
Conclusion
Many of the prospective customers of the LCA-Tejas are neither interested in low-cost Mark 1 variant or in the Trainer variant, which means HAL will need to maintain a high focus on this aircraft to click export orders but being a Public sector company it has too many projects and slow work ethics which will hinder export potential of this jet.
Export orders can also take way focus required to maintain production and modernization of the future fleet of LCA-Tejas which are likely to be procured by IAF which means HAL should work to outsource production of LCA-Tejas to a Private aircraft manufacturer who can really explore its Export potential and can also cater to demands of International customers without affecting IAF.
Disclaimer : Articles published under " MY TAKE " are articles written by Guest Writers and Opinions expressed within this article are the personal opinions of the author. IDRW.ORG is not responsible for the accuracy, completeness, suitability, or validity of any information on this article. All information is provided on an as-is basis. The information, facts or opinions appearing in the article do not reflect the views of IDRW.ORG and IDRW.ORG does not assume any responsibility or liability for the same. article is for information purposes only and not intended to constitute professional advice .
Article by Rajesh Kumar ,  cannot be republished Partially or Full without consent from Writer or idrw.org
Note: If you have personal opinion and want to contribute for" MY TAKE "on Defence matters kindly email us at idrw.org