SOURCE:  HIMANSU SWAIN / FOR MY TAKE / IDRW.ORG
A Few weeks ago, I found out a Bizarre article On My Take by a great individual who put all the blames on current BJP gov for the loopholes in Indian military & it's preparedness. Such people are unable to digest the truth of difference between 55 years of Congress rule & 5 years of Narendra Modi's rule. Nothing is wrong being inspired by Politicians like Rahul Gandhi (PAPU) but before pointing figures towards anyone, you need an insight.
I agree, there are some cracks in the current gov. but this gov isn't like the previous UPA gov which enjoyed 10 years of Honeymoon period with the State of Pakistan through AMAN KI ASHA in spite of being hammered by Bleed India Through Thousand Cuts Activities. The people who rides BMW,Audi eat Italian Burger,Plans to buy VVIP Chopper & didn't even provide a home/toilet to Poor for 70 years are now-a-days talking about failures of Modi gov in defence sector.
There is no doubt that the 10 years of punctured Italian Rule has drastically handicapped our Military up-gradation plan & compromised our National interest. The delay in induction of INS VIKARAMADITYA & Failure of a decade long MMRCA deal are the best examples of the Accidental Prime Minister Dr M. Singh's tenure. After the Bofors Scam, the poor A.K Antony denied to sign any artillery deal for Indian army leaving Our artillery core crippled.Bribery, Corruption & VVIP culture are the three mantras of Nehru-Gandhi family led Congress Party.Therefore, we have the clarity about INC's Anti-Military & Pro-Paki as well as China Policies from 2004-2014.
But when it comes to Modi gov,I see the impetus in Decision making & signing of major Defence deals which were stalled during UPA tenure. Therefore, I decided to point out some major defence deals signed by the current gov to boost Indian military firepower as well as its power projection. This list would include all Mega deals which have already been signed or under production except up-gradation programmes.
Armoured Vehicles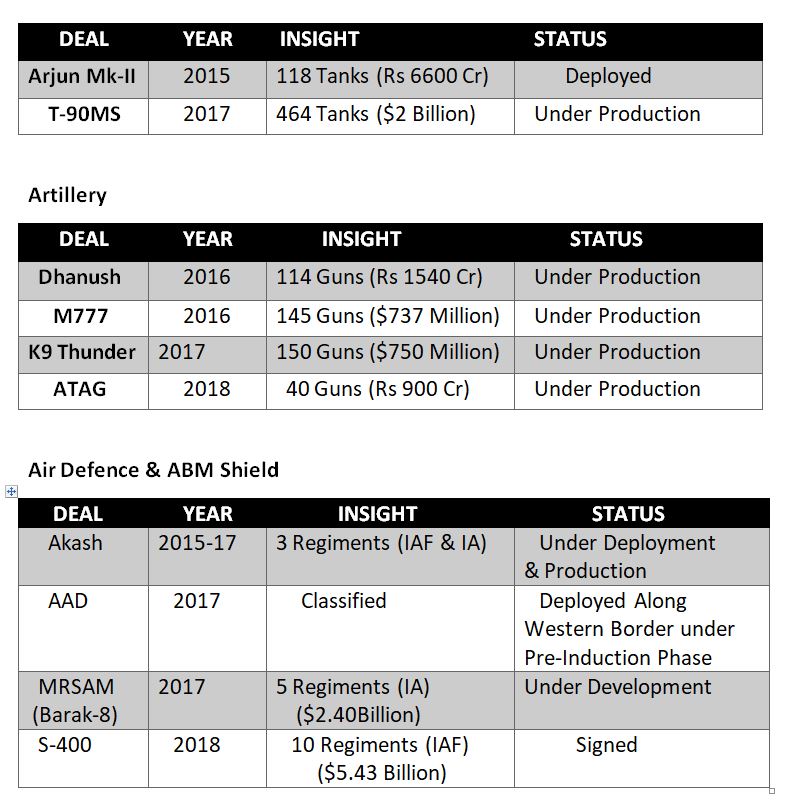 Due to the Efforts of Former Defence Minister Manohar Parrikar, indigenization in Naval shipbuilding has achieved a major success. He initiated reforms which helps in fast racking the delayed projects like P-75,P-15A,P-28A,DSAR. The lack of funds is definitely a matter of concern for Indian Navy but focusing on Make In India agenda, India navy is on the lead among three military wings. Once these orders completed, it is expected that India to order more numbers of these weapons amounting billions of dollars. Therefore, I don't see BJP gov sabotaging Indian military Vision.
Deals in Pipeline Likely to Be signed before 2020-end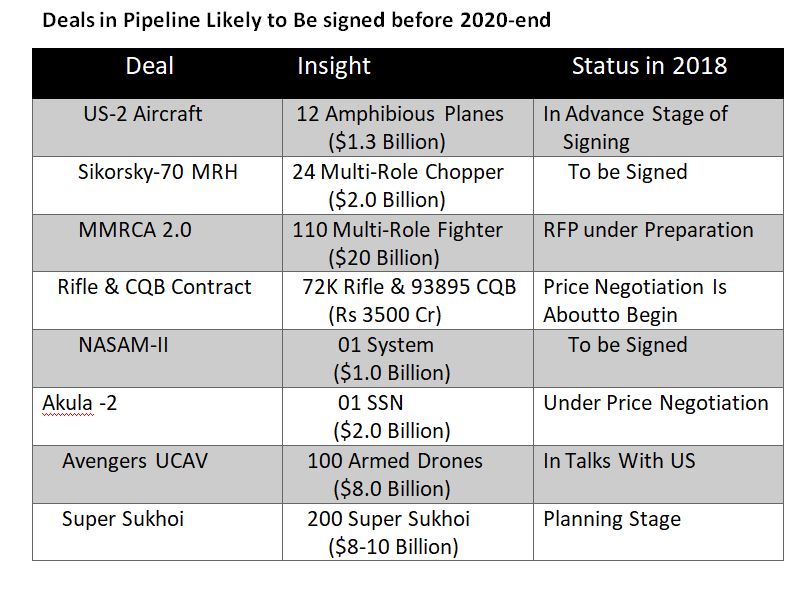 Disclaimer : Articles published under " MY TAKE " are articles written by Guest Writers and Opinions expressed within this article are the personal opinions of the author. IDRW.ORG is not responsible for the accuracy, completeness, suitability, or validity of any information on this article. All information is provided on an as-is basis. The information, facts or opinions appearing in the article do not reflect the views of IDRW.ORG and IDRW.ORG does not assume any responsibility or liability for the same. article is for information purposes only and not intended to constitute professional advice .
Article by HIMANSU SWAIN /,  cannot be republished Partially or Full without consent from Writer or idrw.org