SOURCE:  RAVI PAI / FOR MY TAKE / IDRW.ORG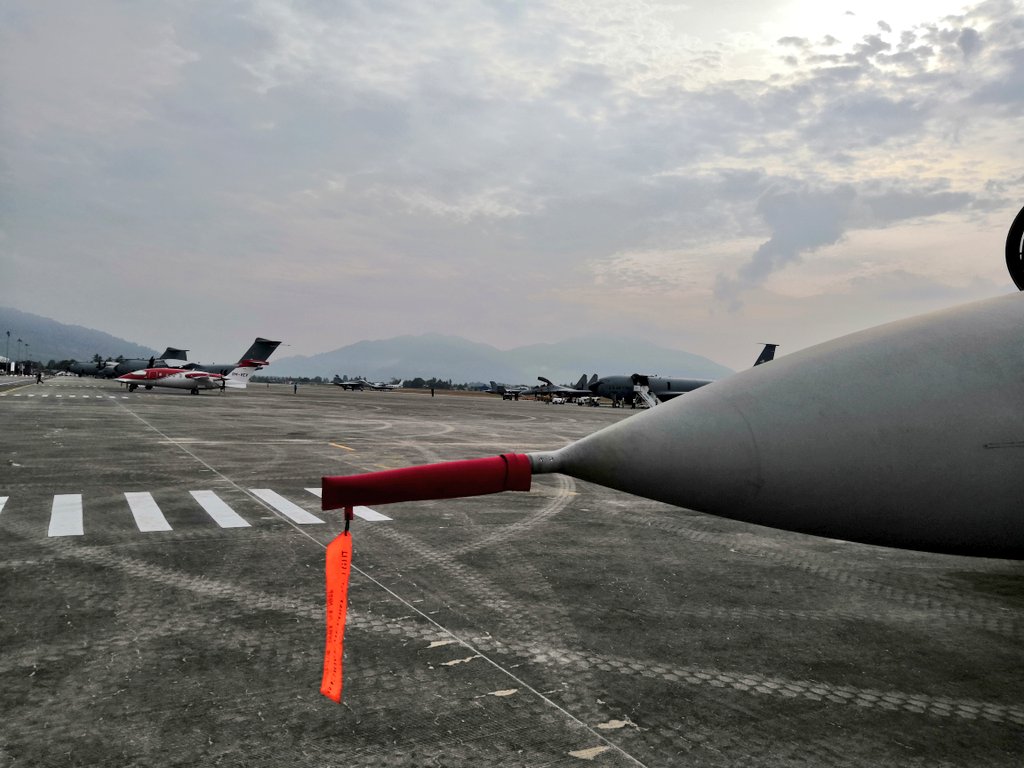 After spectacular flying display at Langkawi International Maritime and Aerospace Exhibition (LIMA) 2019, which won praise from all quarters of the crowd and visiting military delegation of various countries, Two LCA-Tejas are staying back for evaluation by a team from Royal Malaysian Airforce personal for possible sale of them under Malaysian Light Combat Aircraft (LCA) tender for 18+18 jets in near future.
Request for Information (RFI) was sent to several companies in January and their respective offerings were, Korea Aerospace Industries FA-50 Golden Eagle, Italy's Leonardo with its M-346FA Master, the Chinese-Pakistani JF-17 Thunder, and India's HAL Tejas. Under LCA tender, RMAF plans to replace it's aging Hawk Mk108/208 which are used to as an advanced training aircraft for transitional courses to teach pilots to fly fighter aircraft but also plays the main role in maintaining the safety and sovereignty of the country's air space.
What seems to have been completely missed by defense pundits back home in India is that Malaysia has a serious budget problem and the government is finding it hard to commit funds for defense spending that can meet the RMAF's requirements. RMAF already has grounded 18 Mig-29 fighter jets due to high maintenance costs and 14 of their 18 Sukhoi Su-30MKM multi-role fighters have completed 10 years in service and require deep overhaul as mandated by OEM but the government doesn't have funds which might limit their availability even further, 8 Boeing F/A-18D Hornets are not in sufficient numbers to provide adequate air defense coverage for Malaysia.
Malaysian defense analysts have predicted that due to lack of funds, the Malaysian government will be in no hurry to seal the deal with any vendor for supply of new jets to their air force and even if they do, it most likely will be due to a barter deal stuck with the winning vendor and its near, impossible for hard cash transaction for the Malaysian government at this point of time.
The Malaysian government will demand payment neither by the supply of palm oil or will ask for deferred payment options with low-interest costs which will put Beijing and Moscow at the driver seats who in past have offered such payment system to many countries in the region to secure military orders. LCA-Tejas is vastly superior to JF-17 and Yak-130 on offer to Malaysian air force but they are also much cheaper and comes with such payment options which can secure orders from their government.
The Malaysian government in the past had asked India to buy their now grounded Mig-29 fleet in a barter system for supply of spares and parts for their Sukhoi Su-30MKM fleet. India will neither have to offer spares and training of crew or offer cheaper overhauls for their Sukhoi Su-30MKM fleet or buy their Mig-29 fleet to secure orders for LCA-Tejas. India will also need to offer more payment options like deferred payment options or cheaper spares and after sales support or trade in palm oils.
It is highly unlikely that only technical performance will fetch an order from Malaysia, the Indian Government will need to come up with new innovative payment options which can turn the tide towards LCA-Tejas to secure its first order from an International customer which might further boost its export potential in near future even further or else Moscow and Beijing are likely to secure orders easily.
Disclaimer : Articles published under " MY TAKE " are articles written by Guest Writers and Opinions expressed within this article are the personal opinions of the author. IDRW.ORG is not responsible for the accuracy, completeness, suitability, or validity of any information on this article. All information is provided on an as-is basis. The information, facts or opinions appearing in the article do not reflect the views of IDRW.ORG and IDRW.ORG does not assume any responsibility or liability for the same. article is for information purposes only and not intended to constitute professional advice .
Article by RAVI PAI /,  cannot be republished Partially or Full without consent from Writer or idrw.org