SOURCE: ABHAY KESARKAR / FOR MY TAKE / IDRW.ORG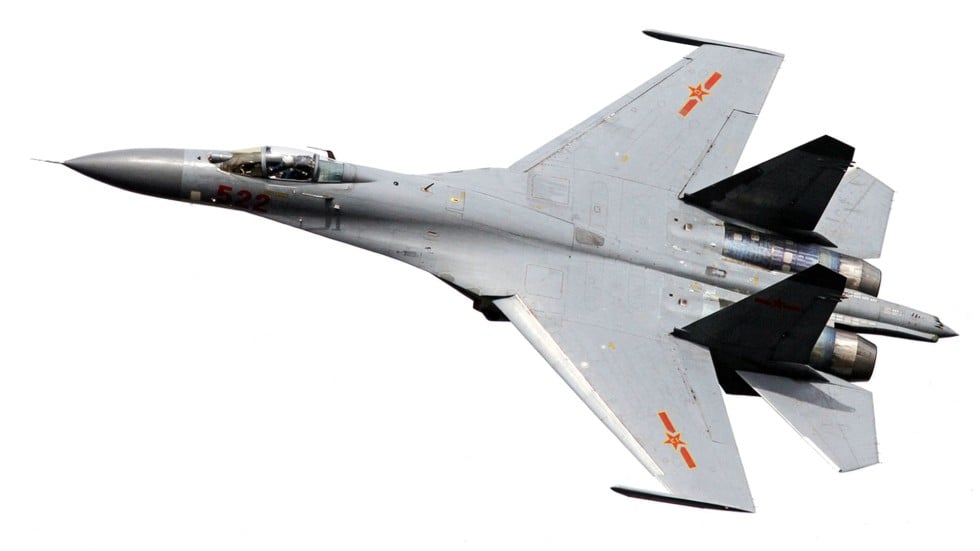 China and Pakistan air forces carried out joint training exercise dubbed as "Shaheen VI" last year in the month of September, where China had dispatched J-11 fighters, JH-7 fighter-bombers, KJ-200 AWACS aircraft and ground forces including surface-to-air missile and radar troops and Pakistani air force had sent older J-7s and their new inducted JF-17 which they had co-developed with Chinese.
According to China Youth On-Line (CYOL), 2 Shenyang J-11( Copy of Sukhoi Su-27) fighter aircraft were on the tarmac preparing for the take off to have a rare encounter between with pair of JF-17 Thunder belonging to visiting Pakistani air force when one of the J-11 aircraft developed some technical problem but other Chinese pilot named " Zhu Zhenhua" in command of second J-11 was adamant to continue with the mock dogfight which was set up by both air-force and soon took off with his plane alone.
According to CYOL, Zhu Zhenhua, after several rounds of "fierce battles", he finally seized the fleeting fighters and won the air battle. Not much was revealed how this was achieved by the pilot against two potential adversaries but it also exposed how even an older copied variant of the framed flanker was able to shot down two JF-17 Thunder fighter jets which literally are main backbone of the Pakistani air force due to their size-able numbers.
Same Chinese sources add that the due to excellent maneuverability of the J-11, Pilot was able to hold both JF-17s for several rounds of dogfight even when PAF pilots continued to push highly aggressive tactics which they had developed to keep J-11 engaged but failed to get any clear shot against a bigger target like J-11. Zhu Zhenhua actually won a Within Visual range Dogfight even though J-11 aircraft could have engaged in Beyond visual range dogfight and could have easily won due to better radar and missile, yet pilot chose a close visual range dogfight, yet PAF's JF-17 failed.
PAF has plans to induct close to 250 JF-17s which will be replacing old French supplied Mirage-III and Mirage -IV Air Defence fighter aircraft largely in its eastern front with India. Indian Air Force has a large fleet of 272 Sukhoi-30MKI which are vastly superior to the Unlicensed Copies of Sukhoi-27 which Chinese call as J-11s in their air-force. Sukhoi-30MKI was and will always remain vastly superior to the JF-17s in the air even in near future and when both the countries go to war with each other.
J-11 vs JF-17 engagement already has shown that Sukhoi-30MKI always will be overkill for the Indian air force in its western front as it prepares to fighter simultaneously in a two-front war with Pakistan and China with its depleting fleet of combat jets. Multiple air exercises by IAF especially regarding its deployment and swing missions in both the sectors that Sukhoi-30MKI in India's eastern sector will act as a wall against Chinese flankers but also come to aid of other fighters in its western sector when required like seen in last air exercises where single Sukhoi-30MKI was seen guiding pair of LCA-Tejas in the western sector .
Mear presence of few Sukhoi-30MKI in the eastern sector to aid or guild other fighters in the vicinity by acting like a Mini-AWACS in the deployed sector will come as a morale booster for the air-force especially for Tejas Mk1A fleet which is bound to grow in size in next few years after air-force placed massive orders for it. Mk-2 along with MMRCA 2 winner will completely free Sukhoi-30MKI fleet from the western sector allowing it to focus on the eastern sector in a possible two-front war.
Disclaimer : Articles published under " MY TAKE " are articles written by Guest Writers and Opinions expressed within this article are the personal opinions of the author. IDRW.ORG is not responsible for the accuracy, completeness, suitability, or validity of any information on this article. All information is provided on an as-is basis. The information, facts or opinions appearing in the article do not reflect the views of IDRW.ORG and IDRW.ORG does not assume any responsibility or liability for the same. article is for information purposes only and not intended to constitute professional advice .
Article by ABHAY KESARKAR /,  cannot be republished Partially or Full without consent from Writer or idrw.org