SOURCE: TUSHKAR SHIRODKAR / FOR MY TAKE / IDRW.ORG.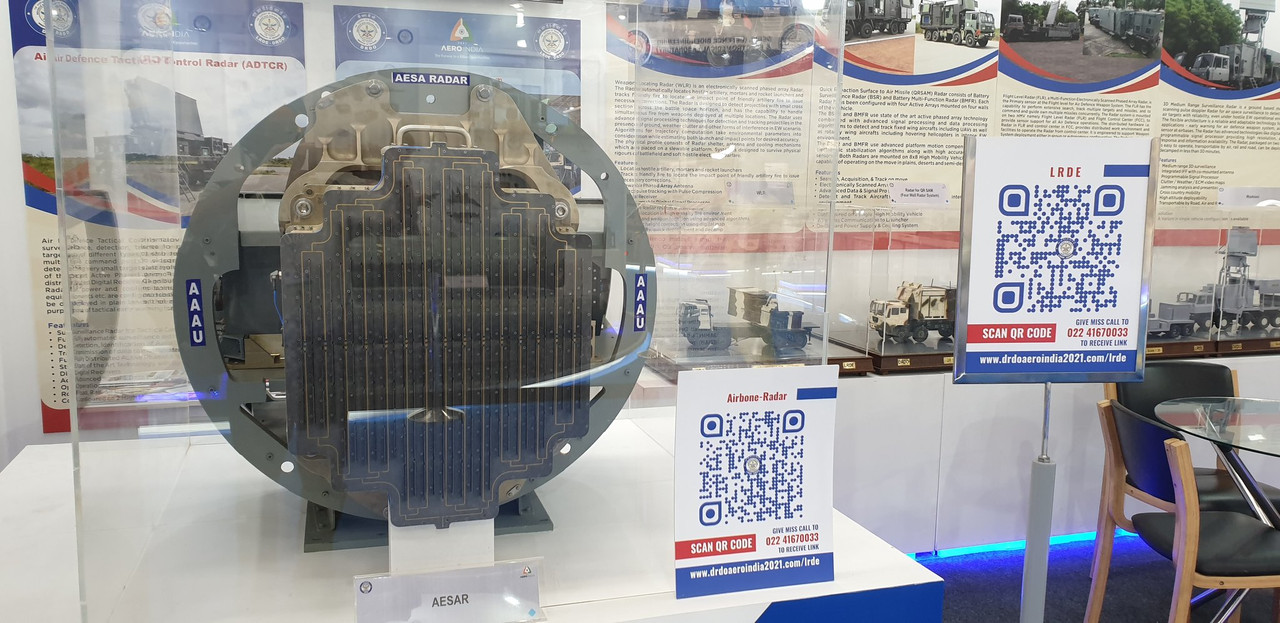 Around 2012, Electronics and Radar Development Establishment (LRDE) was given the go-ahead to develop an Active electronically scanned array (AESA) fire-control radar (FCR) to be used on the Tejas Mk2 program and later on India's 5th generation AMCA fighter jet. LRDE team of 30 had previously worked on the Multi-Mode Radar (MMR) that was not so successful and required Israeli assistance that came with some of the components borrowed from the ELTA's ELM-2032 multimode airborne Fire Control Radar (FCR) in creating an Indo-Israeli Hybrid Radar that went to production for the Tejas Mk1 fleet.
LRDE team drew its experience from the larger AESA Radar that was developed for the Netra Airborne Early Warning and Control System (AEW&CS) and the Maritime Patrol radar, but the challenges to shrink the technology were not easy nor was the process and some of the technology for the radar only started materializing in 2017 and 2019 a pre-production model started testing on the leased Hawke-800 Business jet provided by Zephyr Aerospace after carrying out basic trials on the rooftop testing facility at the Old HAL airport.
LSP2 was used as a Testbed for airborne AESA Radar air-to-air, air-to-ground and air-to-sea modes for all-terrain air-to-air, air-to-ground, and air-to-sea modes for all-terrain and now has been cleared also on LSP3 that has accumulated over 230 hours of airborne tests and 125 hours on two Tejas Mk1 fighter jet.
Uttam Mk1
Present radar that has been tested for the Tejas Mk1A fleet that will be incorporated from the 21st Tejas Mk1A that will go into production in 2025 will have 780TR modules on the antenna size that is appropriate as per the power limitations of the engine. LRDE already has started working on limited series production units of the radar and the same will be improved before it is cleared for the Tejas Mk1 fleet.
Uttam Mk2
Since Aero India 2021, It was confirmed that LRDE is working on an upscaled version of the Uttam radar that will be customized for the Tejas Mk2 program. Mk2 will have 992 arrays of TR modules that will allow the aircraft to boast of the low probability of intercept and non-cooperative target recognition while managing better Multi-target detection and tracking capability. Tejas Mk2 will have a frontal radar cross-section that is better than Tejas Mk1 and improved Uttam will only enhance its first shot capability.
Uttam Mk3
Also what we have learned from Aero India 2021, is the LRDE proposal for the development of a bigger upscaled version of the Uttam radar that will be customized for the Sukhoi-30MKI aircraft incorporating around approx. 1100-1300 arrays of TR modules due to a larger space in the nose radome of the aircraft and also due to higher thrust engines. Indian Air Force (IAF) initially had asked for a feasibility report and later cleared it after technical submission of the report indicated that it was very much doable with much better Multi-target detection and tracking capability.
Uttam Mk4
DRDO has developed Gallium nitride (GaN) transmit/receive modules and recently LRDE tenders indicate that prefabrication for workable new Active Electronically Scanned Array (AESA) X-band radar for India's 5.5 Gen AMCA fighter jet program has started. Gallium nitride (GaN) transmit/receive modules have better performance in terms of electronic countermeasures, small target detection, and greater bandwidth. Unlike the GaAs (gallium arsenide) TR modules that are presently used on the Uttam Mk1/2/3. GaN radars also consume less power and generate less heat, but the technology is still complex to enter production in mass-scale yet and it might take some time before a workable prototype of the same can be developed and flown on an AMCA aircraft in the latter part of this decade.
Disclaimer : Articles published under " MY TAKE " are articles written by Guest Writers and Opinions expressed within this article are the personal opinions of the author. IDRW.ORG is not responsible for the accuracy, completeness, suitability, or validity of any information on this article. All information is provided on an as-is basis. The information, facts or opinions appearing in the article do not reflect the views of IDRW.ORG and IDRW.ORG does not assume any responsibility or liability for the same. article is for information purposes only and not intended to constitute professional advice .
Article by TUSHKAR SHIRODKAR , cannot be republished Partially or Full without consent from Writer or idrw.org