SOURCE: ANI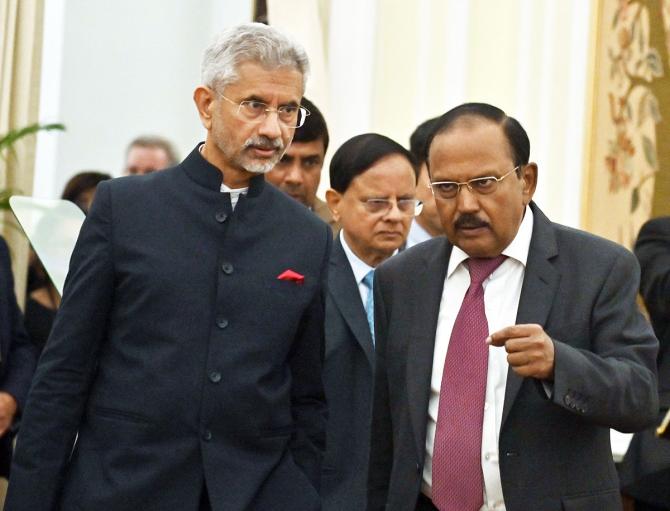 National Security Advisor Ajit Doval on Sunday, May 7, 2023, held a meeting with his US counterpart Jake Sullivan, United Arab Emirates counterpart Sheikh Tahnoun bin Zayed Al Nahyan and Saudi Arabia Crown Prince and Prime Minister Mohammad bin Salman bin Abdulaziz Al Saud and discussed means to strengthen ties between the countries.
Saudi Arabia's ministry of foreign affairs in a statement said, 'During the meeting, they discussed means to strengthen relations and ties between the three countries in a way that enhances growth and stability in the region.'
According to the statement released by the White House, Sullivan met with UAE Crown Prince Sheikh Tahnoon and Doval to discuss bilateral and regional matters. He looked forward to further consulting with Doval on the margins of the Quad Summit later this month in Australia.
The four delegations agreed to maintain regular consultations.
Meanwhile, Israel's Foreign Minister Eli Cohen arrived in India for his first official visit which would pan three days starting Tuesday, May 9, 2023.
Cohen will be present at the India-Israel Business Forum organised by the Confederation of Indian Industry and also participate in a special conversation organised by the Israel Export and International Cooperation Institute in New Delhi.
After his meeting with External Affairs Minister Dr S Jaishankar and attending the CII India-Israel Business Forum on Tuesday, Cohen will depart for Agra in the evening. He will return to Delhi on Wednesday, May 10, before departing for Mumbai on May 11.