SOURCE: ANI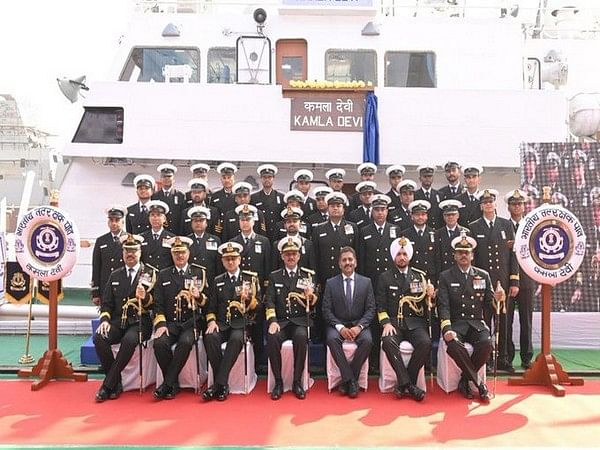 Indian Coast Guard (ICG) ship 'Kamla Devi', the Fast Patrol Vessel (FPV) designed, built and delivered by Garden Reach Shipbuilders and Engineers (GRSE) Ltd to the Indian Coast Guard was commissioned here on Thursday.
ICGS Kamla Devi is officially the fifth and last vessel of the series of FPVs designed and built by GRSE as per the specifications of the Indian Coast Guard. ICGS Kamla Devi is 48.9 meters long and 7.5 meters wide with a displacement of 308 Tons. With three engines and water jets, she is capable of a top speed of 34 knots and an endurance of over 1,500 nautical miles.
She also has an Integrated Bridge System and is fitted with a 40/60 gun as the main armament. The ship has advanced habitability features with fully air-conditioned accommodations for 35 personnel. Like her sister ships, ICGS Kamla Devi will patrol the seas and carry out anti-smuggling, anti-poaching and search and rescue operations as and when required.
'MV Ma Lisha', a Passenger-cum-Cargo Ocean Going Ferry built by the shipyard for the Cooperative Republic of Guyana was also flagged off.
This is the first such ship built for exports to a Latin American country by any Defence Public Sector shipyard.
"The MV Ma Lisha, designed and built by GRSE, will move towards Chennai and once at Chennai, she will be loaded onto a semi-submersible vessel MV Sun Rise for her long voyage to Guyana," an official statement said.
Flagging off MV MA Lisha, GRSE chairman and managing director Commodore (retd) P R Hari said, "I compliment the design, quality assurance and project management teams for their stellar efforts in ensuring timely completion of the project." The contract for the construction of the ocean-going vessel was signed between the Transport and Harbours Department of the Government of the Cooperative Republic of Guyana on January 13, 2021, after the Kolkata-based warship builder bagged the export contract for the civilian shipbuilding project through competitive bidding, a GRSE official said.
The ship was launched on June 15, 2022, and within six months, GRSE achieved the 'Technical Acceptance' of the vessel on December 16, he said.
The 70-metre-long vessel with a displacement of 1,700 tonnes is propelled by two diesel engines and can achieve a maximum speed of 15 knots.
The ship can accommodate 294 passengers, including 14 crew members, along with 14 cars, two trucks, and 14 containers and cargo.