SOURCE: RAUNAK KUNDE / NEWS BEAT / IDRW.ORG.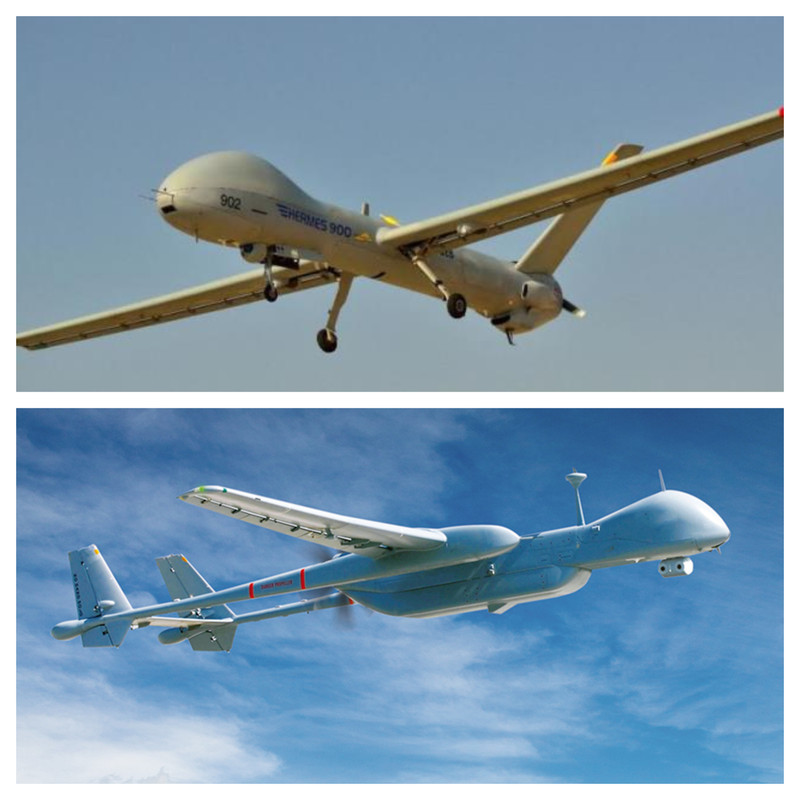 Indian Ministry of Defence (MoD) has put a technical hold on the purchase of 30 MQ-9 Reaper from US-based General Atomics which could have cost the state-exchequer upward of $3 billion and instead has told Indian Tri-service to consider two Israeli MALE Unmanned Aerial System (UAS) that are on offer to India. idrw.org has been told that Elbit-Adani developed Made in India Hermes 900 UAS that has a take-off weight of 1.2 tons with a max payload of 350kg has been offered to the Indian Armed forces.
Hermes 900 UAS is made in India by the Adani Group for the Export market and has 60% Indian-made components. Hermes 900 UAS is in the same as an MQ-1 Predator class UAS. Hermes 900 UAS Armed version on offer can use a Modular 250kg installation bay that has a length of 2.5 meters to carry two 125kg weapons like Smart Anti-Airfield Weapon (SAAW) or be equipped with short-range air-to-ground laser-guided bombs on wings weighing up to 350kgs. Hermes 900 can fly up to 30,000ft and has an endurance of 36hours.
The second Israeli Armed UAS on offer is IAI-HAL proposed Heron TP MALE Unmanned Aerial System (UAS) if procured will be made in India by State-owned Hindustan Aeronautics Limited (HAL). Heron TP has a take-off weight of 5.6 tons with a max payload of 2.7 tons that can fly up to 45,000ft and has an endurance of 30 hours. Heron TP is the same as an MQ-9 Reaper class but with better payload carrying capability. Heron TP can also carry a special weapons bay to keep the missile and smart bombs inside the bay to reduce drag and reduce vibrations. HAL is offering Indian-made Heron TP to be armed with Indian-made Air to Air and Air to Ground weapon systems like SAAW and Helina ATGMs.
Heron TP is considered to be 60% cheaper than MQ-9 Reaper, while Hermes 900 UAS will be even cheaper. India is also developing Archer Short-range Armed UAS in the same class as Bayraktar. ADE has developed Rustom-II and is also developing HALE Class UAV for Intelligence gathering, surveillance, and target acquisition and reconnaissance.
NOTE : Article cannot be reproduced without written permission of idrw.org in any form even for YouTube Videos to avoid Copy right strikes