SOURCE: THE WEEK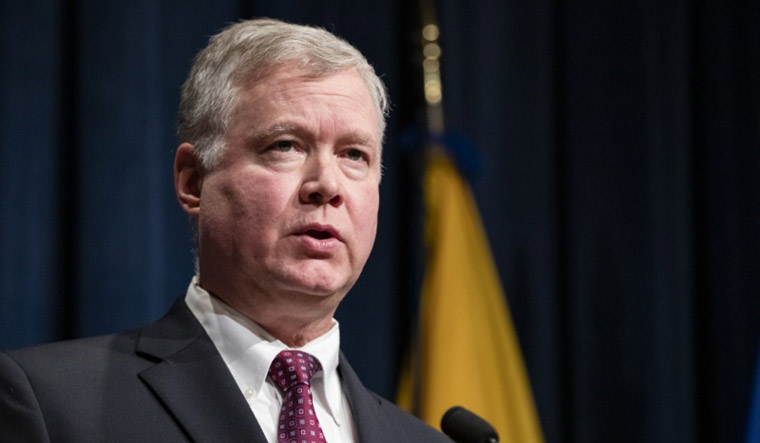 Ahead of the India-US 2+2 ministerial meet later this month, US Deputy Secretary of State Stephen E. Biegun will arrive in India on October 14 for a two-day visit.
Beigun will meet with senior government officials and deliver keynote remarks at the India-US Forum. According to a statement from the US Embassy, "building on Secretary Michael Pompeo's October 6 meeting with Indian Minister of External Affairs Dr S. Jaishankar and ahead of the US-India 2+2 Ministerial Dialogue later this year, Deputy Secretary Biegun's engagements in India will focus on advancing the United States-India Comprehensive Global Strategic Partnership and how the United States and India can work together to advance peace, prosperity, and security in the Indo-Pacific and around the globe."
This will be the second dignitary visit from the US in as many months. Last month, Zalmay Khalilzad, US special envoy for Afghanistan had visited India soon after the inauguration of the Intra-Afghan peace talks in Doha.
Although not officially announced as yet, India is readying itself to receive Pompeo and US Defense secretary Mark Esper for the 2+2 meet on October 26-27.
The pandemic has shifted diplomatic engagements to the virtual mode, but for countries that matter, dignitaries have begun physical visits. In-person meetings give leaders opportunity to develop personal rapport and often steer away from the rigid contours of the agenda and discuss other issues of mutual interest.
Recently, Jaishankar traveled to Tokyo for the Quad foreign ministers meet. Earlier, he had visited Moscow for the Shanghai Cooperation Organisation (SCO) meet where he met his Chinese counterpart Wang Yi and crafted the five point plan to diffuse the border situation.
Defence minister Rajnath Singh, too, had visited Moscow for the SCO meet but his bilateral with his Chinese counterpart didn't make much headway in tackling the border situation.
Abdullah Abdullah, Chairperson of High Council for National Reconciliation of Afghanistan, was in India today to discuss the Afghan peace process, bilateral ties and regional issues.