SOURCE: PTI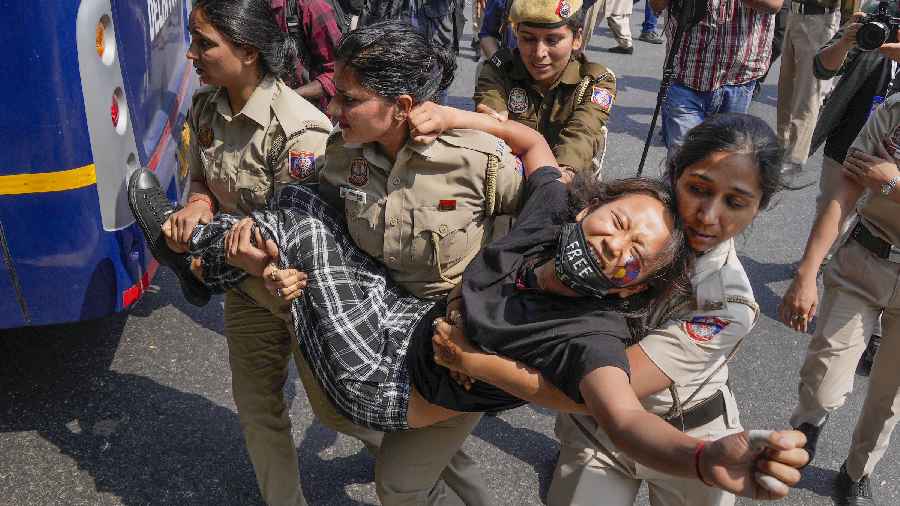 Members of the Tibetan Youth Congress protested near the Chinese embassy here on the 64th Tibetan National Uprising Day on Friday, police said. Raising slogans against the Chinese government's "hardline policies" and "illegal occupation of Tibet", several of them were detained and taken to Mandir Marg police station as they tried to march towards the embassy.
The Delhi Police had put up barricades around 2 km from the embassy and imposed Section 144 of the CrPC, which prohibits the assembly of four or more people, in the area as a preventive measure.
More than 60 members of the Tibetan Youth Congress staged a brief protest near the barricades placed a couple of km away from the embassy, a senior official said.
"As they tried to jump over the barricades to reach the embassy, we detained them. Once the situation is under control, they will be released," said the officer present at the protest site.
In a statement, the Tibetan Youth Congress paid reverence to his holiness the 14th Dalai Lama and extended heartfelt solidarity to all Tibetan martyrs who have "sacrificed their lives in the restoration of the Tibetan independence resistance against the Chinese Communist Regime".
"In 1949, when the red Chinese army had invaded Tibet and fabricated a grim insecurity threat to the 14th Dalai Lama, the entire Tibetan situation was accelerated to a critical stage on the 10th March 1959.
"As a result, Tibetans from all the three traditional regions of Tibet stood united, took full responsibility, and resisted the Chinese military retaliation and their subjugated allegation over Tibet," it said.
"Since Tibet was gobbled up by the Chinese Communist Regime and under its oppressive political systems, Tibet has been experiencing tremendous challenges: expropriation of Tibetan religious centres, detention of Tibetan intellectuals, the massacring of prominent Tibetan scholar; and exploitation of the Tibetan environmental ecosystems," it added.