SOURCE:  ABHOY ROY / FOR MY TAKE / IDRW.ORG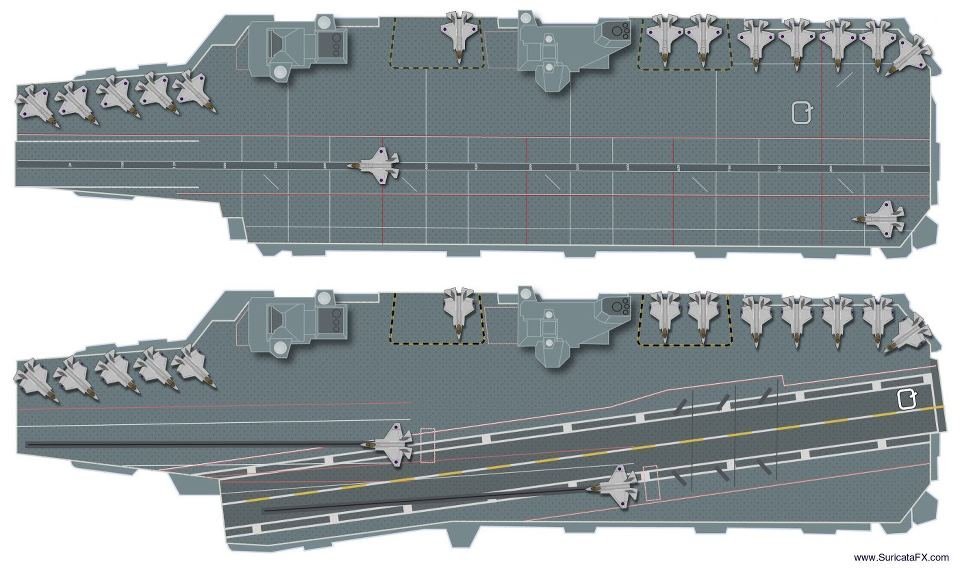 The United Kingdom and India are reportedly working on possible collaboration in design and development of aircraft carrier based on Elizabeth class aircraft carriers operated by Royal Navy according to media reports.HMS Queen Elizabeth has no catapults or arrestor wires and is instead designed to operate V/STOL aircraft like F-35B, which means it won't be able to operate carrier-based airborne assets like Mig-29k and N-AMCA which requires at least STOBAR (Short Take-Off But Arrested Recovery) configuration to function.
But the Indian Navy is firm about one thing that it wants a CATOBAR (Catapult Assisted Take-Off But Arrested Recovery) for its New Aircraft carrier which will require considerable design changes to the deck section and British designers have proposed a new design which was initially proposed to Royal Navy but was not selected. As seen above, Elizabeth-class developers had two design in mind when the program was at the design stage and one was a V/STOL configuration which was selected by the Royal Navy and other was the STOBAR configuration which was overlooked.
The financial crisis in the country and a political decision was the main reason, why STOBAR configuration was not considered by Royal Navy, but Indian Navy which wants an advanced system like Electromagnetic Aircraft Launch System which will require considerable help from western defense contractors and might have been one of the biggest reason why Elizabeth class aircraft carrier is been considered by India.
STOBAR configuration of INS Vishal will drop the full-width ski-jump feature so that it can operate AEW aircraft and UCAVs from onboard. Use of the EMALS electromagnetic aircraft launch system developed by General Atomics will mean no catapult-specific restrictions on launch aircraft and will be able to carry out 25% more sorties. India will push for greater indigenous content to keep the cost down but it will be difficult to push out UK based companies who are already suppliers of the equipment which goes in the Elizabeth class aircraft carriers for the same cost reasons.
The United Kingdom reportedly has spent around $10.4 billions for development of both ships in V/STOL configuration and could have cost additional $2.6billions for the STOBAR configuration which India will need to bear, plus the cost of Electromagnetic Aircraft Launch System which will be pegged at $1 billion and other weapons and armaments which cost additional. If the Indian Navy decides further design changes to other superstructures then cost is likely to go north further, delays in construction activity as in INS Vikrant can further escalate project cost.
Disclaimer : Articles published under " MY TAKE " are articles written by Guest Writers and Opinions expressed within this article are the personal opinions of the author. IDRW.ORG is not responsible for the accuracy, completeness, suitability, or validity of any information on this article. All information is provided on an as-is basis. The information, facts or opinions appearing in the article do not reflect the views of IDRW.ORG and IDRW.ORG does not assume any responsibility or liability for the same. article is for information purposes only and not intended to constitute professional advice .
Article by ABHOY ROY /,  cannot be republished Partially or Full without consent from Writer or idrw.org