SOURCE: UNI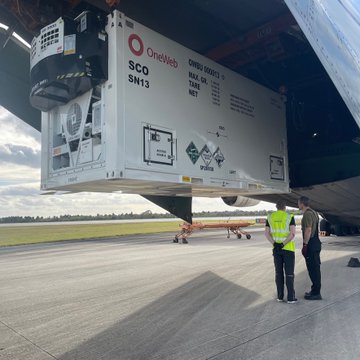 OneWeb's Chief Technology Officer, Massimiliano Ladovaz, announced that the second batch of 36 satellites had been loaded onto an Antonov-124 cargo plane after being transported from the Airbus OneWeb Satellites factory in Florida. The Antonov plane will fly to Chennai in southern India, which is about 100 kilometres from India's Spaceport Satish Dhawan Space Centre. The plane is expected to land in Chennai in the late afternoon of Friday, January 27th.
The satellites will be transported by special trucks from the Chennai airport to Sriharikota, where they will be fully assembled and tested as the assembly of the LVM3 rocket progresses. Once approved, the satellites would be attached to the dispenser unit before being encapsulated within the rocket's payload fairing or nose cone.
OneWeb is a global communication network powered by space that allows governments, businesses, and communities to connect. The company is building a constellation of Low Earth orbit satellites that will be organised into 12 orbital planes, each with 49 satellites. This constellation will have 648 satellites in total. Bharti Enterprises of India is a major shareholder and investor in OneWeb.