SOURCE: IDRW NEWS NETWORK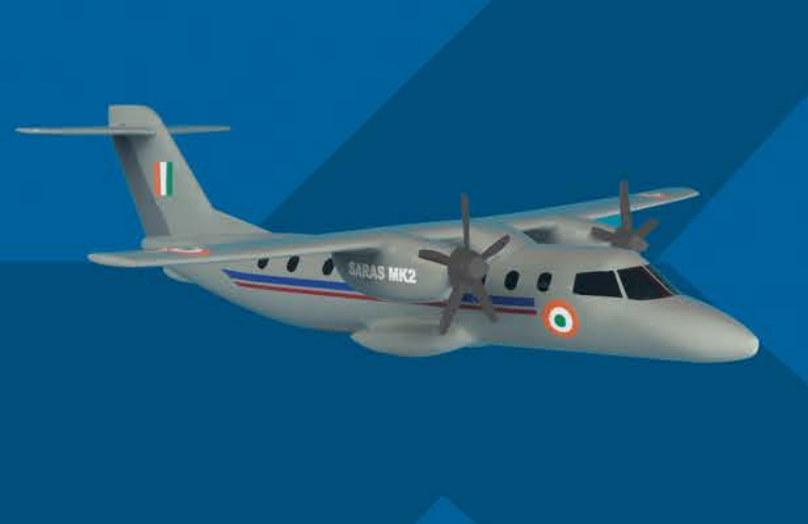 The first look at the upcoming Saras Mk2 aircraft marks a tectonic shift from its previous design and marks a move from rarely used pusher configuration of its propeller position to the tractor configuration. Earlier the engines were mounted on stub wings located at the aft fuselage but now the new design features a high mounted wings design with two turboprop engines in a wing-mounted pod. With enhanced fuselage, it will be able to carry 19 passengers instead of the previous 14 passengers and, also the design has been optimized for takeoffs and landings from semi or unprepared runways.
Council of Scientific and Industrial Research (CSIR)-National Aerospace Laboratories (NAL) developed 19-seater Saras Mk2 aircraft is also fast progressing from the drawing and design stage to the construction of two structural test articles which soon will be followed up by two production-standard aircraft by 2024. Saras Mk2 is also been promoted as an indigenous option for the Government's UDAN scheme, launched in October 2016 that is aimed at linking up areas that have no air connectivity.
The NAL has said in its report that " Government should procure at least 50-60 aircraft to make the program viable to be in VVIP and Passenger configuration ". IAF has committed to procure 15 for VIP transport and supply roles during emergencies. According to NAL, Each aircraft will cost 50 crores and will be the cheapest in its class. idrw.org was told that each 19 seater Passenger variant of Dornier Do 228 manufactured by state-owned Hindustan Aeronautics (HAL) costs around 20-30% more when compared to a 19 seater Saras Mk2 and both are in the race to be used under Government's UDAN scheme.
NAL officials say that Saras Mk2 is better in every aspect when compared to Dornier Do 228 and comes with a Fully Digital cockpit, Modern Avionics, Newer safety features, New aero structure design, and powerful yet fuel-efficient engines. Defense analysts Ranesh Rajan speaking to idrw.org said " Design looks promising and has potential for further growth in Mk3 to be used as a Light Transporter for Troop movement or as a short-haul regional airliner ".
NOTE : Article cannot be reproduced without written permission of idrw.org in any form even for YouTube Videos to avoid Copyright strikes