SOURCE: VISHAL KARPE / FOR MY TAKE / IDRW.ORG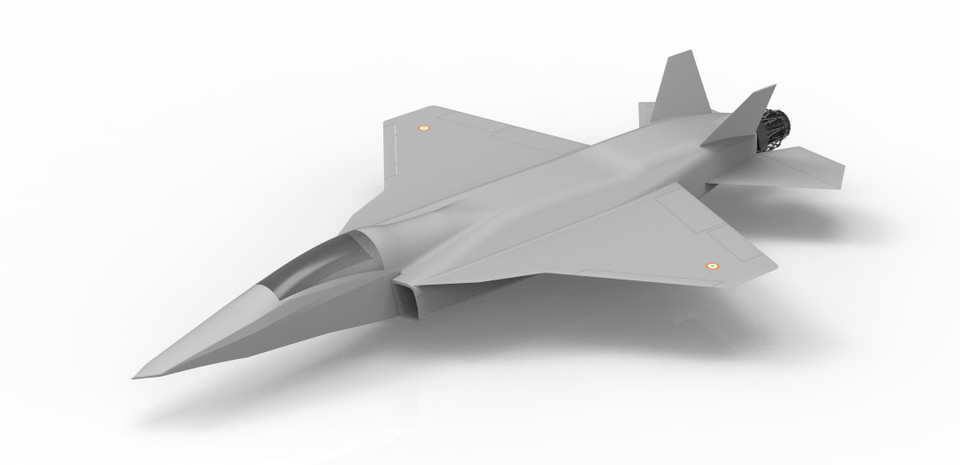 DRDO Chief Satheesh Reddy mentioned Mark 2 RV stealth aircraft program which many believe will be India's Single engined Stealth fighter aircraft based on technology already developed for the MWF-Tejas Mk2+ AMCA program. possible configuration of the aircraft is based on hearsay coming out of prominent defense analytics in the country since the program details of this project is yet to be officially out yet.
IAF from 2030 onwards is staring at replacing the bulk of Medium weight fighter aircraft under MTOW (Maximum take-off weight) of 19 tonnes and below which make up nearly 250 fighter aircraft in the current fleet. IAF will be replacing 65+21 Mig-29UPG, 52 Mirage-2000H and 120 Jaguar Strike aircraft with one single type of aircraft which will start with the retirement of Mig-29s which will be over 40 years by then. 
Tejas Mk-2 which is still the Official project name has been renamed internally as Medium Weight Fighter (MWF) after revision in its detail design phase (DDP) which moved it from Light to Medium Category after it was revealed that it will have MTOW of 17.5 tonnes which fits in to replace the trio type of Mig-29UPG, Mirage-2000H and Jaguar Strike aircraft with a single type which is MWF-Mk-2.
IAF Chief initially had committed to procuring 210 MWF-Mk-2 fighters in the long term but principal order commitment later came down to 108 units which were strange since trio it will be replacing will be over 250 aircraft. Latest media reports indicate that IAF has dropped plans to re-engine Jaguar Strike aircraft and instead will be retiring older air-frames starting in next few years, while it maintains nearly 60 DARIN III  upgraded air-frames produced in the 1990-95 period till 2034-35 period.
Latest media reports indicate that IAF will rather prefer ordering some numbers of Su-30MKI with the money it has saved from not upgrading Jaguar strike fleet but there is not final number yet, even though HAL is ready to produce nearly 72 more Su-30MKI from its Nashik Plant, even though IAF is adamant to place orders for only 12 units as attrition replacements which were lost in accidents over 18 years of its service.
So the question is why there is a need for single-engined stealth fighter jet if India is already developing a Twin engined AMCA which will have its first flight in 2025 and is likely to have 7 years developmental circle which means it will enter production in 2032 onwards in limited scale by then and full scale production by 2035. 
A full-scale model (1:1) of AMCA will be ready for testing the stealth features in Orange facility in Hyderabad by end of this year and soon IAF will agree in principle number of fighter jets it will be required but IAF might agree for 100+ jets since being a 25 tonne, Twin engined fighter jet which will have higher life cycle cost and also will be expensive to operate, since this where single-engined fighter jet comes in handy.
Which sets off the second round of question Mark 2 RV will be based on MWF-Mk-2 design or it will be based on AMCA design but with a single-engine instead of two. Converting legacy delta wing, and close-coupled canard design like that of MWF fuselage into a stealth platform at best will create a rough product which will not have all the elements of the 5th generation stealth fighter jet but converting AMCA design into a single-engined program also brings its own set of problems which needs to be addressed.
Converting a 25-tonne AMCA design into a single-engine fighter jet even minus one engine will still make it around 23-22 tonne in its MTOW weight which means it will require a very powerful engine in the range of 170kN thrust class. AMCA will be powered by Two 110Kn thrust class, which with combined power will develop a thrust range of 220Kn for a 25-tonne aircraft with a full load. Even if we can bring it close to 20-tonne MTOW it will still require an engine which can generate the thrust of around 140kN.
We simply don't have access to an engine which alone can generate a 170kN class of thrust, so the question of Mark 2 RV being a 23-22 tonne aircraft can be ruled out, but a 20-tonne MTOW aircraft powered by a Saturn AL-41F1S after burning turbofan engine which can generate 142 kN thrust which most likely will also will make its way into Upgraded Su-30MKI in near future as offered by the Russians. The second possibility is that ADA designers can shrink 25-tonne AMCA design into aircraft under 18-tone MTOW but with Ge-414 engine with 98kN thrust class, which will not be able to super cruise unless it has an engine which we are planning to develop for the AMCA in thrust class of over 110Kn class.
Mark 2 RV more or less looks like will fit in between MWF-Tejas Mk2 and AMCA and will be developed post-development of MWF-Tejas Mk2 and might either be spin-off MWF-Tejas Mk2 or AMCA design. 
Disclaimer : Articles published under " MY TAKE " are articles written by Guest Writers and Opinions expressed within this article are the personal opinions of the author. IDRW.ORG is not responsible for the accuracy, completeness, suitability, or validity of any information on this article. All information is provided on an as-is basis. The information, facts or opinions appearing in the article do not reflect the views of IDRW.ORG and IDRW.ORG does not assume any responsibility or liability for the same. article is for information purposes only and not intended to constitute professional advice .
Article by  VISHAL KARPE /,  cannot be republished Partially or Full without consent from Writer or idrw.org