SOURCE: IDRW NEWS NETWORK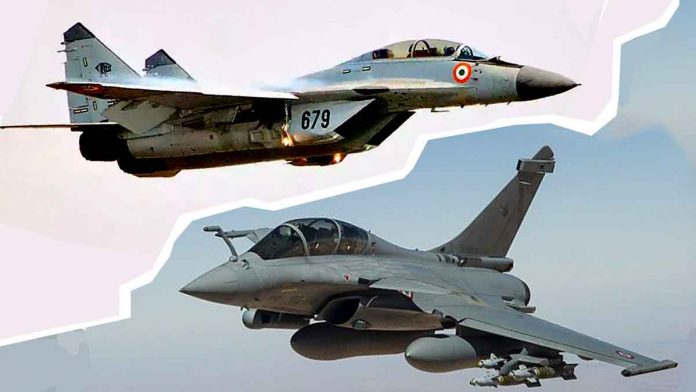 Dr. Girish Deodhare program Director of ADA speaking to Business Standard for the first time has confirmed that Aeronautical Development Agency is indeed working on the development of a carrier-based Twin engine Mark-2 Program for the Indian Navy, while it prepares to demonstrate landing and take-off capabilities of single-engined Naval-LCA from the Aircraft Carrier INS Vikramaditya by March 2020.
ADA earlier this year at Aero India 2019 had showcased a Navy-LCA Mk2 with Max takeoff weight (MTOW) of around 16.5 tonnes powered by a single-engine supplied by US engine-maker General Electric (GE) F414IN engine generating 98 kN thrust class but it was rejected by the Indian Navy due to Thrust to weight ratio and Navy also wanted safety of the second engine for smooth carrier deck operations.
According to details revealed by Dr. Girish Deodhare, Twin Engine Deck Based Fighter (TEDBF) will be powered by Two F414IN engines generating 98 kN thrust class each and now will be bigger and heavier than the Navy-LCA Mk2 concept which was showcased at Aero India 2019 earlier this year.
TEDBF will have Max takeoff weight (MTOW) of around 24 tonnes which puts it in the same class as that of other carrier-based fighter jets like Rafale-M ( 24.5 tonnes) and Mig-29K ( 24.5 tonnes) which is already operated by the Indian Navy. TEDBF will also be in the same weight category has that of the 5th generation stealth AMCA program which is under development for the air force which also falls under 25 tonnes.
According to information provided to idrw.org, the current fleet of 43 Mig-29K will be relieved of its carrier-based duties once TEDBF is inducted from 2031 onwards and instead Mig-29K fleet will be used from shore-based Naval facilities for patrolling and combat missions instead of being retired as reported by other media outlets.
Dr. Girish Deodhare has confirmed that the first roll-out will happen by 2025 and the first flight of TEDBF will happen by 2026. Technologies developed for the Naval-LCA Mk1 program will be used for the TEDBF program, while other technologies will come from MWF-AF and AMCA programs which are also in development.
Two years back, the Indian Navy had issued RFI to supply 57 fighter jets to Navy and four players Rafale-M (Dassault, France), F-18 Super Hornet (Boeing, US), MIG-29K (Russia), Sea Gripen (Saab, Sweden) had responded to the RFI issued by the Indian Navy. It is more or less can be assumed that due to the development of the TEDBF program, the Indian Navy is likely to stick with the local 4.5 generation program while it invests in the 5th Generation Naval-AMCA program soon for operations from the second indigenous aircraft carrier.
NOTE : Article cannot be reproduced without written permission of idrw.org in any form