SOURCE: API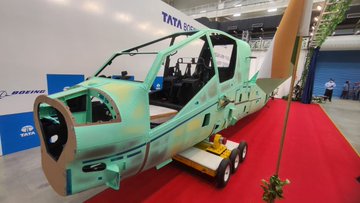 The first fuselage for the Indian Army's six AH-64E Apache attack helicopter contract rolls out of the Tata advanced & Boeing India facility, a JV Tata-Boeing Aerospace Limited in Hyderabad, and is ready to be shipped to the US facility, where it will be assembled before being returned to India.
Five more will be manufactured soon. So far, 200 fuselages have been prepared and moved for assembly at the TBAL factory in Hyderabad. Every Apache AH-64 helicopter will now have at least some parts manufactured in Hyderabad by TBAL.
The Hyderabad plant will be the sole supplier of the entire fuselage of any Apache helicopter delivered around the world," according to the press release.