SOURCE: IDRW NEWS NETWORK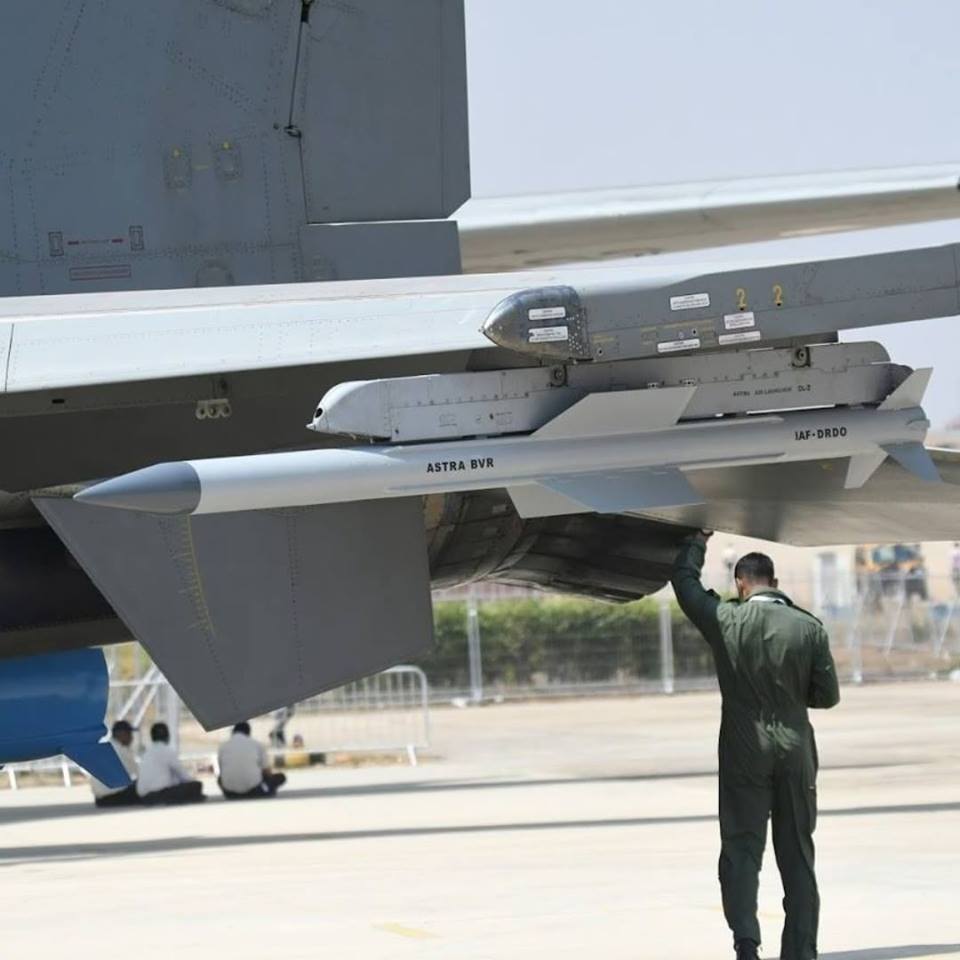 Russian Defence officials have raised concerns on the integration of Non-Russian Weapons onboard Sukhoi Su-30MKI multirole fighters without direct Russian involvement in the projects with the Indian Air Force chief Air Chief Marshal B.S. Dhanoa when he was on his goodwill visit to Russia from July 9 to July 12 informed a highly senior ranked airforce official close to idrw.org.
The Indian Air Force (IAF) is planning to arm its fleet of Sukhoi Su-30MKI multirole fighters with the I-Derby ER (extended range), Astra beyond-visual-range air-to-air missile (BVRAAM) which will replace Russian-made Vympel R-77 AAMs by 2021-22 ,even though for time being, IAF has placed orders for 700 of the R-77 and R-73 as emergency purchase with Russia.
But the prospect of losing key AAM business completely to Israel and European countries has been bothering the Russian Defence ministry and lack of participation of the Russian companies in these projects further complicates the matter since IAF didn't even bother to inform them about their plans.
European ASRAAM is widely used as a Within Visual Range (WVR) air dominance missile with a range of over 25km and IAF has planned to replace Russian R-73 WVR missile which was instrumental in registering first kill of F-16 by a Mig-21Bis aircraft recently but IAF plans to make ASRAAM a common WVR AAM among all fleet means it will also be adapted for operations from Mig-29UPG and Mig-29K operated by Indian Navy.
The Next-generation infrared-guided missile designed and built by MBDA doesn't require great modification to the onboard hardware and mission computer of the Sukhoi Su-30MKI multirole fighters but the integration of I-Derby ER BVRAAM is much more complicated and requires hardware and software up-gradation of the mission computer onboard Su-30MKI and Radar and other avionics and sensors so that it can work in sync with all of them.
IAF, HAL and Rafael Advanced Defense Systems have decided not to engage with Russia on the integration of the I-Derby ER BVRAAM onboard Sukhoi Su-30MKI multirole fighters fleet which was the trigger behind Russian protest of Integration of Non-Russian approved weapons with a Russian platform without their involvement and their knowledge. Russians officials have also warned IAF that any complications arising out of the integration of non-Russian weapons without Russian involvement will have to be fixed locally and they can't be held responsible for the poor performance of the equipment due to tempering.
DRDO/HAL and IAF successfully integrated and tested indigenously developed Astra beyond-visual-range air-to-air missile (BVRAAM) with a range of 80km and multiple times have demonstrated its targeting engaging capabilities successfully. IAF already has placed orders for 50 Astra AAMs which will be exclusively used for Sukhoi Su-30MKI fleet before committing on larger order likely by 2020 for the entire fleet and even later on Mig-29UPG fleet.
Airforce official close to idrw.org confirmed that Israeli defense ministry is never comfortable with the idea of jointly working with Russians and have in past have requested their non-involvement. HAL/IAF Team is confident it can be done locally and engaging with Russians usually is time-consuming as seen in BrahMos-A integration with Sukhoi Su-30MKI which was performed locally by HAL after Russian asked for a ridiculous amount of money for the same work done by HAL at a fraction of the cost and wasted nearly two years in negotiations.
If IAF goes ahead with its plans to integrate I-Derby ER, Astra, ASRAAM combo AAMs across the Sukhoi Su-30MKI fighter fleet of over 280 jets then it will also be done on entire Mig-29UPG fleet of 85 fighter aircraft thus almost removing Russian AAMs from fighter aircraft developed in Russia.
IAF plans to integrate long-range Meteor beyond visual range missiles with Su-30MKI fighter fleet was rejected by MBDA on concerns of missile tech falling in hands of Russian's engineers and technicians who will be involved in integration program but if IAF manages I-Derby ER and ASRAAM AAM integration without getting Russian involvement then MBDA might have change of mind but that is unlikely so soon .
NOTE : Article cannot be reproduced without written permission of idrw.org in any form