SOURCE: TUSHKAR SHIRODKAR / FOR MY TAKE / IDRW.ORG.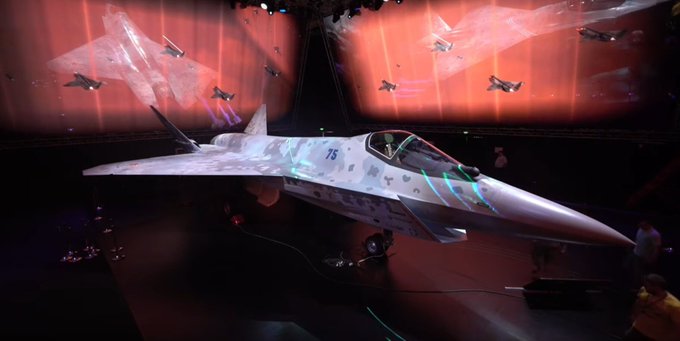 Rostec State Corporation a few days ago teased the existence of "The Checkmate', A day before the official reveal, the first picture of the aircraft had hit the internet and people can't keep claim about it. Sukhoi-75 (unofficial name) is a new single-engine light tactical plane with a take-off weight of up to 18 tons, that can achieve speeds of Mach 2 and is equipped with the new Izdeliye 30 engine.
Sukhoi-75 will be targeted at the export market that includes Argentina, India, Vietnam, and the United Arab Emirates (UAE) as seen in the promotional teaser video. Sukhoi-75 is considered to be the Russian counterpart to the American F-35 Lightning II program but Sukhoi-75 is 10-12 tons lighter than F-35, which is lighter by only 4 tons to Su-57 in its MTOW, comparing two aircraft won't be fair. Sukhoi-75 eventually will replace all the Russian air force's MiG-29 and Su-27 fourth-generation aircraft and the countries operating them seems to be the first target customer.
India already has been offered Mig-35 and Su-35 to meets IAF's MMRCA tender for 114 fighter jets. Sukhoi-75 entry into MMRCA tender is inevitable due to India's long-delayed MMRCA 2.0 program that is yet to reach the RFP stage could mean the first entry of 5th generation fighter jet in the competition making it a bit harder for the American legacy offer of rebadged F-21 and F-18, certainly little difficult for the French Dassault Rafale jet that was always considered as already on the podium stage and will be a clear winner due to IAF's earlier procurement of 36 Rafales that are to be delivered completely by next year.
Sukhoi-75 is still under the developmental stage and it is still unclear if the aircraft that was displayed at the MAKS 2021 is an actual prototype or a full-scale mock of the aircraft. India has walked away from the Sukhoi Su-57 fighter program due to differences and not many in India will be jumping in joy if it is offered to India under Transfer of Technology (TOT) agreements to be made in India. IAF still seems to have set its eyes on the additional French Dassault Rafale jets and to make up numbers it even placed fresh orders for locally developed Tejas Mk1A after dragging its fleet over procurement of it.
India already has procured customized and advance Rafale F3R and already has been offered the next F4 configuration while the French already has made a roadmap for F5 configuration in 2030 that will allow access to unmanned Remote Carrier loyal wingmen program along with that New Generation Weapon System (NGWS) that will keep Rafale relevant till 2050.
India's AMCA and Tejas MK-II Programs are on the verge of being financially cleared and enter the Prototype stage in the next 3 years to be followed by developmental trials and ultimately in production by the time, Sukhoi-75 is cleared to enter production in 2030. India is also working on the development of a Twin Engine Deck Based Fighter (TEDBF) for the Indian Navy that obviously might have an air force spin-off variant for the IAF to consider in the same class as the Sukhoi-75 minus Internal Weapons and close to the Radar cross-section of the Russian offering.
IAF has Rafale and a proper road map from France for future configuration and along with that half, a dozen operators that will keep the technology relevant but the same can't be said of the Sukhoi-75 that is still 10 years away from entering production if not more. AMCA program over the years has progressed well and can be classified as a good 5th generation offering that meets western standards classification of the 5th generation badge unlike that of Chinese and Russian 5th generation jets that are yet to catch up to the technological levels of the western countries. Sukhoi-75 might be offered in government 2 government deal or though MMRCA tender but it will have a direct impact on India's local fighter program and its efforts to build a local ecosystem for the aerospace companies, Sukhoi-75 simply doesn't fit into India's long-term vision to be independent of the foreign countries in the procurement of fighter jet post-2030.
Disclaimer : Articles published under " MY TAKE " are articles written by Guest Writers and Opinions expressed within this article are the personal opinions of the author. IDRW.ORG is not responsible for the accuracy, completeness, suitability, or validity of any information on this article. All information is provided on an as-is basis. The information, facts or opinions appearing in the article do not reflect the views of IDRW.ORG and IDRW.ORG does not assume any responsibility or liability for the same. article is for information purposes only and not intended to constitute professional advice .
Article by TUSHKAR SHIRODKAR , cannot be republished Partially or Full without consent from Writer or idrw.org