SOURCE: VISHAL KARPE / FOR MY TAKE / IDRW.ORG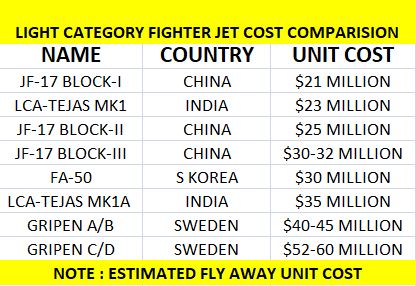 Hindustan Aeronautics Limited (HAL) and Indian Air Force are on the verge to conclude a final contract for manufacturing of 83 LCA-Tejas Mk1A fighter jet after intense price negotiation which will now see fall of per-unit cost of the jet from the initial quotation of $62.9 million to around $34.9 million each which will not only be lighter on the IAF's pocket but also come in handy to boosts its Export potential.
LCA-Tejas Mk1 was billed by HAL to IAF at $23 million per unit at a flyaway cost which excludes spares and other supports, but when HAL quoted $62.9 million per unit for upgraded Mk1A fighter jet, not only it stunned many in IAF senior management and even officials in Ministry of Defence (MOD) demanded breakdown of the unit costs to asses real cost, while HAL defended high cost of Mk1A and said that cost was high due to modern avionics and equipment which it will come with but IAF and MOD still felt it was way too high and Negotiation committee was formed to look into the price and negotiate acceptable price.
According to media reports, HAL had kept a very high man-hour to build one aircraft which cost more than the aircraft. Price asked by HAL was $3500 per hour but IAF and MOD bench-marked it to $2100 per hour, which resulted in sharp fall in the quoted price of $62.9 million per unit to $34.9 million each. IAF and MOD insisted that high man-hour cost will make Mk1A unattractive in the export market and with even Gripen C/D variants under $60 million per unit, no one will be interested in buying Mk1A even when many countries have expressed interests in its procurement.
In Export assessment report done by MOD officials, it was also pointed out that the fighter trainer variant of Korean FA-50 fighter jet was around $30 million per unit. Even though FA-50 fighter jet was less modern then LCA-Tejas it is still a low-cost option available for many smaller countries with small air force where South Korea was able to successfully export their jet in Southeast Asian countries.
JF-17 Block III price was pegged around over $30 million per unit after going through major avionics and equipment upgrade. JF-17 Block initially was cheaper at $21 million each when compared to Mk1, but with a reduced price under $35 million for Mk1A, it will be able to compete in markets where JF-17 is also on offer. HAL will be able to offer Mk1 to the price-sensitive market in Southeast Asia while Mk1A will be offered to countries where technology will be the key decision-maker in the process of selection.
HAL is already in process of integration of Mk1A with its fund and it is expected that upgraded LCA-Tejas will be ready for its first flight by 2022 and will enter production soon after in 2023, which will keep the production line busy for at least 5 more years and soon after HAL also plans to take up development of HAL's Supersonic Omni Role Trainer Aircraft (SPORT) which is Lead-In Fighter Training (LIFT) for Domestic and Export market to be based on LCA-Tejas Trainer Variant .
Disclaimer : Articles published under " MY TAKE " are articles written by Guest Writers and Opinions expressed within this article are the personal opinions of the author. IDRW.ORG is not responsible for the accuracy, completeness, suitability, or validity of any information on this article. All information is provided on an as-is basis. The information, facts or opinions appearing in the article do not reflect the views of IDRW.ORG and IDRW.ORG does not assume any responsibility or liability for the same. article is for information purposes only and not intended to constitute professional advice .
Article by  VISHAL KARPE /,  cannot be republished Partially or Full without consent from Writer or idrw.org