SOURCE: KARAN THAKUR/ FOR MY TAKE / IDRW.ORG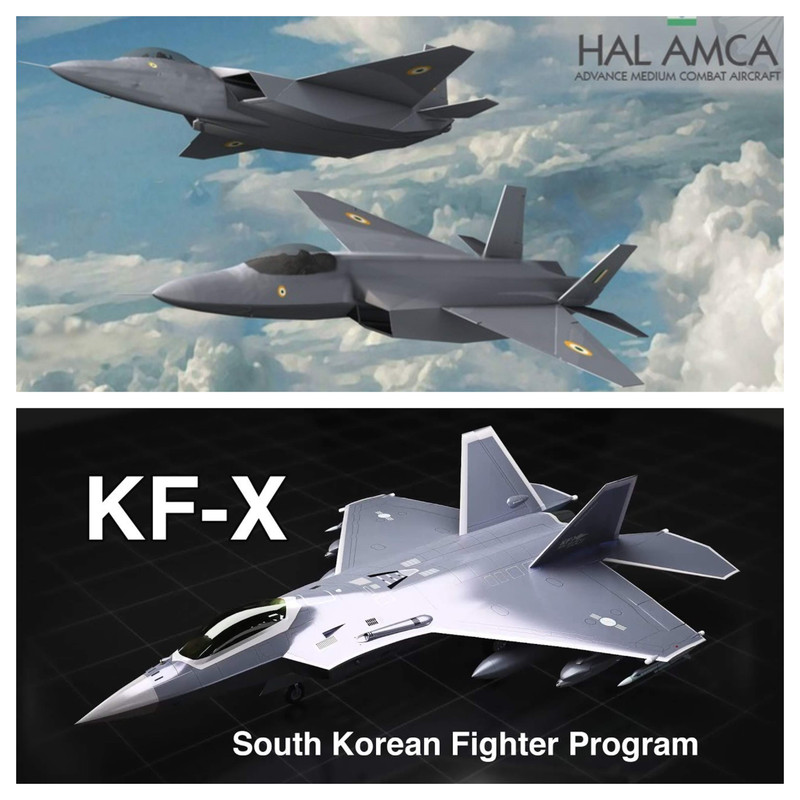 Korea Aerospace Industries (KAI) has lifted the curtains on a full-scale mock up and cockpit of the KF-X fighter at ADEX 2019 in Seoul, along with more technical details of the aircraft was put out. KF-X fighter will have a maximum takeoff weight of 25.6 tonnes and a 7.7-tonne payload and the prototype will be rolled out in 2021 and first flight in 2022 and IOC in 2025 which will clear path for its production all in less than 6 years which could make many in India in envy because according to the AMCA program developmental path it will enter production only in 2035 even if prototype roll out happens in 2025.
How come Korea's KF-X Developmental path of an aircraft which will be similar in MTOW and is in the same Class of AMCA is much faster and shorter than India's AMCA Program? , Catch is that KAI has planned out 3 phase-wise development of three-block variants of C109 design over the years to catch up with world leaders in 5th generation fighter technology and perfect its designs in blocks over the years when the aircraft is still in production and developmental trials.
Block-I Variant of KF-X will only have under-wing hard points and not Internal weapons bay which means it lacks several of the US type's stealth qualities from the word go. Mock up displayed also had several types of equipment which were exposed externally which could never have happened if it was pure stealth aircraft. exposed 20mm cannon port, IRST sensor protrudes in front of the cockpit canopy, exposed engine exhaust area all point out that aircraft is far from described as a pure 5th generation fighter aircraft but designers are fully aware of it and have plans to fix it in the future blocks.
Block-II Variant of KF-X will see much more refinement to its design and will also feature Internal weapons bay with several other improvements to its avionics and sensors. KAI designers plan to make Block-II Variant come close to a pure 5th generation fighter aircraft but it still won't surpass F-35 in its stealth qualities.
Block-III Variant of KF-X will have technology which will not only surpass F-35 in its stealth qualities but will come with features unique to the aircraft. The plan is to surpass the stealth qualities of existing 5th generation aircraft in the Block-III Variant with several changes to the aircraft internally and externally.
While Block-I Variant of KF-X will be ready by 2022 for its first flight it will be cleared for induction with IOC certification by 2025 and Block-II and Block-III gradually will be ready to enter production in 2030 and 2035 which will allow smooth flow of production line and aircraft with the air force to further refine it over the course of its development circle to achieve the desired aircraft at the last phase without actually compromising on the fleet strength of the Korean air force.
The first batch of AMCA Prototypes will not feature Internal weapons bay nor it will several of the stealth qualities but it only will be used to validate the design and flight characters of the aircraft before phase-II is commencement by building fresh prototypes which will feature Internal weapons bay and other several improvements in design to achieve desirable stealth qualities. ADA and IAF seem to have planned the same phase development planned for the AMCA program but unlike Korea's KF-X program they won't enter production till we achieve perfect 5th generation fighter aircraft with desirable stealth qualities.
AMCA program will see production-grade aircraft entering production only in 2035 since we don't have a Block variant development plan for the AMCA program like seen by Korea's KF-X program. By 2035 when the world will see 6th generation fighter planes already taking to the air, IAF will be entering into the 5th generation phase. If India has adopted similar Block development of the AMCA aircraft, not only it could have had better aircraft then what it was replacing it was also able to meet the operational shortfall of its fighter assets.
Disclaimer : Articles published under " MY TAKE " are articles written by Guest Writers and Opinions expressed within this article are the personal opinions of the author. IDRW.ORG is not responsible for the accuracy, completeness, suitability, or validity of any information on this article. All information is provided on an as-is basis. The information, facts or opinions appearing in the article do not reflect the views of IDRW.ORG and IDRW.ORG does not assume any responsibility or liability for the same. article is for information purposes only and not intended to constitute professional advice .
Article by  KARAN THAKUR /,  cannot be republished Partially or Full without consent from Writer or idrw.org