SOURCE: AFI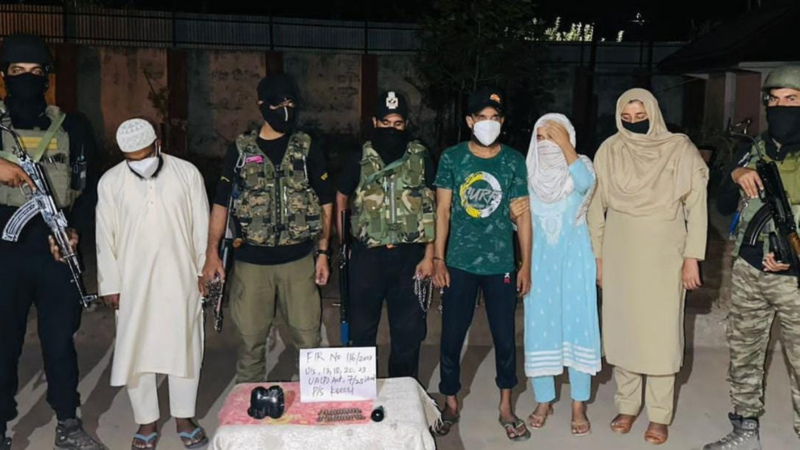 In a significant operation, security forces in North Kashmir's Baramulla district successfully dismantled a terrorist recruitment module linked to Lashkar-e-Taiba (LeT). Among those apprehended were three over-ground workers (OGWs) associated with LeT, including a female terror associate. The incident highlights the evolving challenges faced by security forces in Kashmir as more women become involved in terrorist activities.
The arrest of a female terror associate signals a concerning trend in the region. It represents a new challenge for security forces in Kashmir as women, previously less involved in terrorism, are now being drawn into these activities. This emerging breed of female terror associates poses multiple threats, both in terms of recruitment and logistical support for terrorist outfits.
The successful operation, codenamed "Tappar," was conducted jointly by the Special Operations Group (SOG) Kreeri, 29 Rashtriya Rifles (RR), and 52 RR. Security forces detected suspicious movement involving three individuals, leading to their apprehension.
During the operation, one Chinese grenade was recovered from the possession of Latif Ahmad Dar, while two grenades were found in the possession of Lateef Ah Dar. Additionally, Ishrat Rasool was found in possession of 30 AK-47 rounds. All three individuals were identified as OGWs affiliated with LeT.
Interrogation of the arrested OGWs revealed that they had identified four local youths in the Kreeri area and were in the process of radicalizing and recruiting them to join the terrorist outfit. Furthermore, the arrested OGWs were found to be in contact with active militants, including Umar Lone and FT Usman. An FIR has been registered in connection with this matter.
Earlier this month, another female OGW, the wife of a deceased LeT commander, was apprehended in a village in North Kashmir's Bandipora district. These arrests underscore how Pakistan-based terror outfits are increasingly involving female operatives in transporting arms and ammunition between locations. This tactic adds a new layer of complexity to counter-terrorism efforts in the region.