SOURCE: AFI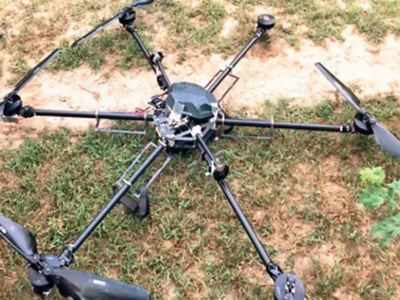 Indian security forces, particularly the Border Security Force (BSF) and Punjab Police, have been grappling with an increase in drone-related activities along the India-Pakistan border, with a focus on countering drug smuggling and potential security threats. Since 2019, a total of 593 drone sightings and the recovery of 82 unmanned aerial vehicles (UAVs) have been reported.
Key Points:
Hi-Tech Smuggling: Pakistani smugglers are employing advanced technology, including UAVs, to smuggle narcotics into India. Central agencies suspect that the proceeds from drug smuggling are being used to fund and supply weapons to pro-Khalistan entities (PKEs) on the Indian side of the border.
Cross-Border Linkages: The PKEs are believed to reciprocate by assisting in establishing "cross-border linkages" and supporting Pakistan intelligence operatives (PIOs). This collaboration raises concerns about the potential for increased unrest and security challenges in the region.
Official Admission: In a rare admission in July, Malik Mohd Ahmad Khan, Special Assistant on Defence to then Pakistani PM Shehbaz Sharif, acknowledged that Pakistani smugglers were increasingly using drones to transport drugs into India. This acknowledgment highlighted the evolving tactics employed by smugglers.
Geographical Focus: Drone sightings have been predominantly reported within a range of 2-10 km of the International Border in Punjab, covering a 553-km stretch, including 35 km of riverine area. This concentration emphasizes the need for specific countermeasures in the region.
Counter-Drone Measures: To address the rise in drone-related activities, the BSF is implementing counter-drone technology along the border. Additionally, the Punjab Police has established a special task force to investigate drug-related cases and enhance overall border security.
Training Initiatives: The Ministry of Home Affairs (MHA) has organized "drone and anti-drone" training sessions at the National Security Guard (NSG) center in Manesar. Ten states and three Central Armed Police Forces have participated in these training programs.
As drone technology becomes increasingly accessible, the border region faces new challenges related to smuggling and security threats. The proactive measures taken by Indian security forces, including training initiatives and the deployment of counter-drone technology, underscore the importance of staying ahead of evolving tactics used by illicit actors.