SOURCE: API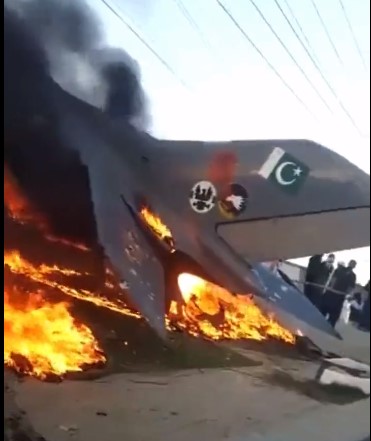 PTI supporters recently set fire to a retired F-6 Shenyang fighter jet, also known as the Chinese version of the Soviet fighter jet MiG-19s. The aircraft was placed in front of a government building in Pakistan, and the incident occurred following the arrest of former Prime Minister Imran Khan.
The F-6 Shenyang fighter jet was manufactured by the Shenyang Aircraft Corporation of China and was the first purchase of the Pakistan Air Force (PAF) from Beijing, setting the tone of defense relations between the two countries. The F-6 played a vital role in the defense of Pakistan and was instrumental in several successful missions. The PAF bid adieu to the F-6s in 2002, and since then, these aircraft have been on display as a symbol of Pakistan's military prowess.
The burning of the F-6 Shenyang fighter jet has sparked outrage among aviation enthusiasts and military personnel alike. The act is not only disrespectful to the aircraft but also to the brave pilots who risked their lives flying these planes in defense of the country.
It is important to note that the F-6 Shenyang fighter jet is not just a machine but a symbol of Pakistan's military history and defense capabilities. Destroying it only serves to undermine the country's achievements and dishonor its brave defenders.
In conclusion, the burning of the F-6 Shenyang fighter jet is a regrettable incident that should not have happened. It is a reminder that we must value and preserve our military history and honor the sacrifices of those who have defended our nation.