SOURCE: GEO TV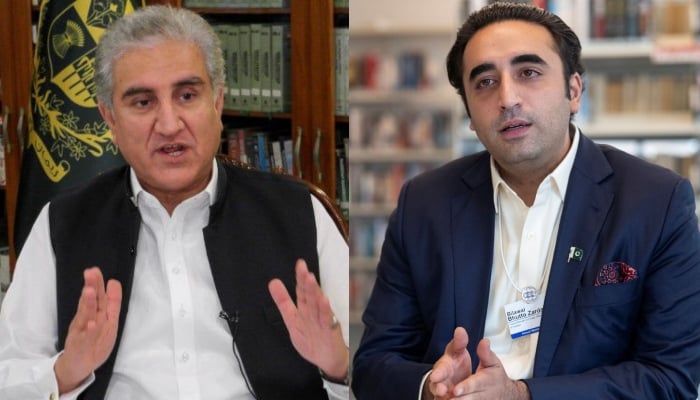 Former foreign minister Shah Mahmood Qureshi said that his successor Bilawal Bhutto-Zardari's visit to India is important, saying that issues between Islamabad and New Delhi need to be addressed through dialogue.
Qureshi's comments came during an interview with an Indian media outlet following Bilawal's visit to Goa to attend the two-day meeting of the Shanghai Cooperation Organisation (SCO) foreign ministers — scheduled to be held on May 4 and 5.
Ex-FM, who is the Pakistan Tehreek-e-Insaf's (PTI) vice chairman, when asked if his party was opposing the visit, said: "No, we are not opposing the visit, we do understand that this is a multilateral obligation. As a former foreign minister, who has been to such conclaves, this is an important visit. And by all means, you should go ahead."
Qureshi also said that his party desires peace with India as there are no cultural and trade ties between the two nations. "We need to recognise that we do have outstanding issues. We can't wish them away. We have to address them."
The PTI senior leader reiterated that the bilateral issues need to be resolved politically and through dialogue. He also said that it "might be useful" if there was a meeting on the sidelines to look at Pak-India ties.
"Our diplomatic relations were downgraded after the Pulwama incident and the Balakot misadventure," he added.
'Bilawal has a real opportunity'
Qureshi said that Bilawal had a real opportunity to raise issues that were relevant. 
"I hope he's not shy of raising human rights issue, of raising the treatment minorities are getting, particularly Muslims. I hope he is not shy of raising the issue of water, which is becoming increasingly challenging between the two countries."
When asked whether he would want to trade to resume between India and Pakistan, Qureshi said that while trade between the nations makes a lot of economic sense, it cannot be seen in "isolation".
"It has to go in tandem with other things […] but only trade, not enough. That's all I'm saying. Trade can help improve relations, but trade in itself will not be enough."
Kashmir issue
The former foreign minister went on to talk about the Kashmir issue, saying that the revocation of Article 370 by the Bharatiya Janata Party (BJP) government was "unilateral" and that many Kashmiris were not happy with the situation.
When talking about the Indian foreign minister's allegations that Pakistan was sponsoring terrorism in Kashmir, Qureshi replied: "What he has to understand is that Pakistan has suffered on account of terrorism. We have paid a huge price, a human price, an economic price. We are not supporting terrorism. What we're doing is giving them moral and diplomatic political support."
Pulwama attack
At one point the interviewer also alleged that the attacker of the Pulwama attack came from Pakistan.
On February 14, 2019, around 40 Indian soldiers of the Central Reserve Police Force (CRPF) were killed and dozens injured at the Srinagar-Jammu Highway in the Awantipora area in the Pulwama district of the Indian Illegally Occupied Jammu and Kashmir (IIOJK), an attack which is dubbed as the deadliest in over a decade.
At this, the PTI leader said: "That's your point of view. There is a different point of view and that point of view is that it was a self-created, orchestrated incident for political reasons."
"I think India has to come out of this groove that we will not sit until and unless Pakistan gives up terrorism. Pakistan has fought terrorism, Pakistan is in the process of defeating extremism and terrorism. As I said, we have suffered. So let's not pick that as an excuse and let things simmer."